Marijuana Moms of Beverly Hills
Posted by Marijuana Doctors on 07/25/2013 in Medical Marijuana Trends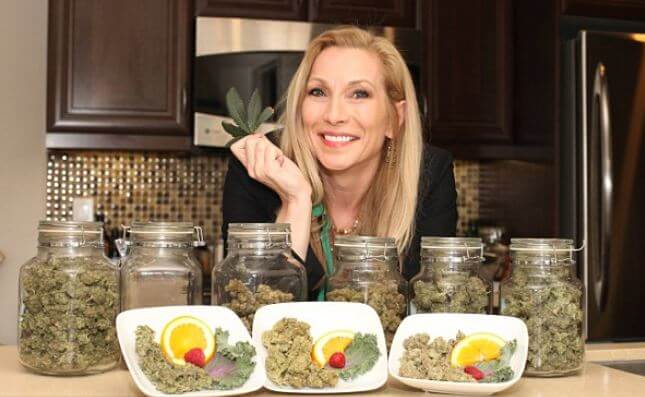 A glamorous group of Beverly Hills moms are progressively shifting their perception of parenting with their firm stance on marijuana – making them better wives, parents and people. In fact, they call themselves the Cannabis Club, and they frequently get together for cannabis-infused dinners and Volcano Vaporizer sessions, hosted at former Optician to the stars and Medical Marijuana activist, Cheryl Shuman's house.
Since being diagnosed with Cancer, Cheryl, otherwise known by her friends as the "Martha Stuart of Marijuana," has teamed up with Chef David Schanals to host potluck parties where she and other "marijuana moms," can enjoy each other's company while dining on cannabis-infused three-course meals. These mothers, all diagnosed with different medical issues, have come together to enjoy the finer things in life; glasses of red wine, good food and great friendship.
Their controversial culinary delight utilizes marijuana in various forms. From organic hemp oil and cannabutter to cannabis leaves tossed in with the salad, Chef Shanals cooks up herb-infused meals for the ladies who lunch. "We've got red leaf and radicchios and, you know, mizuna lettuces and baby spinach, so why can't we have a little fresh cannabis?" To this, Cheryl replies, "That's my attitude," and playfully flashes the camera a thumbs up.
Though the menu differs with each gathering, these lavish potlucks have included such delicious delicacies as fettuccini pasta, chicken picatta, cannabis infused salads, cannabutter soaked mashed potatoes and strawberry shortcake for dessert. Utilizing cannabis-infused olive oil, organic hemp oil, cannabutter and ground up cannabis plants, Cheryl and David keep the menu innovative and exciting for all of their unique dishes. And all plates are garnished, of course, with a cannabis flower.
Despite her recent fame as a medical marijuana activist and enthusiast, Cheryl has not always used marijuana to medicate. In a Skype interview with the Huffington Post, Cheryl spoke about her debilitating and stressful divorce gone public back in the '90s which led to her crippling depression. Her Psychiatrist had been prescribing her up to 80mg of Prozac for getting up in the mornings and high doses of Xanax combined with sleeping pills for getting to bed. She noted that she felt like a zombie, and her daughter testified for her absent mother during that time, saying that she had often "checked out" on prescription pills. At a therapy session one day, her psychiatrist dropped his note pad and blurted out the magic words which would dramatically change Cheryl's outlook forever. "Lady, you need to smoke a joint."
Where she obtained said joint? Ironically enough, her psychiatrist had had a garden growing right in his backyard. He rolled up a joint for her, and though she said she felt like an amateur at first, coughing up a lung, she had already felt a world of relief. And that was just the beginning.
She now refers to those prescription drugs as "pharmaceutical garbage," and has proudly scrapped every last one of them. Since Cheryl's much safer herbal prescription, she's become a new woman. And daughter Aimee says it's good to have mom back, smiling and connecting with her kids once again. Cheryl believes her medical marijuana prescription has hands down made drastic improvements in her parenting abilities. "When I use cannabis, quite frankly, it does make me a better mom, because I'm calmer, I'm more rational, I'm not angry, I'm not stressed…"
Another mother in the Cannabis Club, January Thomas, medicates with marijuana for a host of different reasons. Thomas, mother of two year old daughter Zeena, says marijuana has absolutely helped her to be the best parent she can be. "Smoking cannabis helps me be a better mother. With my early onset arthritis," (without medicinal marijuana) "I wouldn't even be able to pick up my daughter. It makes me a more creative mom and a more relaxed mother."
But these women have nothing to hide. Every marijuana mom in the Cannabis Club has her own way of explaining their drug use in the household. January Thomas and Fiancee 'Henry Hemp,' use educational children's books such as "It's Just a Plant," written by Ricardo Cortes for,"…parents who want to discuss the complexities of pot in a thoughtful, fact-oriented manner." Thomas tells her daughter that cannabis is both a plant and a medicine, and though she doesn't smoke in front of her, to avoid the dangers of secondhand smoke, she eats cannabis-infused dishes such as Canna-roni and Cheese at the dinner table.
Despite the positive responses of these mothers, however, there are bound to be naysayers. "You know though, there are people out there thinking, mothers who smoke pot are bad moms," an ABC reporter told the ladies. Simmi Dhillon, a medicating mother refuted that statement with a testimony from her ten year old son. "When I'm in pain, I'm in bed for days. I don't talk, I'm miserable. My son will come up to me and say, 'mom, it's time to medicate.' He means go get some cannabis; it's time to come back to us. That's what I tell you. If your ten year old child is okay with it, I think adults should be okay with it."
January Thomas believes it is an absolute misconception that "good" mothers don't medicate with marijuana, and that those who do are irresponsible. "Moms that utilize cannabis hold jobs, office jobs, you know, do the PTA." And in a country where prescription pills have become an epidemic, these ladies are denying synthetic medications for an all natural remedy. Cheryl Shuman in particular, gave up 27 prescription pills for one plant and hasn't looked back since.
Cheryl remains nothing short of emphatically optimistic about the future of medical marijuana. "By 2016 I estimate that over half the country will have legal cannabis at least for medical if not for full recreational. Hopefully one day we'll see Beverly Hills Cannabis Clubs all over so people could go in and have medicated coffee. I would like to just see it as normal as going into Starbucks."