Marijuana Legalization Advocates Push for Recreational Signatures in Maine
Posted by Marijuana Doctors on 06/12/2014 in Medical Marijuana Legalization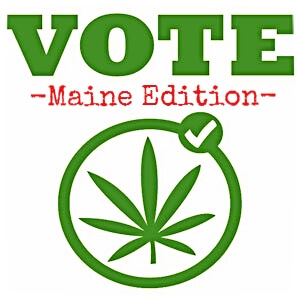 In certain parts of Vacationland, voters taking part in this month's primary elections will be asked a question that has become an integral part of a controversial and widespread debate across the country. Residents will be asked to sign petitions that could potentially place the issue of decriminalizing the possession of small amounts of marijuana on the November ballot. That's right folks, marijuana legalization in the Pine Tree State.
While Portland residents had their say in similar fashion on a local marijuana ordinance last fall, the question will now be placed before voters in the cities of Lewiston, South Portland and York. While the push for legalization seemed to thrive in the Forest City, the same could be said for Kennedy Park in Lewiston on Monday afternoon. This was the site for Citizens for a Safer Maine's official launch of their legalization petition drive. A public organization, Citizens for a Safer Maine is an entity that has been working for the last couple of years towards establishing effective marijuana policy in Maine.
The organization remains firm on their stance of supporting an ordinance that would allow someone 21 years of age or older to possess marijuana and use it on private property. However, the ordinance would not make it legal to use in public or allow them to operate a vehicle while under the influence.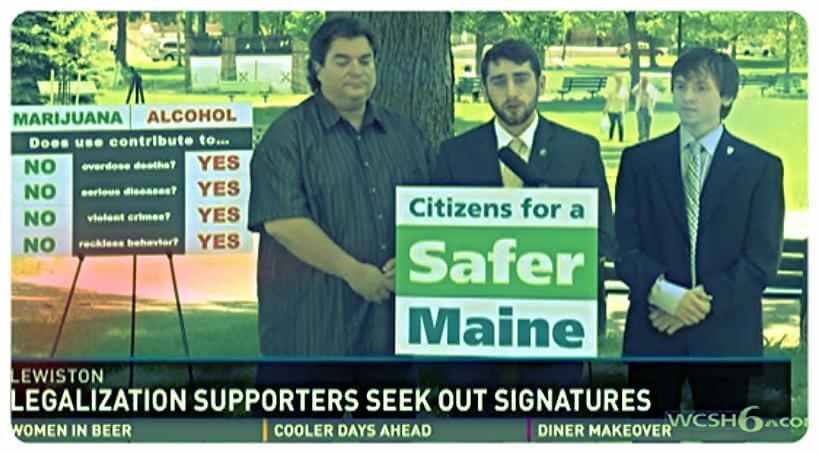 (Above: David Boyer stands center as he addresses the media and a handful of supporters gathered in Kennedy Park for a press conference Monday.  As the Maine political director for the Marijuana Policy Project, Boyer and his entourage are hoping to make the possession of up to 1 ounce of marijuana legal for recreational use. On Boyer's left is former state Rep. Stavros Mendros, and on his right is Luke Jensen, who is running for Lewiston's House District 58 seat. Cohesively, they are launching an effort to collect enough voter signatures to put the issue on a citywide ballot in November.)
Supporting and repeating their belief that marijuana should be regulated and taxed like alcohol; the ordinances – if passed – would largely be symbolic in nature because local laws cannot preempt state and federal laws, which still prohibit the sale and use of marijuana for recreational purposes.
Notable supporters in the city of Lewiston are said to include a Republican candidate in the State Legislature, as well as a former city councilor and state representative Stavros Mendros. An active member of the GOP, Mendros said to him it was about the idea of allowing adults to make their own choices about a using a substance that many argue is less addictive and dangerous than alcohol.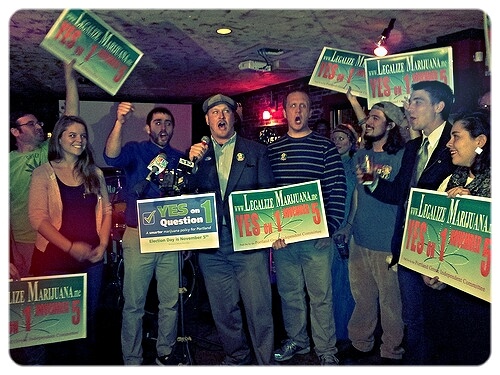 (Above: With all 12 of the city's precincts reporting in 2013, unofficial totals showed the proposal passing with 67 percent of the vote — 9,921 to 4,823. Members of the Portland Green Independent Committee, which collected more than 2,500 signatures to put the measure on the ballot, credited their volunteers and grass-roots get-out-the-vote campaign for the win.)
Pro-legalization ordinance supporters say that making possession legal of small amounts of marijuana would produce a new tax source that would help cover the costs of public education or city priorities. The new tax source would effectively be collected without further burdening any property taxpayers.
Elaborating on the aforementioned, Portland voters approved an ordinance legalizing recreational marijuana in 2013. With more than a half majority of voters favoring the new ordinance – 67 percent favored legalization – state and federal laws that treat marijuana as an illegal substance still supersede the local ordinance.