With marijuana going legal, why are there more arrests this year?
Posted by Marijuana Doctors on 10/17/2015 in Medical Marijuana Laws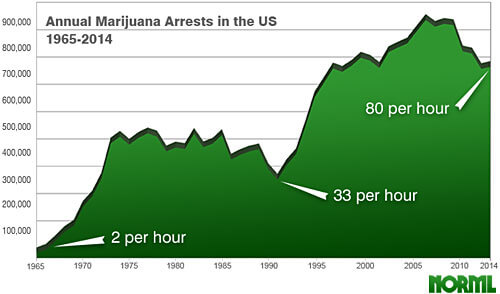 Cannabis is now legal in over half of the US states, whether for medical reasons or for recreational purposes. This doesn't mean that the Government is backing down on marijuana arrests, in fact, 2014 marijuana arrest statistics paint a very dismal picture.
Last year 619,808 people were arrested for marijuana possession which translates to roughly 1 person every minute in the US. This despite the fact that Congress placed some serious limitations on DEA budget in regards to persecuting marijuana users, however…it seems that certain agencies have gone rogue.
Going after the little guy
More than 1 in 20 arrests in the US this past year was for simple marijuana possession. How much does this translate into hours wasted on processing non-violent consumers? How much does this translate into dollars spent by the taxpayer?
However, while the police boasts these statistics, they fail to mention that according to the FBI's own statistics, over half of all violent crimes, which include things like Murder and Rape went unsolved. But hey, at least you caught "yerself sum pawtheads"!
What would have happened if the police didn't go after the 620,000 people last year for marijuana possession and refocused that energy on solving these violent crimes that went unsolved?
Costly practice that does nothing?
So how much does all these arrests come down to in terms of costs to the taxpayer? The ACLU estimates that each arrest, excluding costs of detainment and adjudication, roughly translates to $750 USD per person. This puts the total number spent last year on simply going after non-violent marijuana users over the half a billion marker. Factor in the manpower used and how much that costs in addition to these other costs and we could be looking roughly at the $1 billion marker.
We spent roughly one billion dollars on arresting marijuana users which had absolutely no impact on the flow of drugs, accessibility, cartels or anything of the sort. In fact, it only placed more debt on the backs of hard working Americans.
It's time we legalize nationally
Many people believe that in 2017 the political arena might have matured enough to consider de-scheduling marijuana from a schedule I substance. However, if we endure 2 more years of this corrosive policy, we could be looking at another $2 billion dollars wasted before this happens.
Are we prepared to go after non-violent consumers? Are we ready to dish out billions of dollars when there are people who could use that money for health, education or even infrastructure? Are we truly that desperate to continue with a strategy that has failed us consistently for the past 45 years?
Perhaps it's time we legalize it nationally.