Major Corporations Are Going Green for Recreational Marijuana Ads
Posted by Marijuana Doctors on 01/20/2014 in Marijuana Politics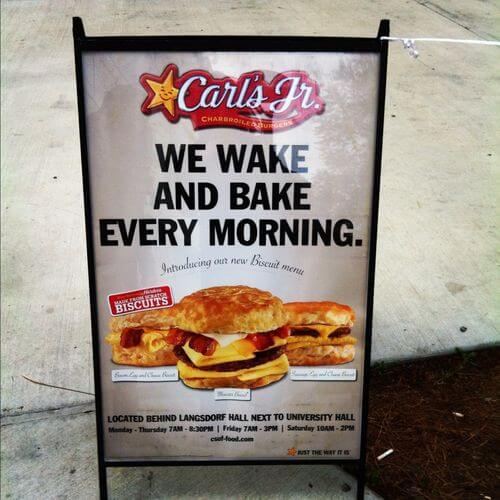 With the recent legalization of recreational marijuana in Colorado and Wasington, brand names and major corporations are now taking to marijuana advertising to lure in a different kind of crowd. Spirit airlines wasn't going to let this green opportunity pass them by, so their marketing team is currently cashing in on the burgeoning recreational industry. "Get mile high with $10 off your next flight. Fares so low they're barely legal in some states." The advertisement reads, "The no smoking sign is off. If you want to make a beeline for Colorado right now, we don't blame you – but we're up to take you to plenty of chill destinations…book today…and be sure to pack some munchies."
The key in advertising is always search engine optimization (SEO). By utilizing and targeting certain key words, the visibility of a website's organic search results will increase. And for marijuana advertising, you guessed it – words like "munchies" and "baked" are ranked high up on the totem pole.
When it comes to cashing in on relevant news advertising, Spirit Airlines is no rookie to the game. Back in 2012 Spirit Airlines took the U.S. Secret Service's prostitution scandal in Latin America and offered one-way flights to Cartagena, Columbia to get "more bang for your buck." In 2011, Spirit released advertisements mocking the Arnold Schwarzenegger "love child" scandal offering, "Fares so low, you can take the whole family…including that half brother you just met." And of course, Spirit wasn't going to miss the chance to cash in on Congressman Anthony Weiner's leaked x-rated photos – they advertised "The Weiner Sale," advertising "fares too HARD to resist." And though we could write these ads off as utterly ridiculous, lest we forget they are coming from the same company that brought us their very own president and CEO stuffed inside the carry-on luggage compartment to demonstrate its considerable room.
Joining in the ranks of marijuana advertising, fast food joints like Taco Bell, Jack in the Box, Denny's and Carl's Jr. have made their fair share of cannabis puns. Carl's Jr. has ads on college campuses which read, "We wake and bake every morning" with close up photos of savory breakfast sandwiches. Denny's commercials feature a table of mythical creatures with a stereotypically stoned, squinty-eyed unicorn babbling away. Taco Bell is advertising their newest "late night munchies," and Jack in the Box commercials feature a practically couch-locked guy staring at the clock, awaiting his oversized "Jack's Munchie Meal."
Northwestern University's clinical professor of marketing, Timothy Calkins, believes that the amount of mainstream companies tapping into these "pot pitches" will only increase over time. "Many brands in this country aren't going anywhere near the legalization issue. For most brands, that's very smart. Some brands, though, can push this. We're going to see more brands take advantage of this and use this as a way to define themselves." He went on, "Spirit Airlines has a certain character and, as a result, I think this works for Spirit. But we're not going to see United Airlines embrace the same idea anytime soon."
As far as dispensary advertising is concerned, that's a whole different ballgame. President and CEO of the Denver Post, Mac Tully has considered recreational marijuana to be "an evolving category." Of it's success, Tully said, "I don't think anyone understands how it's going to end up." The owner of Lodo Wellness Center, Linda Andrews said that traditional dispensary advertising is certainly not necessary at this juncture. "We don't need to advertise. We're still trying to regroup from the first wave of sales."
According to recent reports from ArcView Market Research, the recreational marijuana industry nationwide is predicted to reach $2.4 billion in revenue in 2014 alone.
As it stands, the Post is anticipating advertisements surrounding recreational marijuana from a host of different venues, not just dispensaries. "We're going to have opportunities on the advertising side for revenue not just from dispensaries. I think it's around the lines of festivals, concerts, entertainment venues and restaurants." And already, restaurants such as Boulder's Hapa Sushi has launched a marketing campaign pairing sushi rolls with ideal cannabis strains. With a tag line that reads, "Happy Legalization," the sushi joint boasts, "Our dining room is ergonomically designed to reduce paranoia." Back in 2009, the Hapa corporation made ads designating Hapa restaurant locations in red and medical marijuana dispensaries in blue. Their pairing menu features Indica, Sativa and blend pairings of sushi and sashimi with strans like Blue Dream, Pakistani Kush and Sour OG.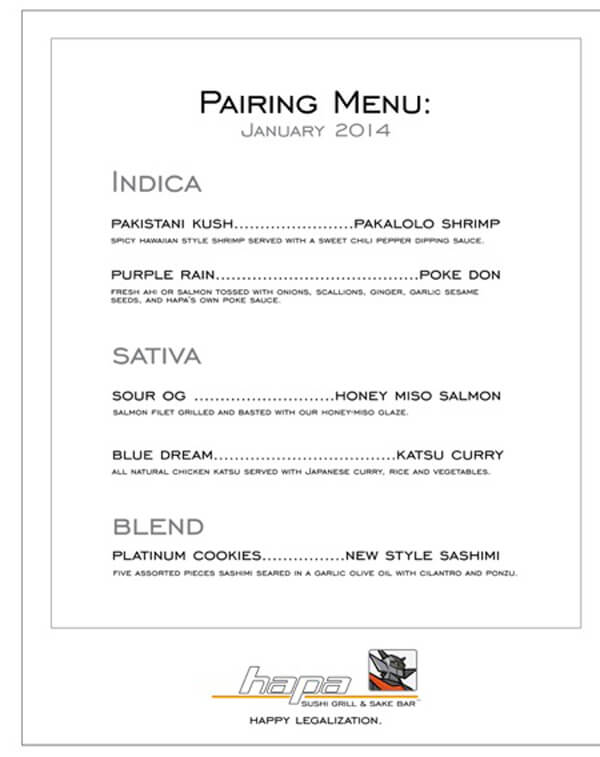 Professor at the University of Colorado's Leeds School of Business has referred to this kind of advertising as "borrowed interest." Campbell said, "They're taking something that is very current in people's lives, and they borrow the interest that people have in that to draw attention to their business." Of Hapa's advertising campaign, Campbell said "Hapa has very clearly created a longterm vibe of being a young, uninhibited kind of business. They clearly have chosen an overall target that fits that. There's very little risk of a downside." Campbell believes this is just the start of the flurry of marijuana advertisements to come. In establishing marijuana campaigns like these, Campbell said, "They want the rest of the media to pick up on it and write about it," – and that's just what we'll do.