Los Angeles: Dueling Medical Pot Measures Cause Confusion
Posted by Marijuana Doctors on 03/22/2013 in Medical Marijuana Laws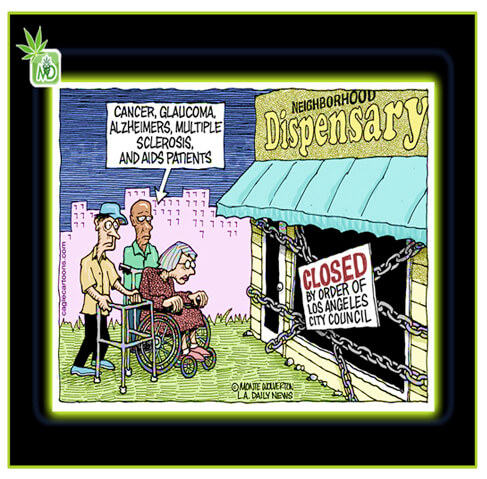 On Wednesday, a Superior Court Judge of California ruled that ballot disputes for two opposing medical marijuana measures in Los Angeles do not violate any state bylaws and should stay as originally written in Los Angeles' official voter guide. Attorneys representing both sides of the measures had accused the other of violating the city's election code.
Proposition D, backed by the Los Angeles City Council and a major labor union that represents medical marijuana dispensary owners, were the first ones to file a suit against the city in a claim in which they believed the ballot's argument was in favor of supporting a separate coalition of dispensaries and other medical marijuana groups. Measure F as they call this, was unfair to the group representing D because F refers to Proposition D as a "Trojan horse" that was "slapped on the ballot at the last minute" by the Los Angeles City Council. Proposition D's attorney, Bradley Hertz, believes a ballot argument in favor of a measure should provide an explanation on why voters should vote for it, not why reasons why they should not vote for the competition. Hertz compared this scenario to that of asking someone why they like hamburgers, claiming he doesn't believe a "good" answer would be, "Because they're better than hot dogs."
However, Los Angeles Superior Court Judge Joanne O'Donnell ruled that the language of the measure should stand and stated, "It seems logical than an argument for one ballot measure may include statements regarding the insufficiency of another." O'Donnell also dismissed a separate challenge brought by the backers of measure F, in which they declared that the ballot argument on behalf of Proposition D was unfair due to the group calling itself the "only measure" that would raise taxes while controlling and regulating dispensaries. For the record, Measure F was the first one to qualify for the ballot and would have allowed an unlimited number of dispensaries so long as operators pay their taxes, keep a certain distance from schools and each other, and meet other specific requirements laid out.
In due time, a third medical marijuana dispensary measure will appear on the ballot under the name Initiative Ordinance E. Initiative Ordinance E will only allow older medical marijuana dispensaries to continue operations without being shut down. Initially, this ordinance was supported by a union of dispensary workers and a group of Los Angeles' original dispensaries, but those groups are now supporting Proposition D.