Law Enforcers Court Ordered to Return Seized Medical Marijuana
Posted by Marijuana Doctors on 07/19/2013 in Medical Marijuana Laws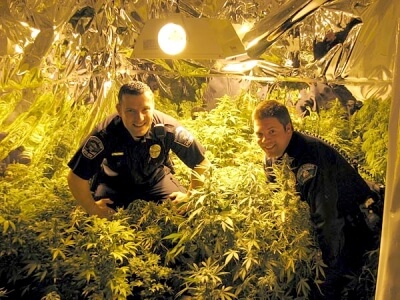 California citizen, Valerie Okun, had a run-in with the law when she had her medical marijuana confiscated at the Arizona state border patrol check point. Despite Arizona's medical marijuana statute recognizing the laws of other states, Yuma County Sheriff's refused to return the confiscated cannabis to its rightful owner under the pretense that giving the plant back would ensure a direct violation of the Federal Controlled Substances act.
However, once Okun showed her California State issued medical marijuana card, Yuma's authorities were given no choice but to drop all charges initially given. The problem arose when Okun asked for her legally-owned marijuana back, and Yuma County's Sheriff, Leon Wilmot refused.
Every Arizona State court that has dealt with this case has ruled against Wilmot's decision to repeal his case to the Supreme Court. In a report published by the Arizona Daily Star, Wilmot said, "It has to do with the courts telling me to commit a crime." He said of the request to return the marijuana. And, "as far as I'm concerned, that's not how we do business."
This case is not unique, however. There are two notably documented cases which follow a similar story. Last year, Tacoma, Washington citizen, Joseph Robertson's vehicle was stopped and searched during a traffic stop. Judge Jack Emery had to repeat his request to the policemen to return the 40 grams of marijuana to Robertson. Needless to say, it has yet to be returned. Robertson, a designated provider for a medical marijuana patient was legally allowed to carry just less than 24 ounces of marijuana at once. The judge agreed that the amount was lawful, and demanded the city of Tacoma give it back, otherwise the law enforcers responsible would be held in contempt of court. Unsurprisingly, the city of Tacoma proved to be less than compliant.
Additionally, in 2005, medical marijuana patient, Felix Kha's vehicle was searched in Garden Grove, California. Despite his physical proof of proper documentation, the Garden Grove police department charged him with unlawful possession. Although the charges were eventually dropped and the superior court of Orange County issued an order to return Kha's wrongfully seized 8 grams of marijuana, the law enforcers refused to budge.
"It's now settled that state law enforcement officers cannot arrest medical marijuana patients or seize their medicine simply because they prefer the contrary federal law," said Joe Elmford, Chief Councilman over at Americans for Safe Access, the medical marijuana advocacy organization which represented Kha's case.
Elmford's associate, Kris Hermes, additionally noted that, "The source of local law enforcement's resistance to upholding state law is an outdated, harmful federal policy with regard to medical marijuana." It seems with all of these documented cases, the "criminals" are the law-abiding citizens. When judges defend medical marijuana patients and caregivers, the question must be asked – who's really at fault for committing the crimes now?