Judge Rules, Medical Marijuana Advertising Ban Is Unconstitutional
Posted by Marijuana Doctors on 01/16/2015 in Medical Marijuana Laws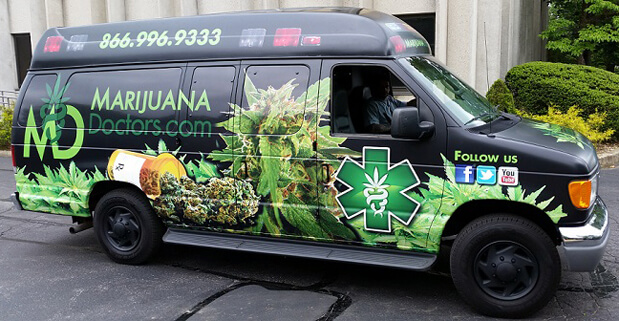 A Washington state judge recently ruled that a law banning physicians from making any reference to medical marijuana in their advertisements or commercials, is unlawful and unconstitutional. According to Pierce County Superior Court Judge Elizabeth Martin, the law "violates a medical professionals First Amendment right to free speech."
In her written ruling, Judge Martin declared, "I find the statute impermissibly over-broad as it chills even informational speech aimed solely at public education. The state might have an interest in regulating such advertising, but banning it outright is unacceptable."
The judgement, comes about as the result of a case brought by a Pierce County physician named, Scott Havsy. Last year, Havsy sued the state after the Department of Health sanctioned him for advertising his compassionate attitude toward helping medical marijuana patients.
Mark Olson of Everett,  the lawyer representing Havsy, pleaded the case that the states ban on medical marijuana advertisements actually hinders a patients ability to find a marijuana doctor compassionately inclined to authorize its treatment. "The only restrictions that should be placed on professional advertising are to be sure the advertising is not false or misleading. Other than that, when the government restricts advertising by professionals, it places a chilling effect on the free flow of information, especially on the Internet," argued Olson.
Representing the state, Joyce Roper, assistant attorney general , argued that "free-speech protections do not extend to advertisements for an illegal product or activity." Roper maintained that Havsy cannot claim constitutional protection for his medical cannabis ads, because under federal law, marijuana is still very much illegal.
However in the end, Judge Martin sided with Havsy and lawyer, Mark Olson. "I find that the restriction set forth in the statute at issue is far more extensive than necessary as it bars any advertisement in any form, regardless of the message, format, context, etc. The result of this statute is that the public cannot be informed by any health care provider, including Dr. Havsy, as to whether that provider is even available or willing to perform the required medical exam for the certificate of use," said Judge Martin. She wet on further, saying that "the state of Washington and its citizens have embarked on what the state has characterized as a 'grand national experiment'" regarding the legalization of marijuana. "I do not take lightly the import of this decision and expect that this ruling will not be the final word on the subject," said the judge.
Another medical marijuana organization to have experienced difficulties when trying to advertise mainstream is MarijuanaDoctors.com, a New York-based company who works endlessly to help patients find a marijuana doctor who is compassionately inclined to authorize them for medical marijuana treatment. Upon hearing the news, CEO and founder of MarijuanaDoctors.com, Jason Draizin, commented, "This is a great victory for medical marijuana entities hoping to advertise their services to the public. MarijuanaDoctors.com has personally experienced great difficulty and many headaches trying to do just this. As a result we have had to think out the box and get creative with our advertising and marketing campaigns. Hopefully as these state programs continue to evolve, matters such as these will be addressed for the greater good of the medical marijuana community – keeping in mind after all, that the patients who are most often trying to find a marijuana doctor to help them qualify for medical marijuana treatment, are suffering from severe and debilitating medical conditions, some of which are terminal and life threatening. Lets not make it any harder on these patients hoping to find a marijuana doctor who can help them access their states medical marijuana program."