Iowa Judge Chooses Leniency For Terminal Cancer Patient Caught Growing Marijuana
Posted by Marijuana Doctors on 09/12/2014 in Medical Marijuana Laws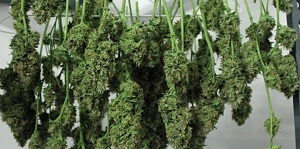 Location: Long Grove, Iowa | Source: Al Jazeera America
This past Tuesday a benevolent Iowa judge gave terminally ill, 48-year old Benton Mackenzie probation rather than sending him to jail for a minimum of three years. Mackenzie, a terminal cancer patient was found guilty by a jury in July of manufacturing marijuana. The charges and subsequent conviction came after local authorities raided his home in Lon Grove, Iowa and found him to be growing 71 cannabis plants in a trailer near his parent's home.
Judge Henry Latham was clear to note that the growing of so many marijuana plants would not be legal in any state, even those that permit medical marijuana patients to grow their own medicine. Latham also stated he was using his judiciary discretion to allow Mackenzie to remain free in order to receive proper medical attention for his angiosarcoma. The rare cancer affects Mackenzie's blood vessels and as a result he has suffered large and painful skin lesions on his buttocks. Thankfully the Iowa judge suspended a possible 15-year prison sentence for Mackenzie, and issued him a term of probation to last three years.
Judge Latham explained to Mackenzie that he must remain drug free during his term of probation and that violation of this stipulation could send him back to prison.
Mr. Mackenzie who sadly entered the courtroom with the assistance of a wheelchair emotionally told the judge that he felt that he had no choice but to break state law. Mackenzie claims that special treamt from his home made cannabis oil has caused some of his tumors to shrink and disappear. He was first diagnosed with angiosarcoma seven years ago, he stated that he felt justified in breaking Iowa's laws because they "take away my right guaranteed by the constitution to my life."
"I have lasted seven years on a disease that takes people who don't get treated in two years. And people who go through the traditional methods, they last three years. So basically I have proven the decision I made was the right one, to save my life," said Mackenzie. Due to his condition he was forced to wear loose fitting sweat pants in order to cover his painful lesions. He appeared to grimace in pain several times during the proceedings.
Thankfully the prosecutor, Patrick McElyea, had specifically recommended probationary sentence for Mr. Mackenzie noting his "physical condition and the illness he is dealing with."
Additionally Judge Latham was expected to sentence Mr. Mackenzie's wife 43-year old Loretta Mackenzie, and their 23-year old son, Cody Mackenzie. All three individuals received criminal charges after a June raid at their Long Grove, Iowa home that occurred last year. During the raid Sheriff's deputies discovered 71 cannabis plants, growing equipment, marijuana paraphernalia, and a small amount of cannabis in Cody Mackenzie's room.
At trial, Latham repeatedly barred Mackenzie from testifying about his cancer, noting that a medical necessity defense is not allowed in Iowa.
Jurors in July found Mackenzie and his wife guilty of manufacturing marijuana, as well as related charges. Their son was found guilty of misdemeanor possession of marijuana. A new Iowa law allows some patients with severe epilepsy to use cannabis oil for treatment, but it does not apply to cancer patients and did not help Mackenzie. After the trial he traveled to get treatment in Oregon, one of 23 states that permit medical marijuana.