Illinois Senate Approves Medical Marijuana, Now Sent to Governor for Approval
Posted by Marijuana Doctors on 05/22/2013 in Medical Marijuana Legalization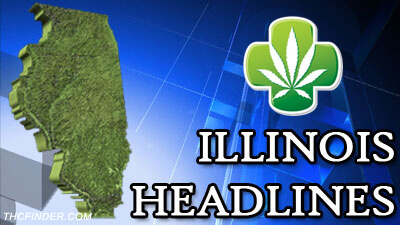 On Friday, Illinois State lawmakers agreed to pass a measure that would legalize the use of medical marijuana under a strictly regulated plan. This plan is being billed as the most strict medical marijuana program in the nation among states who have authorized the medicinal use of cannabis. However, the only question that remains for this measure is whether or not the state's Democratic Governor, Pat Quinn, decides to sign it.
The accepted measure would authorize a four-year pilot program for state physicians to recommend medical marijuana to patients whom they possess an existing and bona fide relationship with. The program requires very thorough background checks to be conducted and patients must have at least one or more of the state's proposed three dozen qualifying conditions. It would also set a limit of purchase to 2.5-ounces per patient, and would call for sixty state-licensed medical marijuana dispensaries to be tightly regulated by the state where patients can purchase the drug.
The state's Governor has so far declined to discuss whether or not he supports this piece of legislation. He has previously stated that he was "open-minded" to the idea of medical marijuana, but has not gone into further detail since about his stance. Unlike the Governor, Lieutenant Governor Sheila Simon, said she is in great favor of this plan after she met with patients and military veterans who would benefit greatly from this drug. Simon is a former prosecutor and the daughter of United States Senator Paul Simon, who had previously served as the Lieutenant Governor of Illinois from 1969 to 1973.
Supporters of this piece of legislation claim that is a compassionate measure that could save patients from the agony and suffering that is directly associated with ailments such as cancer, multiple sclerosis, glaucoma and HIV/AIDS. Supporters argue that medical marijuana can relieve continual pain and alleviate chronic symptoms without triggering any of the harmful and unappealing side effects associated with a prescription opiate. However, opponents of the measure contend the program could potentially encourage the recreational use of marijuana among young adults and teenagers.
After a report that was issued last month by the Pew Research Center, it showed that nearly seventy-seven percent of Americans consider marijuana to have legitimate and bona fide medicinal properties. Currently, eighteen states and the District of Columbia have allowed the use of marijuana for medicinal purposes under qualifying conditions. Maryland has recently passed legislation to begin preliminary testing in medical health institutions but has not established a medical marijuana distribution program.
Critics in the Illinois State Senate have worried about whether or not the regulations under this piece of legislation would be enough to prevent the abuse of marijuana, but it remains hopeful that it will. The Senate approved the measure by way of a 35-21 vote, a majority enough to bring it to the Governor's desk.
Marijuana Doctors Recent Posts