Illinois Hoping Stricter Laws Will Prevent Recreational Marijuana Use
Posted by Marijuana Doctors on 08/06/2013 in Medical Marijuana Laws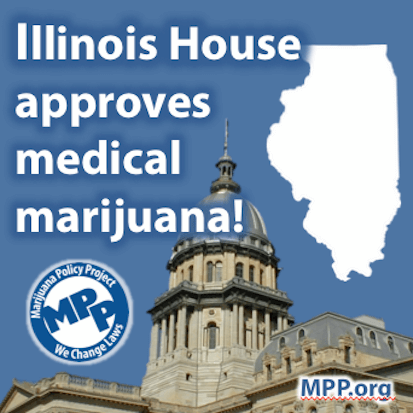 Back in May, Illinois was unable to muster up enough votes to pass the Religious Freedom and Marriage Fairness Bill at the legislature's deferment. Nor could it prevent 49 school closings from the state's largest public school system or pass pension reform just two months later. However, just last week, Illinois passed the Compassionate Use of Medical Cannabis Pilot Program Act after being signed by Governor Pat Quinn. This legislature, active on the first of the year, will set the state up for a four-year medical marijuana trial program.
Despite the Democratic majority in the General Assembly remaining stagnant with the passing of other legislation, the legalization of medical marijuana is a largely progressive step in the right direction for Illinois. Now the 20th state to have passed these legalization laws, Governor Quinn has long-since said he's "open-minded" to the idea of medical marijuana as an alternative treatment.
Of the citizens Quinn spoke with prior to signing the bill, one man's words truly resonated with him. Somonauk resident, Jim Champion, a veteran of the 101st Airborne later stricken with multiple sclerosis told Quinn, "I use medical cannabis because it's the most effective medicine in treating my muscle spasticity with few side effects. My wife shouldn't have to go to drug dealers for my medicine. Neither of us deserve to be criminals."
To this, Governor Quinn said, "Over the years, I've been moved by the brave patients and veterans who are fighting terrible illnesses. They need and deserve pain relief."
Although marijuana remains illegal on the federal level, its medical benefits have been quickly gaining momentum since its recreational passing in Washington and Colorado. Though Illinois' legislature regarding medical marijuana considers itself the strictest in the nation, each of the 20 states have the same mission: to keep medical marijuana within the confines of state borders and out of the hands of criminals.
The plant will only be distributed and obtained among 60 dispensaries and care centers, supplied by 22 licensed growers. Medical marijuana cards from other states will not be valid when under Illinois jurisdiction. And to obtain a prescription, patients must demonstrate a bona fide relationship with their doctor and a valid diagnosis of one of around 40 serious illnesses. By requiring predetermined distribution sites, 24-hour video surveillance of all cultivation centers and frequent employee background checks, Illinois is hoping to ensure all laws are strictly enforced.
The motivational drive behind these strict laws is what has successfully held most states back from legalizing marijuana in the first place. Whether for medical or recreational use, the greatest combatant is fear. The fear that marijuana will see increased use amongst our youth due to its accessibility – and the fear that the argument against marijuana will be significantly undermined when its use is condoned by law.
Colorado state statistics, however, have proved this fear irrational. Back in 2000, marijuana was approved for medical use and in 2012, for recreational. The Centers for Disease Control and Prevention have reported that although marijuana use within a 30-day period amongst high school students increased by a mere 2% from 2009 to 2011, it decreased by 3% in Colorado.
Unfortunately, regardless of its legislature, marijuana will likely continue to be grown and consumed illegally. Until the day when it can be approved for both recreational and medical use across the 50 states, a black market will always exist. However, by implementing some of the strictest medical marijuana laws in the country, we can assure Illinois citizens with ulterior motives will not be able to obtain a prescription without medically recorded evidence. In other words, it will be regulated more strictly than most medical prescriptions are, making it nearly impossible to qualify for a medical marijuana card. The future of medical marijuana may be heavily weighted on this four-year plan, and the results it bears.
Although state legislature has struggled immensely to pass other progressive laws in the past, it is a hope that this bill could be the non-partisan, paving the way for marriage or pension bills passing. Leader of the legislative negotiations for the past five years regarding the legalization of medical marijuana is Chief House sponsor Representative Lou Lang of Skokie, Illinois. He remains fully optimistic about these new laws. "Pain and suffering for many chronically ill and terminally ill individuals will be significantly lessened, if not eliminated in some cases, because of Governor Patt Quinn's courage to sign a controversial bill that often has been subjected to distortions and fear mongering," he said. "This is a great day for Illinois."