Illinois Fights Marijuana Stigma and Pushes to Become a Medical State
Posted by Marijuana Doctors on 04/17/2013 in Medical Marijuana News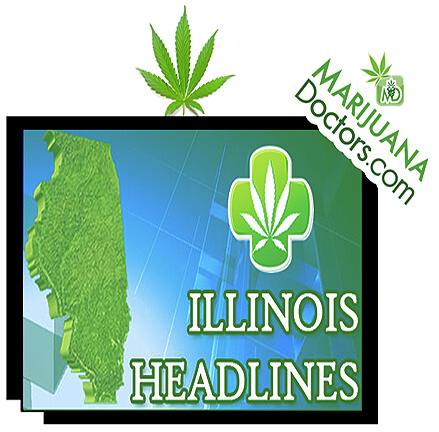 Back in 1976, the idea that marijuana could be used as an alternative treatment method by patients who are suffering, was generally taken as a laughable statement. It was considered laughable until a glaucoma patient by the name of Robert Randall won a court case that ruled he needed marijuana to keep from going blind. This court case single-handedly started a movement that is beginning to make headway and may provide medicinal alternatives to patients who desire it. This week, the Illinois House of Representatives is set to conduct a vote on a measure that will allow the therapeutic use of cannabis to treat symptoms of chronic and debilitating conditions.
When it comes to modernization, you can definitely say that Illinois is not exactly on the brink of cutting edge. States such as California granted safe access to medicinal marijuana back in 1996, and now the United States has around eighteen states that have granted access to patients. Polls that have been conducted have discovered that a large majority (and a growing majority at that) of Americans believe that marijuana has medicinal benefits and should be made readily available for physicians to recommend to patients for treating specified illnesses such as glaucoma, HIV, AIDS and multiple sclerosis.
Americans have great reasons for their beliefs as well, as their convictions are scientifically solidified. Back in 1999, a panel of scientists in the Federal Institute of Medicine concluded that there was enough scientific data to indicate that there are potential therapeutic and medicinal values of cannabinoid-based drugs.These cannabinoid-based drugs directly alleviate symptoms of pain relief, control of nausea and vomiting and a vast increase in appetite stimulation. These are not simple opinions, these are cold, hard scientific facts. Although the federal government has yet to recognize marijuana as something other than a Schedule I narcotic, the America Medical Association has urged the federal government to allow research to be conducted on the medical uses of cannabis.
Lawmakers in the state of Illinois have repeatedly declined to late patients who are suffering gain access to the drug that many say offers a relief like none other. However, the time may be upon us that legislators may be finally ready to pass a measure to allow safe access to those who have serious medical needs. The bill is sponsored by Rep. Lou Lang, a Democrat out of Skokie, Illinois.
The silver lining in the cloud that has shrouded patients for years is now very visible, as the state of Illinois has had a chance to learn from the pros and cons of other medical marijuana policies within other states from around the country. By getting a look at the good and the bad and deciphering what works better than other methods, Illinois can legitimize the industry and create a program that can be regulated easily and maintained without grey areas. Under this proposed measure, patients whose physicians recommend cannabis would be able to obtain it, but only under strict and sensible controls.
Take California for example, a state that is often decried for its relaxed marijuana regulation and wide-open access for nearly anyone. Patients can cultivate their own medicine and even receive recommendations from physicians who work at a medical marijuana dispensary and qualify them for vague ailments. This proposed measure by Lang is designed to make sure legalization of medical marijuana does not amount to de facto legalization of recreational marijuana, which we have seen come about in two U.S. states already. This bill would require patients to obtain recommendations from physicians with whom they have had a pre-existing and on-going relationship with, similar to a primary care physician. The recommendation may only be issued for specific conditions such as cancer, HIV and multiple sclerosis and will exclude mental illness and chronic pain. Patients would have to register with the Illinois Department of Health and undergo a thorough background check in order to get an identification card.
Patients would not be allowed to cultivate their own medicine and would be permitted to only possess up to 2.5 grams every two weeks. Clearly this bill is a drastic difference from the Golden State, which imposes no limit on how much medicine a patient may obtain, and allows for the cultivation of medical marijuana by a patient. This bill is well thought out, imposes the correct violations for those who go against its regulations, and creates the opportunity for patients to obtain a safe access to medicine. Although it is stricter, it will work out better in the end for patients who are suffering from illnesses that cannot be treated by prescription opiates.
Marijuana Doctors Recent Posts