Hospitals Unlikely to Oblige Governor's Request to Distribute Medical Marijuana
Posted by Marijuana Doctors on 01/09/2014 in Medical Marijuana Laws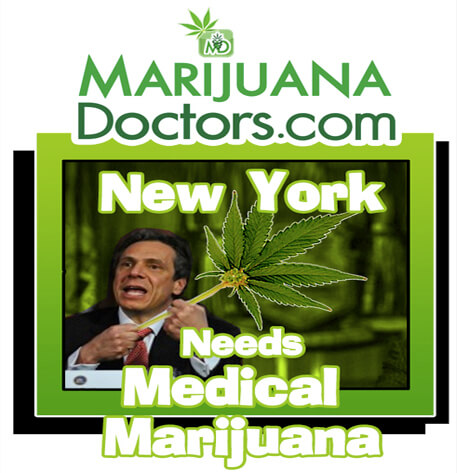 This afternoon, in his State of the State address, Governor Andrew Cuomo brought up his plans for the forseeable future of the state of New York. He spoke extensively about the state's fiscal responsibilities and the pre-emptive protective actions which must take place this year to ensure the utmost safety of its citizens. He introduced plans to establish a new kind of college, specializing specifically in homeland security and emergency preparedness. He brought major attention to the NY State Gaming Commission and the various Las Vegas-style Casinos New York state will be building in hopes of generating more revenue. And in two sentences, he addressed the state's plans for medical marijuana in 2014.
In further extracting Governor Cuomo's plans for legalizing medical marijuana in the state of New York, we must truly dissect the internal issues involved. Essentially, the plan proposed would allow hospitals to distribute medical grade marijuana to patients suffering from an incredibly limited list of ailments. Hospitals approached in other states have steered clear of taking part in the distribution of marijuana out of absolute fear of losing federal funding. Although state legislature is calling for this program, marijuana is federally illegal. I cannot reiterate that enough.
The Oliveri law, named after former city councilman and assemblyman Antonio Oliveri, for his marijuana advocacy as he battled his brain tumor, does not allow hospital to either purchase or distribute marijuana to patients. Rather, it states that the marijuana can only come from local drug busts or the federal government – neither of which is likely to be medical grade marijuana. This would likely create issues within the structure of the program, being that the marijuana distributed would not be cultivated specifically for medical use. Certain strains, mainly ones much higher in cannabidiol (the major constituent of the plant and medical component) are utilized for medicinal purposes.
Assemblyman Richard Gottfried (D-Manhattan) author of the Compassionate Care Act, has led hearings as a major proponent for medical marijuana in both Buffalo and Mineola in the past month. Although he does support the Governor's executive decision, Gottfried said, "They would presumably have to find money somewhere for testing the purity and safety of the seized marijuana and packaging it." In doing so, he continued, "There would be considerable staff and administrative expenses for the department." Conclusively, the necessary proceeding actions which would have to take place with this program's implementation would exhaust even further scientific and financial sources.
Although New York would be the first state in the country to implement the hospital distribution system, Israel has proved to have the most sought after medical marijuana system in the world with a similar program. There is, however, one stark difference between the two plans. The Israeli government is responsible for running and overseeing the medicinal marijuana program. And of the 8 million plus population, only 10,000 patients are registered with the program. Yuli Edelstein, the Israeli Minister of Public Diplomacy, in a visit to the largest growing cannabis farm in the state, Tikkun Olam which translates to "repairing the world" said, "When push comes to shove, and people see how suffering people are benefitting, I'm sure everyone will get behind it."
Hebrew University researchers have worked with Tikkun Olam and helped monumentally in turning their most effective strains into ointments, chewing gum, honey, extracts, pellets, cakes, cookies and candies. With this legally protected partnership, further research and studies to be conducted have an incredibly bright and prosperous future. In addition to hospital patients, individuals in nursing homes are able to reap the many benefits of medicinal marijuana in all of its forms.
Maryland has adopted this program of allowing hospitals to distribute marijuana to its patients, however, unsurprisingly – no hospitals have demonstrated any interest. There is of course the hope that the limitations of these executive orders can be met with new legislation for a regulated medical marijuana industry. Assemblyman Gottfried said of the newly proposed plan, "The governor's endorsement of the concept gives an enormous boost to legislation. It almost becomes inevitable." Yes, this program can work beautifully – but not without support from both the state and federal government.