How Hemp can Save the World
Posted by Marijuana Doctors on 10/23/2013 in Medical Marijuana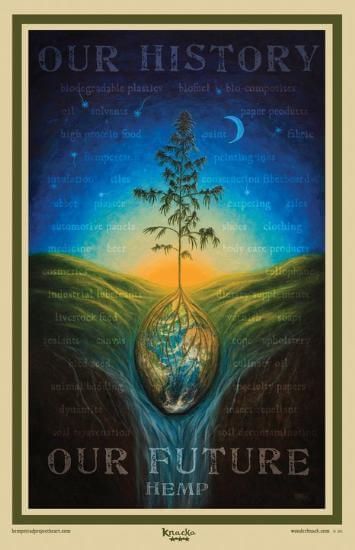 A lot of people know about the wonders of hemp but in reality nobody can envision how hemp can save the world. The fact of the matter is that we haven't been able to analyze exactly how amazing hemp can be mainly due to the fact that it, along with cannabis, was placed on the most deviant scheduling possible under the Controlled Substance Act.
The Many Uses of Hemp
Firstly, we must understand that Hemp is a highly versatile crop. An estimation of roughly 20,000 products can be made from this plant including food, plastics and even fuel.
It is then no wonder that hemp is illegal mainly due to greedy billionaires that can't stand competition. In fact, it is estimated that only 6% of US landmass need to be used to grow Hemp to be completely independent from foreign oil. Not to mention with Hemp we would be able to stop deforestation in its tracks. Hemp Produces 4 times the amount of usable pulp for every acre of trees and it takes a lot quicker to crop out on hemp. In fact, if grown properly we would be able to crop out 2-3 times per year.
Hemp does not get you high
There is no real valid reason other than greed that justifies the illegality of hemp. Hemp cannot get you high, it is physically distinctive from Marijuana and is legal in several other modern countries. The only reason it is illegal in the US is because it poses a threat to the Petrochemical industry along with the Timber industry, both of which are massive lobbies within the US government.
It is estimated that you would need to smoke a joint the size of a phone pole in order to get a slight buzz from hemp which means it most definitely would not be used for recreational purposes.
Hemp is industrial…
People need to realize that by legalizing hemp you'll not only legalize a Brand new crop but rather the backbone of America. Farmers would be able to produce tons of hemp quite easily, without the need of using pesticides of which thousands of specialized processing facilities would create millions of new Jobs that in the end will sustain the economy and lifestyle of America.
Hemp is the only answer we have to environmental crisis, it's the way we can bring Jobs to people who need it. Hemp is the answer to many problems in the US and all we require is to legalize it and follow Kentucky's example. Hemp for Victory!