Hearing Proposed to Bridge the Gap Between State and Federal Marijuana Laws
Posted by Marijuana Doctors on 08/27/2013 in Medical Marijuana Laws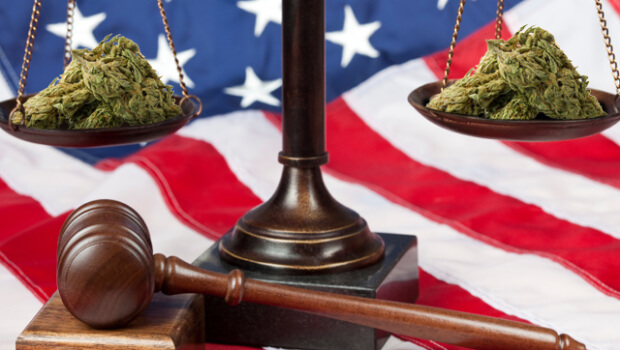 Just yesterday, Senate Judiciary Committee Chairman Senator Patrick Leahy (D-Vt) announced his plans to address the grey area between state and federal marijuana laws in an upcoming meeting next month. His mentioned intent is to protect the 20 legalized states and the District of Columbia from federal criminal penalties.
Currently, state and federal laws regarding marijuana are in direct conflict. Under the Controlled Substance Act, marijuana is considered a schedule 1 drug, which by the DEA's definition places it in the same category as heroin, lsd and ecstasy. Under that same definition, Schedule I controlled substances become so by having no current accepted medical use in the United States, which with over a quarter of the country having legalized it strictly for medical purposes, poses a problem.
Interestingly enough, this problem hasn't gone unnoticed. In a press conference held last week, White House spokesman Josh Earnest was asked for the second time if the recent reported medical benefits of marijuana galvanized Obama's position on reconsidering its governmental drug classification, to which his response was, "…While the prosecution of drug traffickers remains an important priority – the president and the administration believe that targeting individual marijuana users, especially those with serious illnesses and their caregivers is not the best allocation of federal law enforcement resources."
The Vermont Democrat has invited Attorney General Eric H. Holder Jr. who in an American Bar Association meeting recently revealed his proposals to significantly downsize America's massive prison population and bridge the gap in racial disparities in prisons by scaling back penalties for low-level drug offenders. Holder and Deputy Attorney General James Cole will testify at the Sept. 10 hearing in the large hearing room in the Hart Senate Office Building, which is often used for such major events as Supreme Court confirmation hearings.
In a 2012 interview on the Department of Justice's stance on marijuana with Steve Kroft of "60 Minutes," Cole said, "We're not interested in bothering people who are sick and are using it in the recommendation of a doctor. Our focus is keeping it really keeping it away from children. Our focus is keeping it out of the hands of organized crime. Our focus is making sure that people aren't, through marijuana dispensaries, using it as a pretext to do large-scale interstate drug dealing. These are the areas where we're really trying to focus."
And though on paper, or in an interview, these statements sound perfectly ideal, they're not being carried out and applied by federal law enforcement. Although the Department of Justice's primary concern and focus may be on national drug traffickers, their secondary and perhaps tertiary concerns are raiding dispensaries and arresting law-abiding, legally obtaining citizens for marijuana possession.
In a statement, Leahy said, "It is important, especially at a time of budget constraints, to determine whether it is the best use of federal resources to prosecute the personal or medicinal use of marijuana in states that have made such consumption legal. I believe that these state laws should be respected. At a minimum, there should be guidance about enforcement from the federal government."
The conflict at large that Leahy will be addressing is the major rift between laws and the governmental tension it has created for its law enforcers and citizens alike. Federal authorities have been trying to decipher blurred lines in deciding whether or not to go after state legalized but federally illegalized marijuana businesses. Despite medical marijuana being legalized for use in twenty states as well as the District of Columbia, and its recreational use legalized in Colorado and Washington, federal authorities have continued to raid dispensaries nationwide. Countless arrests have been made for legally obtaining patients and dispensaries have been robbed because under federal law, it is still an illegal substance.
Leahy has been concerned about the aggressive nature of federal law enforcers toward legal marijuana dispensaries, and since Washington and Colorado's legalization of recreational use, his interest in addressing the topic increased twofold. In a letter written to the Director of the Office of National Drug Control Policy in 2012, Leahy expressed his concern over the jeopardized protection of state citizens and dispensaries obtaining their legal marijuana. He asked how the Office of National Drug Control Policy intended to prioritize Federal resources in light of the choice by citizens of Colorado and Washington to legalize personal use of small amounts of marijuana, and what assurance the administration could give to state officials involved in the licensing of marijuana retailers that they will not face Federal criminal penalties.
He wrote, "Legislative options exist to resolve the differences between Federal and state law in this area and end the uncertainty that residents of Colorado and Washington now face. One option would be to amend the Federal Controlled Substances At to allow possession of up to one ounce of marijuana, at least in jurisdictions where it is legal under state law." Federal agencies from the IRS to the Department of Justice have persistently gone after both medical and recreational marijuana dispensaries. Banks, under federal law, have been subject to prosecution just for allowing dispensaries to deposit their profits into accounts.
Of the notable heroes in the fight to stabilize federal and state law, Allen St. Pierre, the executive director of NORML, whose aim is to shift public opinion sufficiently to legalize the responsible use of marijuana by adults said, "There is such a grey area in the law. It is time somebody had a hearing. The Obama Administration has failed to address this issue at all."
Executive director of the Drug Policy Alliance, Ethan Nadelmann said, "The ballot initiatives in Washington and Colorado made history not so much because they legalized possession of small amounts of marijuana but because they mandated that state governments regulate and tax what had previously been illicit market. Ending marijuana prohibition not just in the states but also nationally is going to require the sort of leadership that Senator Leahy is now providing. Now is the time for his colleagues to stand up as will in defense of responsible state regulation of marijuana."