Governor Cuomo Urges Department of Health to Hurry
Posted by Marijuana Doctors on 07/31/2014 in Medical Marijuana News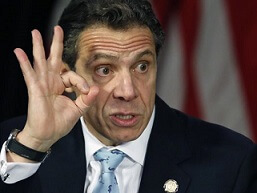 Location: Buffalo, New York | Source: News 4
Buffalo, NY – WIVN News 4 yesterday reported that New York Governor Andrew Cuomo plans to deliver a letter to the State Department of Health, in it directing the department's administrators to expedite the process of exploring ways to quickly implement the Compassionate Care Act, New York's medical marijuana bill that he signed into law a little more than three weeks ago.
Governor Cuomo's letter cites the recent deaths of two young children who suffered from severe epilepsy. According to the Governor's letter both girls would have benefited immensely from the use of medical marijuana. Sadly 9-year old Anna Conte died just 12 days after Governor Cuomo signed the Compassionate Care Act from a form of epilepsy that her physicians say would have been almost eliminated with the use of medical cannabis. In addition the lovely Olivia Marie Newton was only three years old when she passed away.
Wendy Conte, Anna's mother was sadly picking up her daughters ashes when she received a copy of the letter early yesterday morning. Wendy is angry with Governor Cuomo for taking weeks after the laws passing to send this letter to the Department of Health, "It's a little too late for Anna, but Anna's death is not going to go in vain. We're still going to fight for this fast tracking for these children in New York, they deserve this medication, and they deserve it today." Conte told reporters.
Initially the Compassionate Care Act was given 18 months to establish and implement itself, but with this new urging from the Governor patients and their advocates such as Mrs. Conte hope to fast track the process for children with forms of epilepsy in the state. In part Governor Cuomo's letter reads, "Families with children struggling from epilepsy have fought for years for the passage of the Compassionate Care Act. Now that it is finally law, the children struggling with this condition deserve every consideration we can make that could potentially ease their pain and suffering."
Under Governor Cuomo's insistence the Compassionate Care Act does not allow for the smoking of dry marijuana flower, instead it will only be available in edible, topical, pill, or oil concentrate form. A sales tax of 7% would be assessed on every medicine transaction occurring in the state and health insurance companies are not required to cover the new form of treatment. Physicians would only be permitted to recommend the plant for serious ailments such as cancer, HIV/AIDS, Parkinson's, Multiple Sclerosis, and nervous tissue damage. Additional conditions or symptoms may be added by the Department of Health as the program progresses.
State Senator Mark Grisanti approves and supports the Governor's letter saying that with his urging we should see an increase in movement of the program. "We actually have a facility and an organization that can grow this quite quickly. This is something I think can be done probably in a nine month time period rather than 18 months, and that's strictly for the oil." Grisanti told local News 4.