Governor Cuomo Calls for Marijuana Reform in New York
Posted by Marijuana Doctors on 01/10/2013 in Medical Marijuana Laws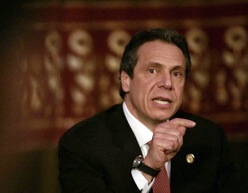 Marijuana Reform in New York
Did you know, that possession of marijuana is the leading arrest in New York City today? More than 50,000 people were arrested for marijuana in 2011 alone. It's not really supposed to be this way since , and made possession in public view a misdemeanor.
The 1977 Legislature states,
"The legislature finds that arrests, criminal prosecutions, and criminal penalties are inappropriate for people who possess small quantities of marihuana (sic) for personal use. Every year, this process needlessly scars thousands of lives and wastes millions of dollars in law enforcement resources, while detracting from the prosecution of serious crime."
According to Dr. Harry Leving of Queens College, it costs between $1,000 and $2,000 in police, court and jail costs to process a simple marijuana arrest. New York spent about $80 million arresting people for low-level marijuana possession offenses in 2011 alone. And nearly 85 percent of those arrested are young black and Latino males, even though young white males are shown to use marijuana at higher rates.
With this, the Governor of New York, Andrew Cuomo on Wednesday called for marijuana reform in his State of the State address in order to reduce the enormous number of unlawful, biased and costly arrests. The Gov. noted the discrepancy in the law between public and private possession and proposed standardizing the penalties for possession of small amounts. Cuomo's proposal would decriminalize marijuana possession that is in public view in quantities of 15 grams of less, reducing it from a misdemeanor to a violation punishable by a fine.