Governor Christie says legalization will not happen on his watch, ever.
Posted by Marijuana Doctors on 12/03/2013 in Medical Marijuana Laws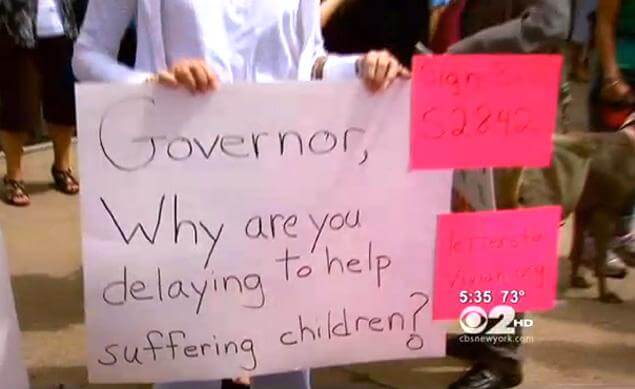 Chris Christie has recently said in a press conference that he is officially done with expanding New Jersey's medical marijuana program any further. The rather harsh statement came only several days after the latest bill for the program was proposed. Under the bill introduced in the state Assembly,registered medical marijuana patients in the state of New Jersey would be permitted to purchase marijuana in other legal states and consume it back in the Garden State. Of the 19 states and the District of Columbia, six states have already enacted such reciprocity agreements, recognizing out of state patients.
Father Brian Wilson of Scotch Plains, inspired the bill and recently stirred up the New Jersey medical marijuana program by publically pleading with Governor Chris Christie to sign a bill that could work to save his daughter's life. Regarding the bill, Christie told reporters he is "not open to it." Brian's daughter Vivian Wilson had been diagnosed with a rare and severe form of epilepsy commonly known as Dravet syndrome. Suffering from numerous seizures a day since she was two months old, the state's medical marijuana program progressing at a glacial pace was simply unacceptable for the Wilson's.
Parents Brian and Meghan Wilson enrolled Vivian in the medical marijuana program, making her the youngest mmj patient to date. However, it was not long before they became rather disheartened (and rightfully so) by the particularly rigid and restrictive terms and conditions within the program. The parents figured out the hard way that the medical community's unwillingness to participate in the highly flawed state medical marijuana program has been preventing minors such as Vivian from receiving proper help.
Mother Meghan Wilson noted that of the 900 registered patients, less than 150 of them have received their medicine because supply is so scarce. "When someone with cancer can't even get what the state has said they need, then Vivian is probably five years away from getting what she needs," said Meghan.
Because Vivian is so young, her medical regimen would call for marijuana edibles and/or tinctures. Many young patients affected by Dravet's syndrome have had considerable amounts of help out West with a recently developed strain, "Charlotte's Web," a CBD-rich strain grown by the Stanley Brothers in Colorado. New Jersey laws limited caregivers to producing only three strains up until just a few months ago. And because this strain has not yet been duplicated, many families are finding themselves having to relocate to legal states with far more successful mmj programs. Patients such as these are known as "medical refugees." This process of having to migrate for marijuana is becoming an increasingly more prevalent issue with the shortcomings of mmj programs, nationwide.
The Wilson's were faced with disgust and discord when they approached doctors about helping daughter Vivian. One doctor in particular dismissed their request immediately, citing the specific American Academy of Pediatrics' position directly against using medical marijuana. "People just don't like to hear about marijuana and kids," said Brian. "It kills me when people say, 'Oh, we don't know the side effects and it kills brain cells.' Well, she's already killed brain cells on these (prescription) drugs. The seizures have killed brain cells."
"Politics should not be determining whether or not children live," said Brian Wilson.
The Colorado based caregivers, the Stanley Brothers, developed strain 'Charlotte's Web,' after meeting with Charlotte Figi's family. Daughter Charlotte had been diagnosed with Dravet's syndrome at the age of 2, when she began to cognitively decline at a rapid rate. After all other medical options had been exhausted, Charlotte's parents found hope in an online video of a young boy being successfully treated by cannabis for the same condition. When Charlotte turned 5, her parents chose medical marijuana, and being the youngest patient in the state to apply, it was no easy feat. After meeting with the Stanley brothers, the Figi's fears were soon eased. For the first seven days after Charlotte had began taking CBD-rich marijuana regularly, her seizures came to a halt. She now thrives, with a maximum of two to three seizures per month. The product, 'Charlotte's Web,' strain, inspired patients and families nationwide. It was this strain in particular that brought about the medical refugee movement.
The brothers formed the Realm of Caring Foundation, a non-profit organization which provides alternative cannabis treatment to children and adults at incredibly low costs. However, one brother said, "We don't have any research money. We are a nonprofit and its been through our own research with experience with patients we developed Charlotte's Web. Charlotte was our first patient, and within seven days she is seizure free."
As it stands, there are two operating dispensaries in the Garden State. Neither of these facilities is producing marijuana edibles yet. A doctor based out of Rutherford who has recommended medical marijuana to three children was asked by state officials to hold off on recommending any more patients to the program until other specialists are found. Unfortunately, finding physicians to join the program is half the battle. Many doctors will not even consider looking into the mmj program, primarily because there is not enough substantiated proof in favor of medical marijuana. Like this, medical marijuana programs in our country go through a kind of catch-22. Physicians and patients alike want more than just patient stories to shift their hesitance and base their understanding of medical marijuana off of. However, researchers and scientists alike have been perpetually hard-pressed to receive grants toward further analyzing medical marijuana and its many facets. With so much substansiated evidence backing so many pharmacteuticals on the market, one can't help but think it is more than a coincidence that there is still so little information on medical marijuana out there.
Just yesterday, Christie said in a press conference from his statehouse office, "See this is what happens. Every time you sign one expansion, then the advocates will come back and ask for another one." He continued, "Here's what the advocates want: They want legalization of marijuana in New Jersey. It will not happen on my watch, ever. I am done expanding the medical marijuana program under any circumstances. So we're done."
To back his statements, Christie added, "There's no outpouring of people signing up for this program. This is another one of those narrow group-think policies put forward by the Legislature and I'm not going to continue to expand it. Because what they want is legalization. They're not getting legalization under this governor."
When Brian Wilson was reached via email after the press conference, he shared his sheer frustration with Governor Christie's policies. "There's no outpouring of people signing up for this program because who wants to spend $200 on sign-up fees plus the countless doctors fees, not covered by insurance, to participate in a program that cannot serve the current client base?"
For parents like Brian and Meghan Wilson, as well as other pending, current and hesitant patients and families seeking a further established medical marijuana program in the Garden State, Christie has this to say, "They'll have to elect somebody else. And you know what? They don't get a chance for that for another four years."