Golden State's Attempt to Amend 1996 Medical Marijuana Bill
Posted by Marijuana Doctors on 09/10/2013 in Medical Marijuana Laws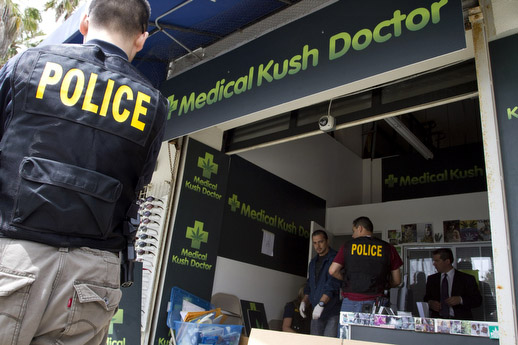 This week, California lawmakers are attempting to end the two year-long federal crackdown on state run medical marijuana businesses. The newly ameliorated bill was inspired by a recent White House memo allowing both Colorado and Washington State to regulate and tax legal marijuana. Assemblyman Tom Ammiano (D-San Francisco) promptly worked to amend the AB 604 bill this past Friday in hopes of clarifying California's ambiguous marijuana laws .
The bill, AB 604, is more commonly known by citizens as the Medical Cannabis Regulation and Control Act of 1996. The additions made to the newly revamped bill include articles explicitly detailing the bill's previous flaws, proposed legislation moving forward and an extensive strike through of previously written content. Specific requests have been mentioned, one of which reads, "Greater certainty and uniformity are urgently needed regarding the rights and obligations of medical marijuana facilities, and for the imposition and enforcement of regulations to prevent unlawful cultivation and the diversion of marijuana to nonmedical use."
Beginning with a federal crackdown in October of 2011, Federal prosecutors and DEA agents alike have raided hundreds of state-run dispensaries with the government granted OK to do so. This crackdown has affected even the most obedient and accommodating dispensaries in the state. In an August 29th announcement, the Justice Department stated they were going to allow state monitored marijuana regulation.
The newly amended bill would seek to create a brand new regulatory agency by way of the Department of Alcoholic Beverage Control to essentially supervise the industry. The intent would be to implement more concrete rules for medical recommendations, a mandatory commercial registration program, expanded law enforcement options and greater specifications for zoning and taxing. Nevertheless, cities would still be allowed to place a ban on dispensaries in their jurisdiction. A spokesperson from the office of Rep. Tom Ammiano came out and said that Ammiano's bill amendment will be the answer to the years-long statewide outcry for clearer pot regulations.
Currently, Oakland and Berkeley are suing the Justice Department as a precaution to prevent potential closure of both Berkeley Patients Group and Harborside Health Center. Law Enforcement Against Prohibition (LEAP), consists of a group of judges, prosecutors, police force and other law enforcement officials who are strictly opposed to the current war on drugs. The group is referring to this bill as a positive step forward for both law enforcement and the medical marijuana community.
Former sheriff's deputy and LEAP spokesman Nate Bradley of Sacramento called this bill amendment a huge step. "This is exactly what law enforcement officials on the ground have been asking for. The big thing we're trying to remove is the ambiguity in the law. I think it does have a chance."
The major issue at hand here is the discrepancies between the near negligent state programs. For starters, both California and Washington state have optional, voluntary medical marijuana programs in place. Although California was the first state to approve medical marijuana use in the nation, it has failed to revise its initial 1996 bill until now. States that have gone legal in more recent years have been setting far stricter policies in place for the medical marijuana programs. Raids have not been reported in many other legal states for two main reasons. The primary reason being that many legal states follow a much looked-over, revised strict protocol in legally setting up state-regulated dispensaries. The second reason being that many states that have gone legal have yet to gain access toward opening legal dispensaries. And for many of the dispensaries in Washington and California that have been raided in the past, often times the dispensaries have opened externally from the state programs.
Bill AB 604 reads, "Despite the passage of the Compassionate Use Act of 1996 and the MMPA, because of the lack of an effective statewide system for regulating ad controlling medical marijuana, local law enforcement officials have been confronted with uncertainty about the legality of some medical marijuana cultivation and distribution activities. The current system of collectives and cooperatives makes law enforcement difficult and endangers patient safety because of an inability to monitor the supply of medical marijuana in the state and the lack of quality control, testing, and labeling requirements. As a result, many cities and counties have passed local ordinances that in some cases ban the cultivation or distribution of medical marijuana."
The amended bill's primary cause for tailoring is at this point, "To fulfill the promise of the Compassionate Use Act of 1996 to implement a plan for the safe and affordable distribution of marijuana to all patients in medical need of marijuana." The newly written bill's intended goal is to establish a statewide system for regulating and controlling commercial medical cannabis activities by creating a state entity to enact and enforce regulations governing the cultivation, processing, manufacturing, testing, transportation, distribution, and sale of commercial medical cannabis.
LEAP spokesperson and retired LAPD Deputy Chief Stephen Downing in a written statement said that, "If you look at where the federal government has cracked down on medical marijuana and where it hasn't, the overriding theme is that those states with good regulation schemes have mostly been left alone. The Justice Department's recent announcement that they'll respect states' marijuana policy as long as they're smartly and strictly regulated is an unsubtle hint that California needs to get its act together with bills like this one."