Former Olympian Embraces Lifetime Relationship with Mary Jane
Posted by Marijuana Doctors on 07/18/2013 in Medical Marijuana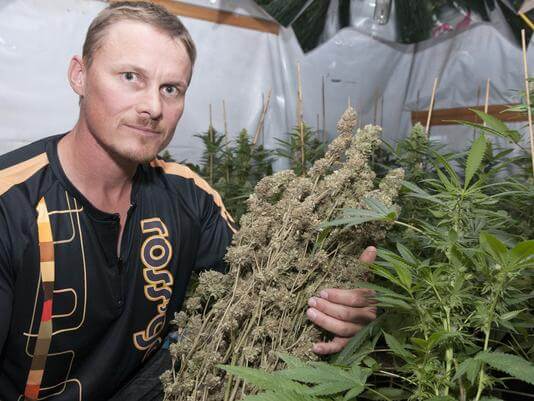 Its been 15 years since Olympian Ross Rebagliati won, lost and recaptured the world's very first snowboarding gold medal at the 1998 Winter Olympics. Since that time, he has radically changed his "pothead" reputation and worked to make marijuana an essential part of his life and legacy.
The Canadian competitor has become a spokesperson and a familiar face for pot-smoking athletes worldwide. "Any time somebody gets in trouble for weed I'm the guy the media calls." Rebagliati told USA TODAY Sports. He proudly took initiative in going on NBC and defending Michael Phelp's name and title after his infamous pot smoking photos were leaked. "I told them, Hey, it's zero calories, zero fat!"
Rebagliati is satisfied with the evident change of attitudes towards the plant, as the Olympic World Anti-Doping Agency has recently amended its cannabis regulations. The threshold for positive testing was changed from 15 nanograms per milliliter to 150 ng/ml; amounting to about ten times the amount of THC content. Now legalized for medicinal purposes in Canada and 14 American States, Rebagliati believes the plant's removal from the WADA's list of banned substances is fully justified.
WADA works to oversee all Olympian drug-testing worldwide. Ben Nichols, a spokesperson for WADA, said that the new threshold level has been altered as an attempt to, "…ensure that in-competition use is detected and not used during the days and weeks before competition." They have recognized that many cases do not involve game-day consumption and their primary concern only covers the duration of a competition. Outside of competing, the drug is not prohibited.
Back in 1998, Rebagliati tested positive for a level of 17.8 gn/ml and was stripped of his gold medal as a consequence. He was forced to stay within the confines of a holding cell where Japanese authorities interrogated him for over six hours regarding his positive test. The International Olympic Committee ended up rightfully returning the gold back in Rebagliati's possession. Their rationale for the major mixup? Weed was never on the IOC's banned substance list in the first place.
For a while, the Canadian snowboarder had been bogged down by insults and public confrontations, subsequently, his family had even received death threats. With the return of his medal, Rebagliati told the New York Times, "I'm definitely going to change my lifestyle." And for some time, he did. He entered the corporate world, obtained his real estate license and even dabbled in politics. When referring to this time in his life, Rebagliati recalls, "I went pretty much as opposite a direction as you can."
With the crash of the housing market in 2007, Rebagliati knew he had to provide for his family, and went about doing so, clinging to the one thing which brought him surefire fortune; his fame. And so began his newest endeavor, Ross' Gold. A five-star atmosphere coffee shop, high-end head shop and medical marijuana dispensary, Ross' Gold is scheduled for its grand opening in Whistler, British Columbia, next month.
As a former geopolitical history student, Rebagliati had always been interested in the evolution of marijuana policy and law. He attributes both Canadian and American governmental shifts within the industry to his ultimate decision to embrace his medical marijuana goals. Over time he has become a marijuana activist and advocacy speaker, defending both recreational and medicinal usage as a perfectly healthy lifestyle choice. In opting to own and further build on the public image that once jeopardized his career, Rebagliati admits he feels rather relieved. "It was almost like I was coming out of the pot closet."