Florida's Medical Marijuana Vote Loses by Only 2%
Posted by Marijuana Doctors on 11/05/2014 in Medical Marijuana Laws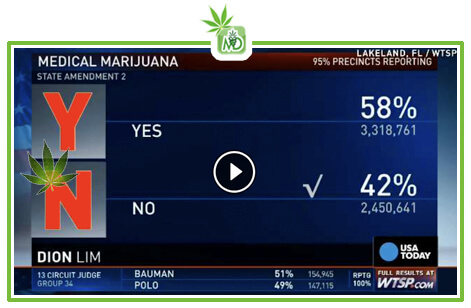 Yesterday, voters in Florida rejected a measure that would have given patients in the Sunshine State, access to medical marijuana. The measure would have legalized medical marijuana and its use, and would have been regulated by the state's Department of Health. But because the measure would have altered the states constitution, supporters needed to get at least 60% of the votes&hellip
Disappointingly and frustratingly, only 58% of voters said YES. Though polling on Amendment 2 had been erratic for the most part, the senior voters did appear to have interest in the initiative, an interest mirrored by the reality that they would have been the demographic who most benefitted from its successful passing.
"You get older, you get sick, you start getting diseases, your bones stop working as well as they used to and you're presented with this pharmacopoeia of different drugs that you have to take just to get through the day," said Ben Pollara, the leader of United for Care, the pro-Amendment 2 campaign. "To the extent that seniors can use marijuana to supplement or replace any of those drugs I think is a good thing."
Although the debate over legalizing medical marijuana in Florida would often spark talks of young people possibly rushing to the polls, seniors were always the more reliable group of voters, and most certainly the key to winning or losing this measure.&nbsp M.J. Seide of Hollywood, says that she pays about $450 for an ounce of marijuana every 6 weeks to help her avoid the painkillers that have previously left her incapacitated and dealing with issues of addiction. "At 64, I'm a criminal because I have to buy this stuff on the street.
All across the state, similar stories can be heard from other seniors, who admit to using marijuana for everything from sleep aide, to appetite stimulant, to pain control.
Unfortunately these voices are not yet representative of the overall population of older voters, only 58% of them… Steve DeAngelo, activist and executive director of Harborside Health Center, a not-for-profit marijuana dispensary in California, says that the "reefer madness" mentality is still common among older people. He realized that because of this they would often bypass his clinic, and so he launched an outreach program to seniors. As such seniors now account for about a quarter of Harborside's clients. Steve says that he has seen remarkable turnarounds in patients who were previously succumbing to the addictive and destructive ways of prescription medications. And when it comes to medical marijuana, Steve says that most seniors are against smoking, opting instead for edibles, drinks, lotions, lozenges, capsules, and all sorts of other products that have been infused with cannabis. Seniors are sick and tired of taking pharmaceuticals that have a list of side effects that look like something out of a Stephen King novel.
Still despite the benefits, senior voters did not have enough strength in their support to sway the vote. There is still hope however, that a medical marijuana measure will prove successful next time, considering that they only lost the vote by 2% Jason Draizin, CEO of MarijuanaDoctors.com, said that he is very disappointed that the measure was not successful, "MarijuanaDoctors.com was excited at the opportunity of being able to help the patients of Florida, especially those citizens trying to enjoy their senior years in the Sunshine State. Its unfortunate that the measure did not pass, not just because it was so close, but because there are many patients in Florida, in dire need of medical marijuana. I agree with Steve DeAngelo, that further education is required to help eradicate the outdated mentality of reefer madness. MarijuanaDoctors.com will do all it can to assist, and in this light we would like to invite the Florida Medical Association to review and work with the data that we have been collecting for the past several years, in the hopes that the data will help educate those who are still so misinformed. Once the seniors of Florida have all the facts, we have no doubt that medical marijuana will be passed for the state's patients in need."