Federal Prosecutors Raid 103 LA County Dispensaries
Posted by Marijuana Doctors on 06/17/2013 in Medical Marijuana News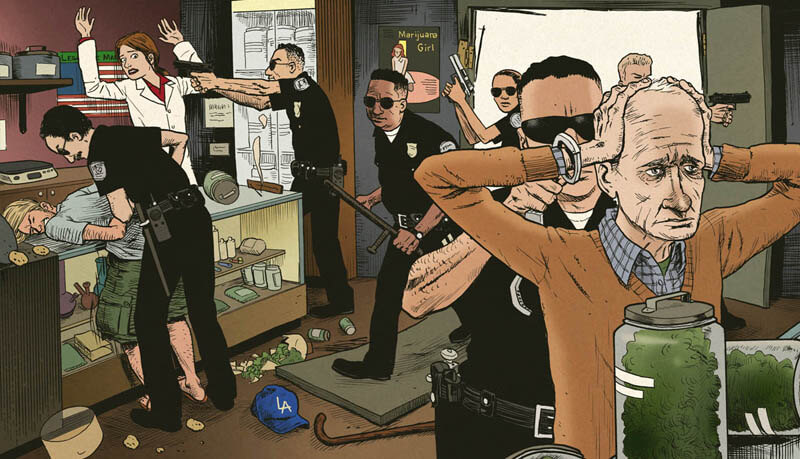 In a not-so-surprising turn of events, federal prosecutors have issued dozens upon dozens of warning letters to medical marijuana collectives in the Los Angeles and Long Beach areas. These collectives are being forced to close their doors or else they have to deal with the wrath of the federal government. Medical marijuana dispensaries within these two areas will either be subject to potential criminal or civil action filed against them.
California municipalities reported on Tuesday that more than one-hundred medical marijuana dispensaries across Los Angeles County have received letters issuing their business to cease operations. It was also reported that two lawsuits were filed against property owners in Long Beach, stating that it is illegal for the building tenants to allow the sale of marijuana within the building's parameters.
Federal prosecutors in California have launched a cooperative crackdown on the state of California's medical marijuana industry since early 2011. Prosecutors have threatened landlords of these buildings with property forfeiture and continue to issue threats such as these until this very day. The real question in California remains: When will these raids end?
Since the initial crackdown of marijuana collectives began in 2011, it has been reported that nearly 625 medical marijuana collectives have closed their doors. These statistics are based upon a demographic of geo-targeted medical marijuana dispensaries located in the seven-county Central District of California.
Since the original passing of Proposition 215 in 1996, California established its name as the first state to legalize the use of medicinal marijuana. However, until this day medical marijuana remains illegal under federal law. As residents, patients and state legislators across the state continue to wish for better days in this growing industry, the debate about federal legality and state legality remains hotly contested.
Marijuana Doctors Recent Posts