The Face of Determination – A Mother's Plea
Posted by Marijuana Doctors on 10/29/2013 in Medical Marijuana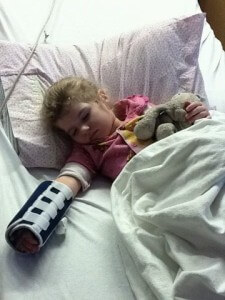 Pennsylvanian mother of three, Dana Ulrich, published a formal plea on ladybud.com for legislators, activists, law enforcement and inquiring minds alike just yesterday. She began with these riveting words, "I never would have imagined this moment, but I can say with pride, with dignity, and without reservation that I am a mother fighting to get marijuana for my six-year-old daughter, Lorelai." She followed those statements with an understanding, knowing full well that it would not be an "easy prospect," living in Pennsylvania, a non-legal medical marijuana state.
She described daughter Lorelei's at first undiagnosable condition which began at 22-months old. "Staring spells," as she referred to them lasted only the duration of a few seconds with a quick recovery. However they began to occur frequently enough that mother Dana knew there was undeniably something wrong. Despite being told again and again, even by Lorelei's own pediatrician that she was surely just daydreaming, a mother's instinct shook up Dana's nervous thoughts. Her two year checkup, just two months later revealed a far different diagnosis than previously predicted.
Just three days following the birth of her younger sister, Lorelei was diagnosed with "childhood absence epilepsy" which brought about a sigh of relief for the Ulrich's. Although it was certainly not a diagnosis any mother would ever want to face, children with this diagnosis, Dana noted, were generally easily treated upon the first or second medication. Knowing it was a condition children could outgrow throughout puberty could certainly serve as a glimmer of hope.
After several months, Lorelei's "easily treatable" condition proved to be anything but. Her diagnosis was quickly changed to "primary generalized epilepsy," after further routine testing had been performed. "This was not the 'she'll likely grow out of it' diagnosis that we had been so elated to receive," Dana wrote. "My fear for Lorelei's future began to increase."
Lorelei was put on a strict Ketogenic Diet of oily, fattening foods which she absolutely hated. Further trials of prescription medications both alone and in cocktail combinations failed to control her seizures. Lorelei's development was at stake. She had severe behavioral and impulse control issues which proved to be absolutely problematic – especially when interacting with her siblings. Her pharmaceutical prescriptions all had negative side effects which far outweighed the good. Dana wrote that she began displaying autistic-like tendencies just before her fifth birthday. She was then diagnosed with autism spectrum disorder.
Determined to find a better solution, Dana glued herself to the computer where she researched alternative treatment methods. Every search engine brought her to the same solution – marijuana. Time and time again, she admitted, she closed the windows and moved on. "It was not simply because it was marijuana, but because I was not going to have my six-year-old smoking pot!" she explained.
Although she's always been an advocate for medical marijuana, Dana never had a reason to seek it out herself. She had, during her high school career, written a paper on marijuana's medicinal benefits – so it was never out of the question for her, or her loved ones. And then she saw something concrete. On August 11, CNN's "Weed" hosted by Dr. Sanjay Gupta premiered for the first time. Of the many medical marijuana patients he spoke with, one in particular stood out to Dana. "He spoke with the parents of a little girl in Colorado dealing with nearly the exact same thing as Lorelei, except she was getting better." This little girl, Charlotte Figi, had received a specially cultivated strain from the Stanley Brothers, by the name of Charlotte's Web.
Immediately, Dana was prompted to make endless phone calls to state representatives, the Governor and Lorelei's doctor. Although she received general support, she found herself road blocked again and again.
Dana writes, "It is October 2013 and I have continued to fight. Believe me when I say: I don't plan on giving up until my daughter gets the medicine she needs, marijuana."
She is not only fighting for Lorelie's right to safe access of medical marijuana, but thousands of others across the greater Pennsylvania region. Essentially, Ulrich is taking it upon herself to be a voice for the people. Documents House Bill 1181 and Senate Bill 770 have been collecting dust sitting on legislators desks, she wrote. "When they should be vehicles for changing the law." With a staggering 82% of Pennsylvania voters in favor of medical marijuana, 58% of our nation in favor of it and nearly 8,000 signatures on Dana's written petition to Governor Tom Corbett to legalize medical marijuana for adults and children – Dana is absolutely determined to make a necessary change.
"I am a wife, a daughter, a sister, a niece, a friend, a lover and advocate for animals and so much more…of all the facets of my life, the one that shines the brightest for me is being a mother," Dana concludes. "Thanks to all of the mothers and women working every day to make cannabis legal across America for children and adults, you have already been such an inspiration to me. This is just the beginning!"