Experiencing Colorado's Recreational Shift First-Hand: Inside Dispensaries
Posted by Marijuana Doctors on 02/28/2014 in Medical Marijuana Trends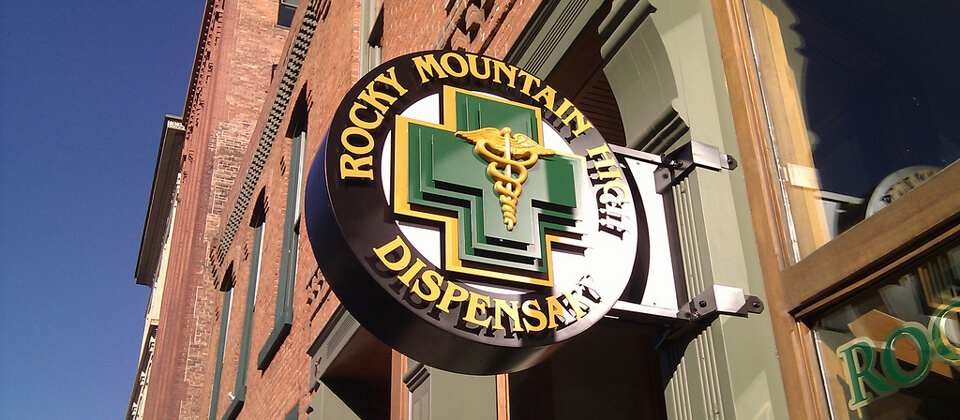 When I was fifteen, I visited Boulder, Colorado and fell in love with the land. There was something about the palpable graciousness, the abundant hospitality and the overall peaceful spirit that seemed to absolutely consume the magnificent mountain town. Embracing the mellow Boulder lifestyle was not so much an option as an essential. Being a native New Yorker, the willful engagement of complete strangers and kindhearted words of store clerks, bud tenders and strangers alike was an unanticipated breath of fresh, Coloradan air.
See New Yorkers are quick to turn the other cheek, jam their headphones in their ears and cling to the subway pole furthest from your geographic location. There is no hustle and bustle, no faced paced busy bodies and rushing businessmen – it seems in Boulder, everyone has time for everything. In fact, I'd wager to say that in Boulder, everyone has time for everyone.
With the recent recreational marijuana shift in Colorado, pot tourism has been keeping the dispensaries more than occupied from open to close. I started doing extensive research on dispensaries gone recreational, and suddenly I'd found I had the perfect excuse to travel back to the Promised Land once more. So I booked a flight to Boulder to see for myself just how the nation's first recreational marijuana shops were functioning, engaging with their customers and affecting the city as a whole.
Not five minutes after landing in the mile high city, I was fully immersed in the world I missed and loved so dearly. Friendly travelers were striking up conversations left and right on the shuttle bus to Enterprise. Having flown straight into Denver, my first mission was clear: driving downtown to check out the highly regarded, newly recreational dispensaries.
Upon pulling up to my first destination, Evergreen Apothecary, I couldn't help but notice the incredibly high frequency of dispensaries occupying the block. South Broadway was home to no less than ten dispensaries, smack in the middle of Denver. I'd found myself entirely engrossed in the Mecca of marijuana, to say the very least – I was awestruck.
The process flowed smoothly, a security guard inspected shoppers ID's at the door and had everyone form a single file line by the entrance. One by one, individuals made their way to the glass shelves – stacked with peppermint and dark chocolate edibles, various strains and concentrates, oil cartridges, glass pipes and pen shaped vaporizers. After recovering from the initial shock of being in an entirely legal marijuana shop, I introduced myself to the bud tender assisting me and took her lead. I told her it was my first purchase at a dispensary and then proceeded to get a little overzealous with my purchases -but hey, it was vacation.
Another dispensary I stepped into had separate counters for medical and recreational customers. Once handing our ID's over, we were instructed to wait on a separate, roped off line strictly for recreational customers only. Every dispensary asked if I'd want a receipt as a souvenir to bring back home. Some dispensaries had more extensive selections while others boasted great deals. Denver's dispensaries were quiet, peaceful establishments with knowledgeable, intelligent bud tenders – fully prepared to answer any and all customer questions.
Once I'd gotten the hang of recreational dispensaries under my belt, I met up with a friend who goes by the name of "Budy Crocker." Budy is a state licensed caregiver whose very lifeblood is providing her patients with the most delectable, medicated desserts. Budy made her profession out of baking custom treats and constantly catering to her patients needs. A medical marijuana patient herself, Budy's absolute dedication and compassion towards the industry never, for one moment waivers. Her whole apartment smelled strongly of cookies freshly oven-baked when I arrived, and Budy's warmth truly illuminated her home. She spoke about her patients with the utmost respect and regard for their well being. Simply being in her presence, a remarkably comforting feeling washed over me. This, I thought, is what the face of care giving in our country should represent.
Budy told me that the biggest distinction between recreational and medical marijuana in Colorado was the prices. What she paid for her patients and for her own medicine was far less than that of the recently instated recreational prices. I was keenly aware of this stark price difference from an article I'd written just several weeks prior. Andy Williams, the CEO of Medicine Man Denver, told Bloomberg when Colorado first went recreational that non-medicinal customers were, "…Not used to coming into a facility and paying $25 an eighth, so when they come in, it's just whatever the price is. Having the ability to buy safe, reliable, quality marijuana in an environment that's fun and exciting sure beats going in a back alley and saying, 'Hey buddy, you got a bag?'"
Recreational prices are still being worked out, as one dispensary owner, Brooke Gehring had explained. The prices are very comparable to current black market prices. "We probably won't truly understand what that demand is for another three to six months, when more shops are open across the state, to see if this will be a steady crowd." Aaron Smith of the National Cannabis Industry Association reported that, "As more businesses open and the businesses get a sense of what the demand is and are able to meet it, the prices will go back down."
Not long after settling into Boulder, I was curious to check out their two dispensaries that had, only a day or two prior, gone recreational. Karing Kind was located in the outskirts of Boulder, about fifteen minutes into the mountains, in what seemed like a storage facility. The prices seemed rather outlandish for the minimal selection they boasted, but the staff was quick to make suggestions and conversation with their customers.
And after approaching my final stop, I quickly learned it would become my favorite stop. Terrapin Care Station was located not five minutes away from the place I was staying, and I can easily say it was the best dispensary I'd visited during my stay in Boulder. Terrapin was split up into two parts, a sizeable waiting room for customers and of course, the shop. The waiting room had couches, several shelves of pipes and the nicest staff I'd encountered during my trip. Everyone was in high spirits, striking up conversations left and right and sharing preferences and suggestions with one another. When my ticket was called, I was met by a friendly bud tender and escorted into a room with four separate stations, each containing edibles, strains and concentrates. The bud tenders could not have been any more helpful, talkative and friendly. Long after I'd made my purchase, we carried on conversation about the beauty of Boulder, my time spent out there and Santa Cruz, the supposed Boulder of the West Coast.
I hiked the Red Rocks, I hiked to Realization Point, I fell in love with Boulder all over again. I took it upon myself to seek out some investigative journalism and experience, first hand, the recreational shift. I sought out to prove a thing or two. I wanted to see if the congressional fear that legal marijuana would be the ultimate downfall of the Rocky Mountain was even, in the slightest bit, being played out. Here's what I found: a tight knit community of kindhearted people, quick to befriend the next individual and check their judgment at the door. Colorado is, as it always was, a magnificent state with a beautiful, beautiful people. Has marijuana become an integral part of the cities of Boulder and Denver? Well, it's inevitably present. Dispensaries line some streets like fast food joints, if you seek them out.