An Empire State of Affairs: Medical Marijuana in New York
Posted by Marijuana Doctors on 04/21/2014 in Medical Marijuana Laws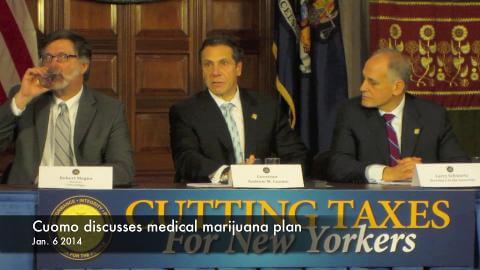 As mentioned in Governor Cuomo's State of the State address in January of this past year, plans to enact a partial medical marijuana program in New York have been solidified. Under the briefly proposed plan, up to 20 hospitals throughout the state would have be given the go-ahead by state authorities to conduct research and allow patients to receive medical marijuana as per treatment plans.
The plan is highly problematic in nature, in that these hospitals are predominantly federally funded. And in putting two and two together, one can assess that marijuana, medicinal or not, and federal government institutions do not mesh well. Therefore, the room for error evident within this proposed plan is enormous.
Senator Charles Schumer has mentioned that City Hall has to keep a close eye on crime rates within New York or else mayor de Blasio could potentially be a "cooked goose." He went on to say, "I'd be leery of just opening up all the floodgates. On the other hand, there's a compassionate argument. Some doctors say when you have a serious type of cancer; medically prescribed marijuana is the only way to go." Minimal as it may seem, this statement of recognition and medical understanding is tremendous towards medicinal legitimacy and clout. Schumer went on to add, "You don't want it to be abused where anybody can walk in get medical marijuana." This fear has been reiterated time and time again by political affiliates in states across the nation.
Schumer declared his position one of "watchful waiting." "I want to see how it works in a variety of states," said Schumer. "We should leave it up to the states, and let's have an experiment. Color me watchful."
On April 28th, progressive issues such as medical marijuana, public financing and raising the minimum wage will all be revisited when lawmakers plan to resume in New York. These issues have been largely sought out by primarily democratic lawmakers. However, the state Senate, composed of a large coalition of Republican legislators, will be met with the ultimate decision of having to finalize the status of these laws. One Democratic Leader, Andrea Stewart, representing Yonkers has stated, "The coalition has always said that they were in place to get progressive legislation passed. I don't think that's really happened." She went on, "Clearly, we can do better."
Along with Senator Schumer, supporters have criticized Cuomo's plan addressed in January. Advocates and activists have said that the limitations following the bill are enormous, and a broader bill would be necessary for a chance at success. And while the Democratic-led Assembly would have no qualms passing this legislature, a surprising four Republican senators have already stated they would support Cuomo's bill.
Of the piece of legislature's passing, state director of the Drug Policy Alliance, Gabriel Sayegh, has said, "We're certain that if the bill is brought to the floor, it'll pass. The question is the Senate, and it's a leadership issue."