Democrats Working To Get Medical Marijuana On Florida's Ballot
Posted by Marijuana Doctors on 08/06/2013 in Marijuana Politics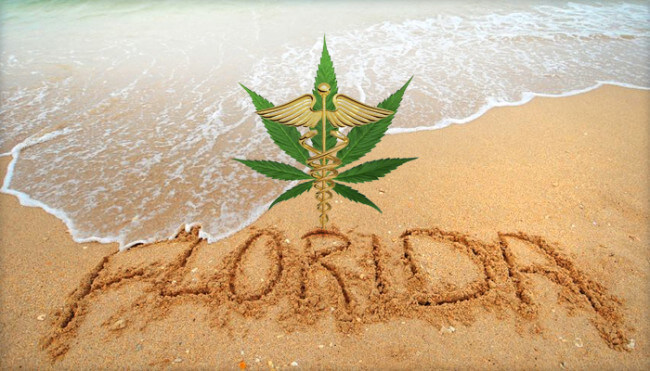 "The war on drugs is a war on the American people," Florida resident, Michael Derigo said. After arriving home from a trip to the grocery store on June 25th, Derigo was shocked to find half a dozen police cars surrounding his mobile home in Gibsonton. The call had been placed from a neighbor complaining about Derigo's homegrown plants.
Since his AIDS diagnosis back in 2004, 59 year old Derigo has grown his own marijuana plants and juiced the leaves to drink. He chose this method, because unlike smoking the dried leaves, the drink doesn't work by getting him high. It is merely a pain reliever.
"I've been able to keep my weight on where I've seen others just shrivel up and die," Derigo said. He has pleaded not guilty of possession and manufacturing marijuana. His lawyer, Michael Minardi, is planning a medical necessity case for Derigo's charges.
Due to a significant number of cases similar to this one, there has been a new petition drive to propose the legalization of medicinal marijuana use in the 2014 Florida ballot. And although similar efforts have failed in the past, there is a new sense of hope this time around. This petition proposal is now endorsed, with much political and legal clout, by trial lawyer John Morgan of the Morgan & Morgan firm, a major democratic political fundraiser. With the help of Morgan, the United for Care campaign group has already hired petition gatherers and crafted a ballot proposal.
When asked about how much he'd be willing to spend, Morgan, who has been known to make seven-figure contributions to both political and charitable causes, said, "As much as it takes." Morgan plans on running radio ads later on in the year and publishing newspaper stories, both of which have already drawn ample volunteers.
Naturally, this proposal has the potential to be up against strong-willed opposition by Republican political fundraiser and former ambassador Mel Sembler of St. Petersburg. Sembler and wife, Betty, founded the charitable Drug Free America Foundation and its sister educational group, Save Our Society from Drugs, both of which can be used in political causes.
In regards to his political involvement, Sembler only said that if  and when the opposition group, "gets organized, I'll make that decision then."
Why the personal interest in this campaign's effort? Morgan has, for decades, had a connection to the alternative medical treatment. His 55 year old brother Tim has been a quadriplegic since an accident that occurred in his teenage years, and uses medical marijuana to ease his muscle spasms. Controlling the spasms has allowed Tim to work for Morgan's firm. Their father, who had suffered from emphysema and esophageal cancer, used it to treat his nausea in the years before his death. Morgan regarded his father as one of those, "Don't smoke, don't do drugs," kind of guys, until his son, Tim, urged him to try it. "Overnight he was able to sit up and eat meals. He was able to enjoy life. It made his last days more restful and calm."
"This isn't Cheech and Chong," said Morgan. "This is people who have ALS, bone cancer where the pain is unrelenting, MS where their body is withering away. It wasn't party lights and strobe music with my dad and brother. It was just peace and lack of pain."
Veteran South Florida Democratic political strategist, Ben Pollara, who was prominent in the Clinton and Obama presidential campaigns, has chosen to back United for Care.
Together, he and Morgan have described their proposal as strict in nature, allowing only tightly controlled, medically prescribed marijuana use, prohibiting home growth, which critics have linked as being predominantly responsible for contributing to recreational use in other states.
In a proposed referendum campaign, the potential for abuse will be a highly debated subject. However, before that can take place, the organizers must meet a tight deadline to fit the proposal on the ballot. In order to achieve petition signatures equivalent to eight percent of the 2012 presidential election vote, the organizers will have to get 683,149 names, verified by local elections supervisors. In allowing time for potential invalid signatures and verification, nearly 1 million signatures must be met by early January, said Pollara.
The marijuana amendment, which is available for viewing at unitedforcare.org, provides full length lists of qualifying medical conditions for marijuana prescriptions; requirements that the state Department of Health regulate all dispensaries providing marijuana and related products; and a system of state identification cards for prescribed users and their designated caregivers.
Pollara hopes to have 10 percent of the necessary signatures within a month. The two have already conquered a smaller-scale effort launched by citizen activist, Kim Russell from Orlando, but chose to scrap the amendment, ditch the 30,000 signatures they'd gained and start anew.
"When we first met, John said this was not going to be a free-for-all, defacto legalization – it has to be a tightly controlled situation," said Pollara.
In stepping up their game, so to speak, the two hired law professor and former state House speaker, Jon Mills of the University of Florida. Referred to by Morgan as, "the best constitutional lawyer in the state," they will now be in full force, reworking the amendment with a keen eye toward Supreme Court approval.
In using excess money from a political committee he'd worked on last year, Pollara found that support for their measure topped 60 percent, far surpassing Florida's constitutional amendment threshold in a poll he'd commissioned.
Calvina Fay, executive director of Drug Free America, calls medical marijuana "a scam intended to lead to legalization for recreational use." Fay added that medical marijuana is a dangerous concept because its users, already sick, risk inhaling and ingesting unregulated substances subject to contamination whose components haven't been rigorously studied. "Just because somebody says it makes them feel good, where do we draw the line? Crack cocaine?"
An FDA-approved drug including tetrahydrocannabinol (THC) has already been commissioned, Fay noted. However, advocates of medical marijuana have addressed the drug as a poor substitute. "We get emails from people all the time saying they were prescribed Marinol but couldn't afford it, or it gets them stoned, whereas one or two puffs of marijuana doesn't get them stoned and alleviates the symptoms," said Pollara.
Medicinal marijuana user Derigo said his preferred method of juicing dried cannabis leaves calms his nausea which frequently induced his "downward spiral" of "AIDS wasting syndrome." Additionally, he uses it to ease his pain from nerve damage caused by shingles which struck his highly compromised immune system not long ago.
Though formerly a quality control engineer, Derigo hasn't been able to work for several years. He is unable to afford synthetic opiates prescribed at pain clinics. And even if he was interested in receiving them, he noted, the country health department which has provided his AIDS treatment, has never given him anything effective for his nausea.
Lawyer Minardi has handled a dozen medical marijuana cases similar to this one, and has a half dozen currently pending. Interestingly enough, prosecutors recently dropped charges against client Robert Jordan of Parrish, who had been charged with cultivation of marijuana for his wife, a wheelchair stricken victim of ALS. Minardi notes that nearly all of his clients are over the age of 50.
Morgan's amendment campaign has been criticized for targeting a turnout of young liberal voters to oppose the 2014 race against Governor Rick Scott. Morgan has responded by stating, "I started thinking about this way before I knew that Governor Charlie Crist would be in this position. I don't think medical marijuana is going to motivate an 18-year-old. Legalizing it might."
According to officials involved in the Marijuana Policy Project, an advocacy group for the legalization of medical marijuana, Morgan's assumption was on point. Political director Steve Fox noted that, "Legalization initiatives do seem to have an impact on young voter turnout, at least based on exit poll studies, but we haven't seen the same dynamic on medical marijuana issues."