DEA Forbides Armored Car Companies From Transporting Cash from Cannabis Dispensaries
Posted by Marijuana Doctors on 08/26/2013 in Medical Marijuana Laws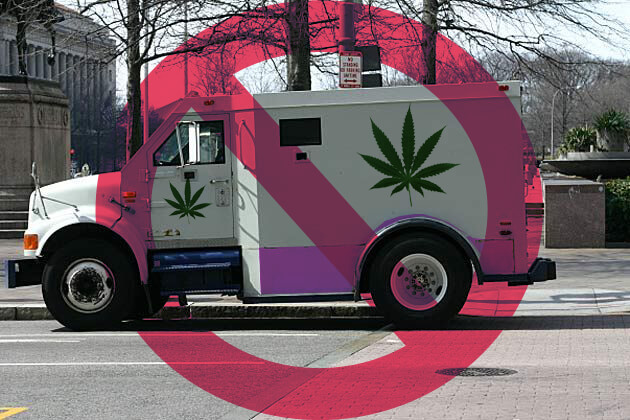 Though many states and DC have legalized medical marijuana for medicinal use, the Drug Enforcement Administration has ordered all security and armored vehicle companies to stop servicing legal medical marijuana dispensaries.
A press release from the group Law Enforcement Against Prohibition first broke the story by announcing that DEA officials are forbidding armored truck companies from transporting cash from medical marijuana dispensary to bank. Combining federal restrictions with threats made to banks about doing business with marijuana dispensaries, the act of transporting large amounts of cash without protection is fraught with risk and danger.
Kevin Sabet, a former Obama administration drug policy adviser defended the DEA's actions, arguing that the agency will continue to go after high-level drug providers, since their operations are still in violation of federal law, regardless of how they are treated by states. With the DEA continuing to make it difficult for legal medical marijuana dispensaries to conduct normal business, in the end, it is the patients who ultimately suffer.
The DEA announcement comes less than two weeks after Attorney General Eric Holder announced his intent to reform US drug laws to keep non-violent drug offenders out of prisons. The Drug Enforcement Agency has informed security and armored car services that they can no longer render services to state-legal cannabis providers, including the county's largest model dispensary, Harborside Health Center in Oakland and San Jose, California. Executive Director of Harborside Health Center, Steve DeAngelo said, "The federal government appears willing to do anything that will turn this inherently safe plant into something dangerous, no matter the impact on public health or safety. In 2011 they closed our bank accounts, which forced us to handle and store cash on-site. Now they have denied us any secure way to transport that cash to those whom we owe money—like the City of Oakland, and the California Board of Equalization."
Diane Goldstein, a 21- year law enforcement veteran, and speaker for Law Enforcement Against Prohibition said, "Stunned and speechless does not adequately convey my emotions. I am angry and disgusted at the blatant disregard for the lives of innocent people including patients, employees, surrounding communities, government workers and local law enforcement officers who will be endangered by reducing the security of legal businesses. This is a dangerous game that the DEA is playing using innocent lives. These heavy-handed tactics show the extent of collateral damage they are willing to allow just to win."