Cycling for Medical Marijuana
Posted by Marijuana Doctors on 01/17/2015 in Medical Marijuana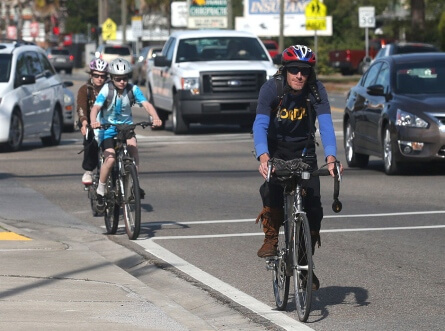 There are many ways to stand up for Marijuana and advocate legalization. Some people aim to inform and educate, others get involved with politics and some…cycle!
The story starts with Mr. Ken Locke who was almost killed in 2001 when a tree fell on him and caved in his skull. After extensive surgery, he was able to continue living except for the nasty side effects from the traumatic experience on the brain.
Locke continually suffered grand mal seizures as a result. According to him, he experienced over 60 grand mal seizures and since he started to use cannabis, they have stopped.
In addition to the surgery, Locke claims to have lost over 50 pounds due to a heavy regimen of pills, but in 2006 decided to get rid of all pharma meds and relied completely on cannabis for medical relief.
The Journey Begins
By the time that Locke decided to drop the Pharma meds, he embarked on a 4,600-mile cross-country trip with his bike. Strangers would supply him with his medical marijuana as he crossed into new states until he reached his goal.
States who do not have any form of legal marijuana were more reserved but even there people would hand him a joint showing support for his cause.
A new Cycling Venture
This year, on January 3rd Locke engaged in another cycling venture. This time he's doing a 1500-mile journey across the state of Florida in order to raise awareness. He's very careful with his medication since it is still illegal in Florida.
He says that every now and then he'd dodge into the woods, take a few puffs to keep his seizures under control, and then back on track with his cause.
While certain medical conditions, very limited in fact, are justifiable for the use of medical marijuana, only CBD rich strains are allowed like Charlotte's web. Thus, Locke needs to exercise caution.
Being an Army Vet, Family man and medical patient, Locke hopes to shed the veil of ignorance surrounding cannabis.
America has already shown great support for legalization but it is refreshing to see individuals like Locke stand up for the cause.
Assisting where we can!
This is precisely why we have decided to cover his story. We believe those 'fighting the good fight' deserves to be promoted. In fact, if you see Locke on his journey, why not give him a shout out from the MD community, snap his picture and send it to us. We'll make sure he's seen by hundreds of thousands of cannabis supporters.
Locke will be traveling from Tallahassee to the Keys and back again. If you happen to be on his route, why not help him out with food, medication or just support. Us Cannabis Folk need to stick together!