Couple Spiritually Fated to Open Second D.C. Dispensary
Posted by Marijuana Doctors on 09/24/2013 in Medical Marijuana Dispensaries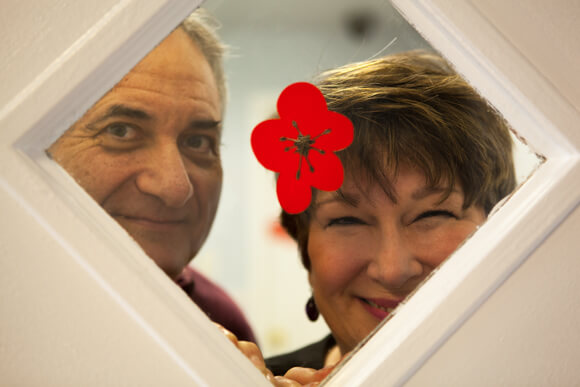 "There will come a day when dispensaries won't be necessary, when marijuana will be treated like any other prescription drug." These are the words that fuel the very progression and foundation of the medical marijuana industry. Just one month ago couple Jeffrey and Stephanie Reifkind Kahn opened the second licensed dispensary in the District of Columbia. However, these two are no novices in the care giving department. Between the two of them, the Kahn's have over 50 years of experience in wellness and healing. Stephanie has had a long lived nursing career under her belt, while Jeffrey boasts a different degree in healing – as a former rabbi.
"The cannabis plant was created by God on the second day of creation when God created all the other plants, and touching this one isn't forbidden," said Jeff in an interview. Jeff considers himself to be a "lifelong educator," teaching individuals to question preconceived notions, both over religion and medicinal marijuana.
The couple decided to go forth in opening Takoma Wellness Center as a kind of homage to Stephanie's late parents, whose illnesses produced side effects which were mitigated by cannabis. Her father, Jules, was diagnosed with multiple sclerosis and it was not until he tried medical marijuana for his severe muscle spasms that he was able to seek out relief. Her mother, Libby, suffered from the side effects of chemo after her cancer diagnoses back in 2005. The issue for her arose because, "Chemo robbed her of her appetite, and she fought constant nausea. The physicians again recommended marijuana. She couldn't find it," wrote Stephanie Kahn on their dispensary website.
The Kahn's have since shared a dream to help those suffering from debilitating illnesses like Jules and Libby.
This tragic realization served to galvanized the Kahn's plans to set their medical marijuana dispensary in motion. The two have spent the better part of their lives dedicated to helping ease human suffering. "From the Jewish perspective," Jeff said, "nothing is more important than the concept of healing and bringing sufferers relief."A deep sympathizer for chronically ill patients, Jeff admits, "I was a congregational rabbi during the worst days of the AIDS epidemic and saw up-close and personal what people living with AIDS were dealing with and finding relief with medical marijuana."
To Jeffrey, opening up Takoma Wellness Center was just the next step in his line of healing work. "The whole idea of breaking through those kinds of barriers and being able to help to connect people to what can really help then, it just seems a natural extension of my rabbinate and a natural extension of what's important to me about how Judaism views life and the world," said Jeff.
Ending his 30-year career as a rabbi was no heavy feat for Jeff, and as he told his congregation of his plans, they were widely supportive. Their dispensary is unique in that it takes not only a holistic approach to wellness, but an individualized one as well. Each patient is given one-on-one evaluations and personalized wellness plans to begin their road to pain management. In addition to the cherry blossom wall décor, there is a library filled with literature on medical marijuana in its many forms. "We really wanted it to not look like anything having to do with counter culture, that it looks warm and professional and a place that anybody could come in and feel comfortable," said Stephanie, of the facility. In making their services more widely accessible, the two engaged a consultant who certified the facility as entirely wheelchair friendly. It was important to the Kahn's to establish an entirely accessible environment for the disabled.
Stephanie has chosen to decorate the facility with hamsas, symbols which she says are, "Middle Eastern for healing and protection." She continued, "It's something that Arab and Israeli communities agree upon. It is our shared connection."
Of their location, Jeff said he chose the Takoma area because it is his home. The two live a five minute walk from their facility, and they've found that Takoma has become a hub of progressive people and philosophies and healing and wellness services, according to their website. The two are hoping to one day offer a medicinal strain which provides all the medical benefits without the traditional "high" for patients seeking all the medicinal benefits without any additional psychoactive elements.
"The mood of the nation has changed," said Rabbi Kahn. "The vast majority of American agree with Dr. Sanjay Gupta's CNN special, that marijuana is real medicine."
Though the two were hesitant at first to tell their children about their idea to open a dispensary, the support they received motivated them all the more. "Our family sees it as a way to honor my parents, to have a place where people like my parents could go…that will help people who desperately need help." "It just seemed beshert (destined). We were in the right place at the right time."