Congress Denies Veterans' Access to Medical Marijuana
Posted by Marijuana Doctors on 10/19/2016 in Medical Marijuana News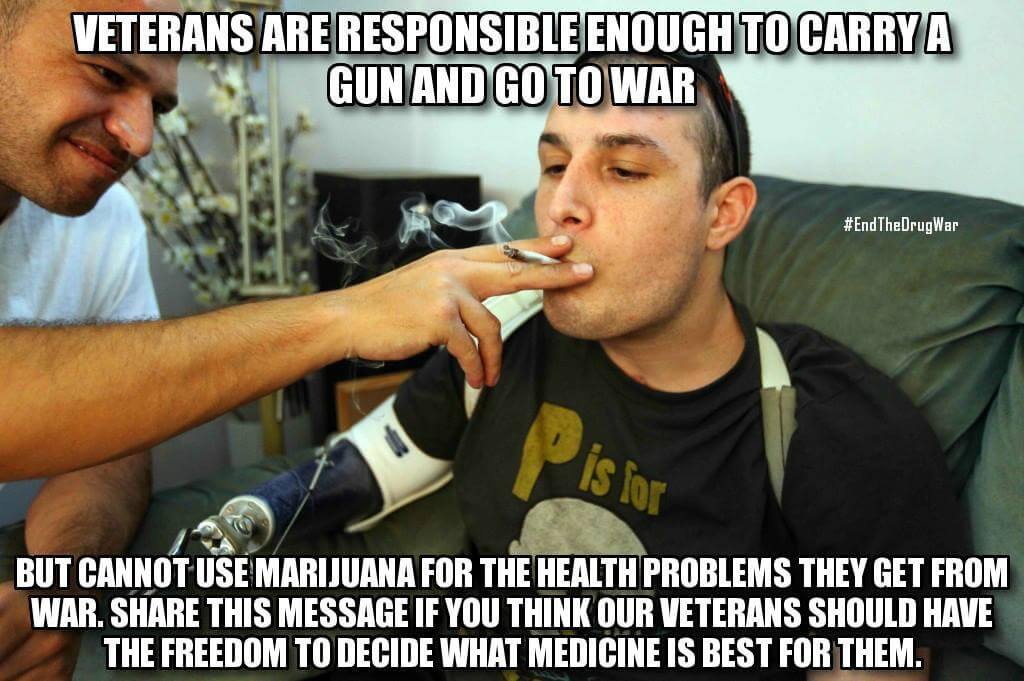 While Congress may have been rushing to get out of town, Republican leaders still managed to make time to block the Veterans Equal Access provision co-authored by Congressman Earl Blumenauer (D-Ore.), and Sens. Steve Daines (R-Mont.) and Jeff Merkley (D-Ore.), by utilizing the continuing resolution legislation. The provision, which would have given qualified veterans with PTSD easier access to medical marijuana in states where it has been legalized, instead died on the floor Wednesday evening after Congress passed a spending bill with the provision stripped out.
Previous Passing of the Provision
The provision had previously been passed by both the U.S. Senate and House of Representatives, and earlier in the year had enjoyed broad bipartisan support. However, the provision was removed from the Department of Veterans Affairs bill finalized by Republican leadership.
Blumenauer is understandably frustrated and disappointed, stating that despite broad bicameral and bipartisan support, a small number of lawmakers placed politics above the wellbeing of "America's wounded warriors", continuing by saying, "Our veterans deserve better than that." He promises to continue to fight for veterans to receive fair access to medical marijuana through fair and equal treatment, including being able to consult with their personal VA physician for medical marijuana recommendations.
Blumenauer's Fight
Blumenauer has been leading the efforts to make it easier for qualified veterans to access marijuana for PTSD treatment, since 2014. Medical cannabis is allowed to be used in many states to treat a variety of conditions veterans frequently suffer from, including traumatic brain injuries.
This Veterans Equal Access amendment passed the House this year, garnering broad bipartisan support. The amendment would have stricken down the Department of Veterans Affairs policy prohibiting VA medical providers from submitting completed forms which would allow a qualified veteran to seek alternative care by participating in a state-legal medical marijuana program, and a similar proposal was passed by the Senate. Instead, the language was removed in a closed-door conference committee by Republican leadership.
Blumenauer and a bicameral and bipartisan lawmaker group responded by urging that the provision be left in the final funding bill by Congressional leadership when the bill was sent to the president. He specifically appealed to vocal opponent U.S. Senator Mark Kirk (R-IL) in August, calling for a showing of respect and compassion for U.S. vets by changing course and supporting the bipartisan proposal. Kirk had opposed the proposal on the conference committee that ironed out the final language of the legislation, as well as opposing it during Senate consideration.  The appeal to Congressional leadership read, in part, "We feel the failure of the Conferees to include either provision is a drastic misfortune for veterans and is contrary to the will of both chambers as demonstrated by the strong bipartisan support for these provisions." However, the amendment wasn't added back in, leading to the Veterans Affairs spending package passing Wednesday without it.
Access to Medical Marijuana Treatment
The Veterans Equal Access Amendment sought to void a Department of Veterans Affairs policy keeping physicians from recommending legal medical marijuana treatments for post-traumatic stress disorder, chronic pain, and other medical conditions veterans experience. Currently, a veteran seeking medical cannabis must get a physician's recommendation from another medical professional outside of the VA system, and then foot the bill out of pocket. The VA doesn't allow the promotion of medical cannabis as a treatment for PTSD or other medical conditions veterans suffer from, due to the lack of research proving the effectiveness of marijuana in alleviating post-traumatic stress. Many veterans have chosen to use medical cannabis as an alternative to prescription painkillers and antidepressants, though several states do list PTSD specifically as a medical condition for which doctors can recommend marijuana treatment.
In August, the Drug Enforcement Administration (DEA) announced it would allow more research to be performed on medical applications for cannabis, which could eventually lead to the VA accepting it, however, all forms of marijuana are still classified by the DEA as Schedule 1, which it deems are the "most dangerous" category of drugs. The amendment had received support elsewhere, as well, from medical cannabis dispensaries, to physicians, to marijuana legalization advocates and groups, as well as veterans support groups. For example, The American Legion, which is the largest wartime veterans organization in the country, publicly voiced their support of allowing veterans access to medical cannabis by urging Congress to take marijuana of the Schedule 1 drug list designation which restricts its use.
Medical cannabis is presently legal in 25 states and the District of Columbia, with several other states, such as California, having propositions on the ballot this November on whether to legalize marijuana for medical or recreational use.
For more information on how medical marijuana can benefit PTSD, chronic pain and other debilitating conditions incurred by war veterans, visit MarijuanaDoctors.com to speak to a marijuana doctor and see if marijuana is right for you.