Compassionate Medicine Engraved into the Granite State: New Hampshire Becomes 19th State to Legalize Medical Marijuana
Posted by Marijuana Doctors on 07/24/2013 in Medical Marijuana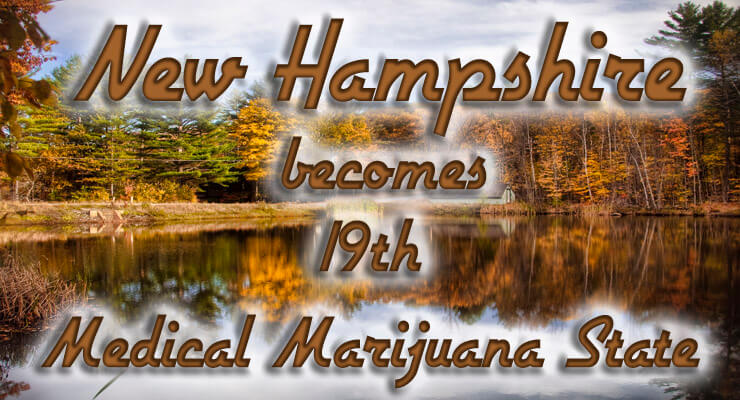 On Tuesday, New Hampshire became the nineteenth state to legalize the medicinal use of marijuana. After a lengthy time period of confusion and uncertainty, New Hampshire Governor Maggie Hassan enacted into legislation the measure that was passed this year with bipartisan support. In turn, the legislation would allow doctors to provide relief to patients through the use of appropriately regulated and dispensed medical marijuana. Patients who suffer from conditions such as cancer, glaucoma, HIV, AIDS, hepatitis C, Lou Gehrig's disease, muscular dystrophy, Crohn's disease, Alzheimer's disease, multiple sclerosis, chronic pancreatitis, a spinal cord injury or traumatic brain injury are all qualified to become state-licensed medical marijuana patients.
Governor Hassan believes that state-licensed physicians being able to recommend medical marijuana to patients is the compassionate and right policy for the state of New Hampshire. This piece of legislation ensures that the state's approach on the policy of medical marijuana is the appropriate way to prevent any abuse of the drug. This is considered a great win for the state of New Hampshire, Governor Hassan and House Bill 573's sponsor, Donna Schlachman. Similar medical marijuana measures have advanced through legislation in the past, but both times (in 2009 and 2012) the measures were vetoed by former Governor John Lynch.
The enacted law will be placed into effect immediately but it may be well over a year before the program begins to operate in a truly functional manner. Patients who are approved by a state-licensed physician into the program will be required to obtain a medical marijuana identification card that will place them into the New Hampshire registry. From there, patients will be able to buy their medicine at only a special state-sanctioned non-profit medical marijuana dispensary. These dispensaries will have to abide by the very strict rules set forth by the state, which could take up to around eighteen months to actually finalize.
Initially, House Bill 573 contained some language that Hassan disputed despite claims that she would support a medical marijuana measure. Before any revisions were made, the measure contained a home-cultivation option that was passed by the Democratic-led House of Representatives by way of a 286-64 vote in March. At Governor Hassan's request, the Republican-led Senate had removed the home-cultivation provision and several others before passing the bill by way of an 18-6 vote.
New Hampshire is now the nineteenth state to legalize medical marijuana and completes what seems to be a "green rush" in New England. As the last of the six New England states to implement a medical marijuana program, the state is making great strides towards caring for its patients. Currently, medical marijuana is also legalized in the nation's capital and is waiting to becomeenacted fully in Maryland. Once Maryland's medical marijuana law takes effect on October 1st, Maryland will be the 19th state to legalize medical cannabis.