Compassionate Care Act Bill Proposed to Legalize Medical Marijuana in New York
Posted by Marijuana Doctors on 12/24/2013 in Medical Marijuana Laws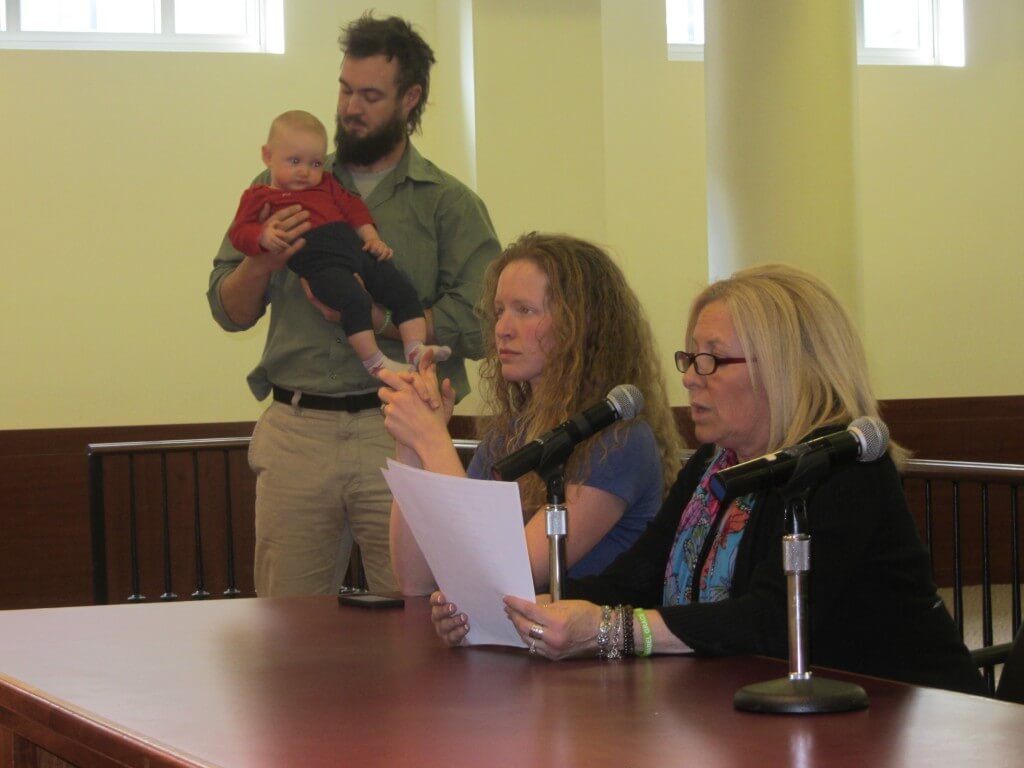 ust last Wednesday, dozens of advocates gathered together from all over the Northeast for a public hearing on the legalization of medicinal marijuana held by the chairman of the New York State Assembly Health committee. Among the attendees were patients and caregivers of those suffering from debilitating medical conditions, healthcare professionals, social workers and board members of various organizations and coalitions. The bill proposed, known as the Compassionate Care Act, would allow healthcare practitioners to certify the patient's need and recommend medicinal marijuana as deemed fit.
I took my seat in the Legislative Chambers and watched as families embraced one another. I watched as doctors and patients shared smiles and introductions, caregivers sought solace in one another and young, beautiful children laughed together. Senator Gottfried (D-Manhattan), co-sponsor of the Compassionate Care Act introduced the bill and not only personally addressed but commended, one by one, each of the 56 courageous individuals sharing their testimonies.
The first two to share their stories were Geri Barish and Craig Adams, both caregivers to their loved ones. Geri Barish of Baldwin spoke about her son who had passed away due to Hodgkins disease several years ago. Though she had never been a proponent for marijuana, the first time her son smoked a joint he told her he felt like a human being again. Back then, she explained, marijuana was not brought up in the medical community, and perhaps if it had been, her son would be standing there today. Patients, Geri said, "need every available weapon, every defense in their battle." Addressing the medical community, Geri said, "we have to keep our minds open – we need choices. Please don't leave anybody behind."
Craig Adams of East Meadow shared that as a New York State Court officer, he's always been adamantly opposed to marijuana. That is, until his wife was diagnosed with Multiple Sclerosis and the first time she smoked, the relief was instantaneous. "We slept through the night for the first time in years." And that, he said, was all the proof he needed.
In the following testimony, Paula Joana and her husband from Hopatcong, New Jersey, sat before the congressional board and spoke about their beloved daughter, Sabina Rose. "Never did we think Sabina would live to experience one Christmas, one birthday, one year," said Paula through teary eyes. She wore her Christmas dress a few weeks early this year, Paula said, in her casket on December 5th. Having been through recovery herself, Paula admitted that she never would have believed she'd be pleading her case, testifying on behalf of marijuana's benefits. Sabina was diagnosed with Dravet syndrome at several months old. Why, Paula asked, was it okay for my daughter to take adult doses of Benzodiazepines? but medical marijuana is out of the question. Point blank, Paula said, if my daughter had access to compassionate care, she would still be alive. This is a humanitarian issue, she pointed out, not one for political parties to debate. Sabina's primary pediatrician and neurologist were both on board with finding her a marijuana-based treatment plan. Paula explained that the process of getting her card was not held up by doctors, but rather by the law. With all of the hurdles, the time spent trying to get Sabina approved for medical marijuana took too long. Sabina Rose died at just 18-months-old while waiting for the approval to take her doctor recommended medicine.
Another woman, Missy Miller from Atlantic Beach, spoke about her 14 year old son's traumatic brain stem injury. "Despite being in a broken body," Miller said, "he is still curious and determined." She said that his independence has been robbed by the clusters of seizures he suffers daily. Sleep for him is not a restorative rest, but rather a kind of paralysis to occupy the time in between his seizures. Pointing at Paige Figi, mother to Charlotte Figi, whose medical success from marijuana has become an inspiration for families of patients world wide, Missy said," There is some chance of a life restored." How is it possible, she asked, that families have to relocate and leave the state just for medicine? I don't want to leave New York, where four generations of mine have lived. Missy had lost her seven year old daughter to a debilitating condition and sternly pleaded with the board, "I cannot lose another child. I will not do it."
As the testimonials commenced, there was barely a dry eye in the room. Dr. Richard Carlton spoke from both a professional standpoint and his personal standpoint, as a caregiver to his wife who had been recently diagnosed with Parkinsons. There is currently no FDA medication on the market that stops the degenerative process of Parkinsons, he said. "You will turn over every stone to help a loved one." He spoke about the science behind the neuroprotective neurons which cannabinoids work to repair, and he turned around to his captivated audience. "It is agonizing torture knowing that your wife, your son, your child cannot get so much as their own medicine." Richard broke down sobbing and pleaded with the board, "We only have so much time." He brought up a term that people quoted again and again throughout their testimonials. He referred to marijuana as an exit drug. "There is a vast amount of pain and suffering out there," he said. Through his connections with patients around the country, Dr. Carlton said he'd found that patients previously addicted to painkillers and narcotics were slowly able to wean themselves off of all pharmaceuticals in using medicinal marijuana as their primary mode of treatment.
Throughout the room, individuals cheered for one another, and extended open arms to the vulnerable parents and patients alike who had recently spoken. Each tear was met with a warm embrace. Several times, Senator Gottfried and Assemblyman Katz grew emotional during the testimonials. "I am speaking for not only myself but Senator Gottfried when I say that we are both great champions for this cause," said Katz to several speakers.
Time and time again, individuals asked during their testimonials, "How much does one family have to endure?" One man, Donald Burger, pointed out his beautiful daughters and wife in the back of the room. He was holding down a small business in Suffolk County while supporting his family, who has already made the move to Colorado. For Christmas this year, Donald said, his daughter would be receiving her first treatment of Charlotte's Web – the CBD-rich strain cultivated by the Stanley brothers in Colorado. And that, Donald remarked, was the greatest gift he could possibly ask for.
Individuals sat together in groups as they shared their stories. Each time tears were shed, neighbors offered pats on the back and open arms for weeping toward. One young man agreed with Dr. Carlton's "exit drug" statement and said that he hopes to live in a world where his future children will not have to choose between the law and their health. "Just how many children need to die before something is done?" One mother pleaded. "We are not reinventing the wheel here," she went on, "Are we going to do something, or are we going to buckle under the pressure and stigmas of the past?"
One father, Paul Lafountain spoke about his daughter's illness and added that with every seizure, cumulative damage is formed. This is a matter of a life-threatning illness, he said. I want to repeat, a life threatening illness. "I want you to imagine for a moment that she was your child, or your sibling, and you had to make sure she did not get too happy. That's right, too much happiness is a trigger for her seizures. Imagine spending Christmas morning in the emergency room. Welcome to the life of a Dravet family." He explained that his daughter still sleeps in bed with him and his wife because they fear she will seize in her sleep. The same cocktail of drugs that is giving her life, is holding her back, he said. "I'm here today to ask you to give Grace a chance to be a typical kid without being poisoned." He read out the side effects of the adult doses of medication Grace is currently receiving under doctor supervision. He read the warnings and cautions and feared, most reasonably, those warnings including suicidal tendencies, suicidal behavior, suicidal thoughts and unusual behavioral abnormalities and depression. "If medical cannabis is not an option for her, she's going to be on this for the rest of her life – god willing it's a long one. She's seven now so she doesn't think of suicide much, but what about when she's 16, 17 and 18?" I watched as a young man sitting one row in front of me, no older than 25, had cheered for other patients and commended them for their bravery. As Paul Lafountain shared his fears about his daughter's potential for future depression and suicidal thoughts, the young man bowed his head in silence, and shook it back and forth – as his neighbor rubbed his back and assured him everything would be alright. The young man had been there before, as so many among him had. Please, Lafoundtain pleaded, give us the chance to have the life that we planned for as a family.
One patient suffering from Tourettes syndrome, Obsessive Compulsive Disorder and depression said, "I don't want to be a criminal for not wanting pain." Everyone cheered for her words ringing with truth. Howard Josher, a new York state social worker spoke about the amazingly beneficial aspects of medical marijuana, and how the state law refuses to recognize it. He too broke down in tears and said, "I'm sorry if I get a little passionate about this. But it's an injustice and it's wrong." He pounded his fists against the table. "This isn't a matter of smoking pot," he said. Look around you, look at the citizens fighting for this right, we're people just like you.
To my right was a set of new parents and their beautiful baby girl whose name I later learned, is Mable. Throughout the hearing, Mable radiated nothing but happiness. Cindy Tangney spoke on behalf of Mable, her granddaughter. Cindy, her daughter Carly and her husband brought Mable up as they went to speak. "When Mabel was born, our hearts were overflowing," Cindy began. "I don't want to believe that the room in front of me is not ready to give this sweet baby a chance." Cindy pointed to Mabel in her father's arms, cooing with adoration. "This baby's life depends on it, and you hold this very life in your hands. Please don't leave our children in the dark."
Carly, Cindy's daughter read her testimonial next. Her words were heart-wrenching. With this Charlotte's Web strain, Carly said, "Children are coming alive again, parents are finally able to meet their kids for the first time. And we want that for her. And who could blame us?" Mable stole the hearts of everyone in the room, her giggle was infectious. "So today," Carly said, "we're getting on a plane and going to Colorado. And we're so fortunate to have that opportunity." She cried, "We just bought a home, we just settled in and our first baby was born. Its been a long and hard journey, and now we have to start all over again." We want to stay here, with the rest of our family. "Please give us the opportunity to try this drug in our own state." Look at her, she pointed at baby Mabel, she deserves every chance in the world.
A tear stricken Assemblyman Katz said, "You are certainly championed by Senator Gottfried and I. The only thing I wish is that Govvernor Cuomo were here to hear testimony. We wish we could bring you home, that is our goal."
Among the speakers were Paige Figi and Joel Stanley, the inspiration and cultivation behind the highly popular CBD-rich marijuana strain, Charlotte's Web. Paige shared Charlotte's success story. She spoke about her line of progress and the amazing benefits marijuana has proven for her now seven year old daughter. She said Charlotte is now well enough to be independant. She would have loved to meet all of you here today, and I would have loved to bring her, Paige said. However, in bringing my daughter along, I would have been crossing state borders with Charlotte's medicine in towe, and for that I could have been thrown in jail. I would be considered a threat to the country as a drug trafficker, halfway across the country. If it's a deeper understanding of the medicine that this country needs, Paige and Joel Stanley explained that they have already begun educating people around the country about medicinal marijuana. And if it meant a broad legalization, they would proudly continue to do so. She stood as a beacon of hope for all the patients and caregivers who shared their testimonies at the hearing. Time and time again individuals would point to Paige and note how their children would be whole again, their children could be like Charlotte Figi.
Joel Stanley spoke about his non-profit foundation, the Realm of Caring foundation. He noted the wait list of hundreds of sick children waiting to recieve Charlotte's Web cannabinoid treatment. Roughly 30% of the 150,000 epileptics living in New York State along will not find relief or seizure control from conventional pharmaceuticals currently on the market, he noted. If Charlotte's were an isolated incident, we would not be here today, he said. This phenomenon that seems to be taking place would not be happening if medicinal marijuana was not truly working. Joel said firmly that he believes it is a crime that people should have to travel to Colorado to access their medicine. "We believe that the general assembly and the senate have an answer to help some of these families get home from Colorado." If there is going to be a name for this act, Joel said, it should be the emergency compassionate care act. The only "side effects," the only damage being done here – is to the black market."
Assemblyman Katz spoke directly to Joel Stanley, "As an epileptic of 42 years I wish there had been this medicine sooner. I'd like to set up a meeting with you in the very near future when I'll be visiting Colorado." He had planned to exchange contact information with him after the hearing.
Republican Assemblyman Andrew Raia (R-East Northport) who had opposed previous legislation regarding medicinal marijuana, now stood in support of it. "The reason for voting 'no' for so many years and now voting 'yes,' is because once you have states that have legalized recreational use and you have states right around us…that are legalizing medicinal marijuana, then at what point should we be the last one off the train?"
State Senator and co-sponsor of the bill, Diane Savino, told the press that currently there are far more votes than necessary to pass the bill. The real obstacle, she explained, has been the governor, who has previously stated that he feels the risks outweigh the benefits when it comes to legalizing medicinal marijuana.
Whether or not the Compassionate Care Act will pass in New York is still uncertain. As individuals who demonstrated the courageous ability to share their stories began to speak, a common thread was quickly uncovered. Patients, caregivers, supporters and medical professionals alike were bound by compassion, by their hope for a brighter tomorrow. I spoke with Paige Figi briefly just outside the hearing, and watched as she politely paused our conversation to compliment a woman on her beautiful daughter, confined to a wheelchair due to the severity of her Dravet syndrome. We have to stick together, Paige confirmed. As I scanned the room, I made note of the beautifully optimistic turnout. During several testimonials, caregivers urged the Assemblymen to look around. "Who do you see?" they would ask. There are no angry citizens with picket signs crowding the front doors, there are no irresponsible teenagers begging for recreational marijuana. All around me were individuals sharing warm embraces, applauding one another for their bravery, supporting one another through their tears. I found before me, a steadfast group of people coming together from all walks of life. And I walked away from the hearing feeling truly humbled by the experience. Each step foward is a step in the right direction, a step closer to safe-access for the thousands of patients who truly deserve it, and a step towards healing – not only for patients, but for families hoping to meet their perpetually pained loved ones, for the very first time.