Colorado's Financial Marijuana Gain Is Our Pain, Cries Nebraskan Law Enforcement
Posted by Marijuana Doctors on 05/09/2014 in Medical Marijuana News
Since Colorado has legalized marijuana for recreational use, the Department of Revenue has reported a staggering $7.3 million in taxes from the plant. In March, $19 million worth of recreational marijuana was sold, in February $14 million and in January alone $2 million in taxes were pulled in by the state. Including medicinal marijuana sales, Colorado pulled in $3.5 million in cannabis-related tax revenue. If the trend continues, it is estimated that the state will earn more than $40 million additional tax dollars by the end of the year.
Voters in Colorado approved a 15% excise tax on cannabis cultivators to fund school construction. This week, state lawmakers voted to approve a plan to direct a vast majority of the marijuana-related revenue towards child drug use prevention and outreach. The plan utilizes $33 million in funds and will additionally provide more money for school nurses and public education regarding responsibly using marijuana.
So, why then is Colorado's neighbor state Nebraska up in arms about the Mile High State's recent financial success? Sherriff Adam Hayward of Deuel County, Nebraska had this to say: "We have had a significant increase in the amount of cases and incidences with marijuana coming across from Colorado. One in every five cars, we are now finding something in there."Drivers caught with an ounce of marijuana or more can face up to three months in jail. In the past four months alone, deputies from Deuel County caught one years' worth of one ounce violators.
"We are paying for them to be housed. We are paying for them to be fed. We are paying for their medical expenses, which a lot of them do have," said Hayward. "And then a lot of them, even though they have money to buy drugs, they don't have money to pay for an attorney. Therefore, the county has to pay for the public defender."
Ironically enough, these tremendous funds for drugs that Nebraskans are easily dishing out on cannabis, Hayward seems to be referring to, fall just a tad bit short of affording a defense attorney. By law, Nebraskan citizens can drive to Colorado and pick up as much as one quarter ounce which goes for around $50-60 retail price. By way of Hayward's logic, anyone that can spend give or take 60 dollars on a personal amount of marijuana should just as easily be able to spend that money on defense attorneys.
Changing the laws as they stand, however, is not currently an option – as Legislation is out of session and it will now be at least a year before new laws can be written up and voted on. By its very definition, the role of law enforcement is "Any system by which some members of society act in an organized manner to enforce the law by discovering, deterring, rehabilitating or punishing persons who violate the rules and norms governing that society." If a doctor is inundated with patients, or a shopkeeper is overwhelmed by clients, they are simply keeping busy at their jobs. Yet when law enforcement whose jobs it is to quite literally enforce the law is busy at work, they file formal complaints.
While this is going on in Nebraska, one tiny town by the name of Whiteclay with a population of 14 citizens currently holds the title of having the most beer sales per capita in any US town across the nation. In 2013 alone, 3.6 million cans of beer were sold which equates to, give or take, 10,000 cans sold per day. So what does this have to do with Colorado's marijuana sales affecting Nebraskan law enforcers?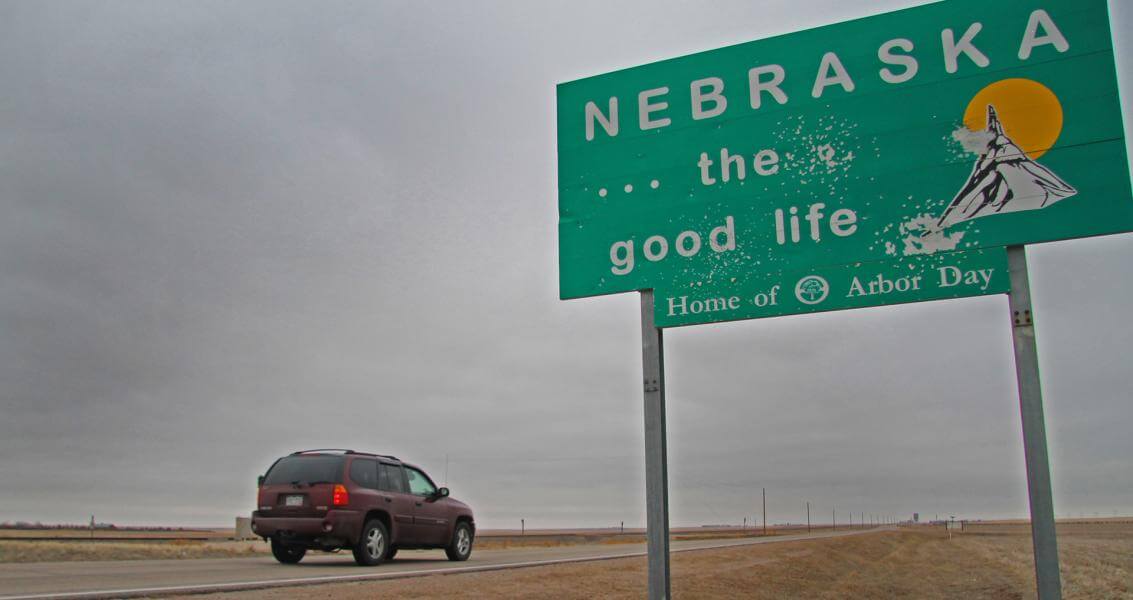 Above: One in every five cars driving through Colorado's neighboring state of Nebraska is being searched and seized for marijuana. 
Whiteclay's geographical location falls on the northernmost border with Nebraska and South Dakota. So too, does the Oglala Sioux or Lakota Indian Nation Reservation. Pine Ridge, the reservation, has sustained an alcohol prohibition since its initial creation in 1889. The Lakota nation banned alcohol because of the devastating proven effects alcoholism had had not only on individuals, but entire family dynamics. Despite protests from the Lakota members, liquor lobbyists were successfully able to persuade Teddy Roosevelt to utilize an Executive Order to open up a 50-square-mile extension previously established just south of Pine Ridge into Nebraska. Before long, Whiteclay became the very foundation for bootleggers servicing the Lakota nation who only had to walk across the border to acquire liquor. Four liquor distribution businesses and two bars have been established in the tiny town of whiteclay, and those businesses have been repeat offenders of selling to minors and bootleggers, permitting onsite consumption.
Activists within the Lakota nation have reached out to president after president after president, but to no avail. Nebraska's governor, David Heineman, has said there is absolutely nothing that can be done about it, since the majority of the citizens purchasing all of Whiteclay's alcohol are in fact, residents of South Dakota. 80 percent of households in the Lakota nation on the Pine Ridge Reservation are deeply affected by alcoholism, while 60 percent of individuals and a quarter of the infants born suffer greatly from fetal alcohol syndrome.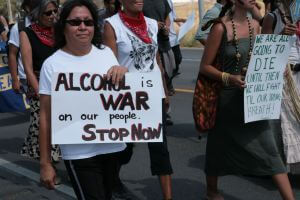 Above: Activists of the Lakota nation protest the permittance of alcohol sales on their land.
Not long ago, President Barack Obama said in an interview that while he believes marijuana is "not very healthy," he admitted, it isn't nearly as harmful as alcohol. While he does not fully support the use of marijuana, he said that "in terms of its impact on the individual consumer," it is far less damaging. On reforming current drug laws, he had this to say: "We should not be locking up kids or individual users for long stretches of jail time when some of the folks who are writing those laws have probably done the same thing." Under the Obama administration, Attorney General Eric Holder revealed plans less than a year ago to make a fundamental shift in the nation's clearly failed war on drugs. Holder announced that, "by reserving the most severe penalties for serious, high-level, or violent drug traffickers, we can better promote public safety, deterrence, and rehabilitation."
So while police officers and law enforcement officials are cracking down harder than ever on otherwise law-abiding citizens possessing legally obtained personal amounts of marijuana, alcoholism is being condoned. Perhaps more than condoned, promoted. Consider this a healthy dose of food for thought in America's rather current state of affairs.