Colorado Governor Signs Amendment 64, Giving Legal Marijuana Strength in Writing
Posted by Marijuana Doctors on 05/30/2013 in Medical Marijuana Legalization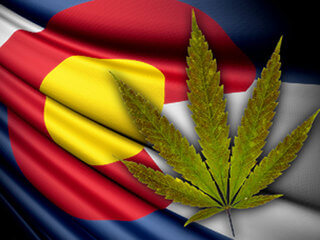 Governor John Hickenlooper of Colorado signed legislation on Tuesday giving his approval and guidance on Amendment 64-the voter ballot that allows the personal use and regulation of marijuana for adults aged 21 and over.
Governor Hickenlooper said the bills "provide clarity and create common sense regulations" for legal marijuana. "Whether its good for the brand of our state is still up in the air. But the voters passed Amendment 64 by a clear majority. That's why we're going to implement it as effectively as we possibly can."
Governor Hickenlooper signed six marijuana regulatory bills into law that seek to regulate the newly legal drug. Highlights and focus of the new bills include creating the Marijuana Enforcement Division, taxation, regulation of the hemp industry, children safety and retail establishment regulations. All in all, these new bills provide details of how the implementation and regulation of Amendment 64 will work.
Some highlights of the Bills are:
For Users:
From age 21 on, it is legal to possess up to 1 ounce of marijuana and grow up to six plants for recreational use. Using marijuana is legal as long as it is not done in public. One of the laws Hickenlooper signed Tuesday imposes a legal limit of 5 nanograms of THC, the intoxicant in marijuana, in a driver's blood. The new law allows defendants who register above the legal limit to challenge whether they were actually too impaired to drive.
For Retailers
Established medical marijuana dispensaries in Colorado will be first in line to be licensed as retailers of recreational marijuana. Approved businesses are tentatively expected to open beginning Jan. 1, 2014. Meanwhile, it is legal for up to 1 ounce of marijuana to change hands, provided nothing of value is exchanged for it. For now, retailers will be required to grow most of their own product, but provisions eventually give way to wholesalers entering the market. Cities and counties have discretion to postpone allowing or to ban retail marijuana operations within their boundaries.
FOR ENFORCERS
Hickenlooper said he is still awaiting word from the U.S. Department of Justice about how it intends to enforce federal law — which still considers marijuana illegal — in Colorado's new legal landscape. Police and prosecutors under Colorado law maintain the ability to arrest and pursue charges against people suspected of possessing more marijuana than the new law allows, as well as those believed to be distributing it outside the state's regulatory boundaries
Additional Highlights
Tourists Can't Take it Home
Visitors to Colorado will have purchasing limits of a quarter-ounce of marijuana in a single transaction. The law however, doesn't ban adults over 21 from possessing a full ounce…you just can't buy that much at once.
THE POT BUSINESS ISN'T OPEN FOR BUSINESS, YET:
Colorado's marijuana industry will for the first few months be limited to people already licensed to sell or produce medical marijuana. Even once the grandfathering period expires, licensees will need to be Colorado residents for two years, and investors will face residency requirements, too.
Video Surveillance on Retail Grow Ops
Colorado tried and failed to establish constant video surveillance of medical marijuana, establishing a seed-to-sale tracking system to keep the industry honest. The vaunted system hasn't worked out as expected because of a lack of money, but the agency that oversees pot says it has learned its lesson and will have the money to follow through with seed-to-sale tracking next year.
NOT EVERY TOWN WILL SELL IT
Colorado's marijuana framework gives local and county governments broad power to ban retail pot sales if they wish, though home growing will be allowed statewide. Legalization backers say the next Colorado political battle to watch will be which communities ban pot shops, prompting the possibility that marijuana sales will be largely concentrated in big cities that currently allow retail medical marijuana shops.
MARIJUANA CLUBS AREN'T SAFE
Entrepreneurs in Colorado have been testing the new marijuana law in recent months by opening private clubs that allow communal pot smoking, but no sales, for a membership fee. The legislation tries to crack down on the spread of such cannabis clubs by stating that they're not exempt from clean indoor air laws, unlike membership cigar clubs.
KIDS GET NEW PROTECTIONS
Colorado's new laws aim to prevent youth marijuana use as much as possible. The laws create a new crime of sharing marijuana with someone under 21, an analogy to current delinquency laws and alcohol. The laws also mandate child-proof packaging for marijuana sales, and bans types of marketing thought to appeal to kids, such as cartoon characters in advertisements and packaging. The new 10 percent marijuana sales tax will be used in part on educational campaigns telling people under 21 to avoid the drug.