Colorado Cannabis Raids May Have Been Forewarned
Posted by Marijuana Doctors on 11/26/2013 in Medical Marijuana Laws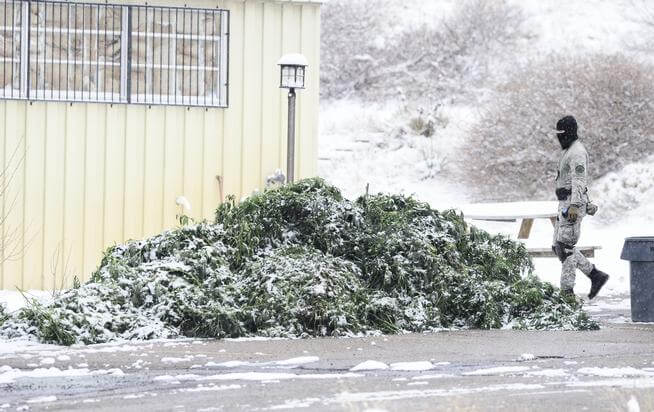 Just last week, federal authorities raided a plethora of marijuana dispensaries throughout the state of Colorado. The Drug Enforcement Administration, Internal Revenue Criminal Investigations, Denver Police Department and local as well as state law enforcement worked in tandem Thursday to confiscate cannabis plants, cannabis-infused drinks, cannabis edibles and various other goods and accessories, "executing lawfully obtained search warrants and seizure warrants," said U.S. attorney in Colorado, Jeff Dorschner. One raid in Boulder left piles of marijuana stacked outside of the dispensary like Christmas trees dusted over in snow. Another dispensary seized by the federal government agents lost over one million dollars worth of marijuana. Despite Obama's statement earlier this year about having "bigger fish to fry," than marijuana, it seems actions speak louder than words. Authorities unexpectedly executed search warrants at pot shops and dispensaries suspected of deviating from the Justice Department guidelines on marijuana.
Jeff Dorschner said that the raids throughout Boulder and Denver were all a part of an ongoing investigation. Dorschner identified the predominant issue at hand. "…There are strong indications that more than one of the eight federal prosecution priorities identified in the Department of Justice's August guidance memo are potentially implicated," said Dorschner.
These priorities Dorschner touched upon regarding marijuana which were outlined by the Justice Department, were supposed to be followed regardless of zones with lessened marijuana laws. Several of the priorities include preventing the sale and distribution of marijuana to minors, policing the black market, preventing revenue from sales from going to criminal enterprises and ensuring a preventative diversion of marijuana to neighboring states where the drug is prohibited. The federal government stated earlier that they would only take action if these priorities were violated.
This most recent series of raids depicts the severity of the tensions caused by the disconnect between federal and state marijuana laws. The federal government and Obama administration were able to find a loophole in their newly established 'relaxed' marijuana policies towards Colorado and Washington. By addressing the "bigger fish to fry" mentality, the administration was speaking more so to appease the politicians, than the people. It is essential to read between the lines when it comes to the legalities of marijuana in our country. By specifically pointing out both Colorado and Washington, the administration was virtually targeting those two states for closer speculation, two fold. If certain states are singled out by the federal government, concerns should always be raised – leaving no exceptions.
This disconnect between state and federal governments will likely only intensify even further beginning January 1st when Washington and Colorado launch our nation's first regulatory markets for recreational marijuana. DEA agents conducted raids on medical marijuana dispensaries in Washington this past summer, and California and Montana have been targeted for federal crackdowns over the past few years. Spokesman Mason Tvert for the Marijuana Policy Project said last Thursday that he was still awaiting specific details about the reason for the Colorado raids.
"The Justice Department said it would respect states' rights to regulate marijuana, and that it would not go after businesses as long as they are complying with state law," said Tvert. "We hope they are sticking to their word and not interfering with any state-regulted, law-abiding businesses."
Dorschner said about the raids, "One important note: Although we cannot at this time discuss the substance of this pending investigation, the operation underway today comports with the department's recent guidance regarding marijuana enforcement matters."
In August, Deputy Attorney General James M. Cole issued a memo specifically stating the eight enforcement priorities regarding marijuana. The memo came with a warning that if state and local authorities were to fall short of their enforcement positions, federal officials would intervene.
Mason Tvert, a leader in the campaign effort to decriminalize recreational pot said that he believes marijuana businesses should be treated fairly by law enforcement – and doesn't expect special treatment. "Colorado has demonstrated that regulating marijuana works," said Tvert. "Those businesses that are in clear compliance with state laws are meeting the needs of the community and not causing problems." For those that are violating particular priorities outlined by the Justice Department, Tvert feels they will rightfully so, likely face consequences. "That is how our society treats alcohol, and that is how we expect to see marijuana treated," said Tvert.