Christie Approves Medical Marijuana Bill For Minors, but Not Without Drawbacks
Posted by Marijuana Doctors on 08/20/2013 in Medical Marijuana Laws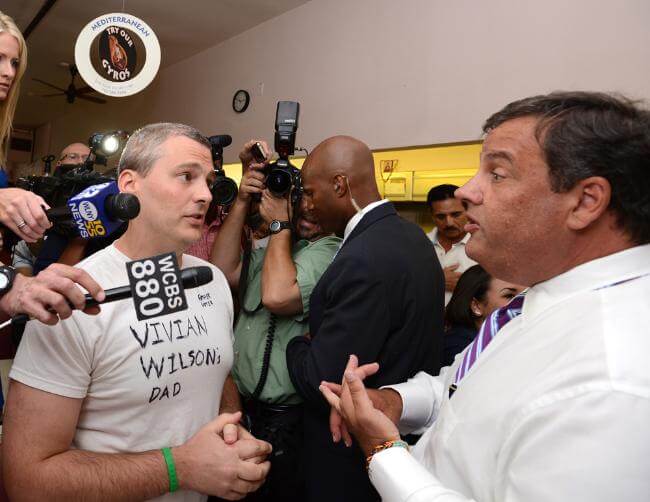 This past Friday New Jersey Governor Chris Christie gave the okay to allow medical marijuana use for chronically ill children, however, not without making some major adjustments. In fact, the Wilson family, who had so poignantly pleaded, "don't let my daughter die," has stated that they must now make plans to move to Colorado to obtain the very strain they'd sought out for their daughter in the first place.
Prior to Christie's newly implemented provisional agreement, dispensaries in the state of New Jersey were limited to selling only three different strains of marijuana. Though two year old Vivian Wilson had obtained a state-given medical marijuana card, the Wilson family has been able to specially order the particular strain of marijuana beneficial to her condition cultivated exclusively in Colorado. The particular strain that has proven effective in reducing seizure activity for children suffering from Dravet Syndrome is extremely low in THC and high in cannabidiol. In other words, strains such as these are necessarily essential for children as young as Vivian since CBD is the compound in cannabis brimming with beneficial medical effects without the conventional "high" effect. CBD rich strains have been progressively gaining in popularity for strictly medical purposes. Additionally, all edibles had been banned prior to Christie's sign off which made it particularly difficult for families such as the Wilson's to administer the medication.
Last week, during Christie's campaign stop in Wilson's home town, Scotch Plains, father Brian Wilson implored Christie to allow sick children like his own be given the opportunity to reap the benefits of medical marijuana, as a matter of life and death. In an interview, Wilson had said that time after time he had tried to calmly and politely sit down with Christie to discuss the issue, however Christie refused the meeting. "I was really hoping it would be much more of a civil discourse, but he kind of just started out as with the same noncommittal, just not saying anything, and then he tried to turn away from me so I needed to just confront him." After waiting inside the Highlander Restaurant, Wilson, along with about 100 other activists seized the opportunity to ambush Christie. "Do you believe the government should get in between doctors and their patients? Is this a nanny state?" asked Wilson. To which Christie responded, "I know you think it's simple. It's simple for you; it's not simple for me, and I'll have a decision by Friday. I wish the best for you, your daughter and your family. I'm going to do what I think is best for the people of the state, all the people of the state." His poorly worded rebuttal only angered the Wilson family further as the last thing in jeopardy regarding the pending bill adjustments to save the lives of their two year old dying daughter, and other chronically ill children would be the welfare of the state of New Jersey.
After the confrontation, Wilson told the Patch, "I pretty much feel a little dissatisfied, disappointed, but at least I got face-to-face with him…All information is out there, all the proof is out there, success stories are out there, all the phenomenally working programs are out there – it's really not a complicated issue. It's not a complicated decision. His answer just kind of told me he doesn't want to think about it, doesn't want to be part of it and really doesn't care about it."
And much to the pleading families' chagrin, when Christie finally reached a conclusive decision on the matter, it was too little too late. In order to save their daughter's life, the Wilson's have said that they still have to leave the state. Although Christie had lifted the ban on the limited amount of strains dispensaries may carry, and allowed edibles for young children only, the months it would take to fully execute the new plan is time the Wilson's do not have for young Vivian. Wilson told the North Jersey Record, "We can't wait a year before we start treating her."
Brian Wilson felt Christie's approval was a "selfish victory," mainly because he kept the most critical restriction on the bill in place. This restriction would require approval from both a psychiatrist and a state registered physician by the particular state medical marijuana panel prior to any treatment taking place. In Vivian's case, she would need the approval of three doctors, including that of her neurologist. Of the nearly 252 physicians active in the New Jersey state registry, 2 are pediatricians and 16 are psychiatrists. Parents who had so desperately lobbied for this bill said that the requirement still in place would absolutely pose an obstruction for children in need of medical marijuana due to the lack of knowledge that both pediatricians and psychiatrists have about the program and their lack of support for the alternative treatment.
"It makes a lot of headache and heartache for parents to go shopping for doctors who understand anything about medical marijuana to get them to sign up for this," said Wilson. And although the ambush in the Scotch Plains restaurant may have been effective, Wilson says, "For parents who are already going through a lot of trouble just with what their children's ailments are, they now have to go through this extra stuff you don't have to go through for any other medical condition or any other medication." Despite its approval, it has become abundantly clear by Christie's decision that marijuana is still far from being viewed solely through a medical lens.
And we can jump to this conclusion from some of the statements Christie has made regarding the easing of restrictions for acquiring medical marijuana. He had expressed concerns that Okaying this bill might aid the state in "going down a slippery slope," making medical marijuana more accessible for falling into the wrong hands. Conversely, it seems with all these restrictions, they can barely fall into the right ones. Unfortunately, by approving the bill allowing only tablets and lozenge forms of marijuana to be distributed to medically qualifying minors, Christie failed to meet the Wilson's needs. Vivian's condition requires an oil-based tincture which is still banned under New Jersey law. Senator Nicholas Scutari, one of the bill's sponsors had said that the newly reformed bill is, "…a step in the right direction, but it still leaves in place barriers for families."Though the Wilson's say Christie's decision was, "a step in the right direction," Wilson told the Record, "The decision works for us. It just could have been a lot better."