Choosing Cannabinoids Over Opioids — Time To Make The Switch
Posted by Marijuana Doctors on 10/21/2016 in Medical Marijuana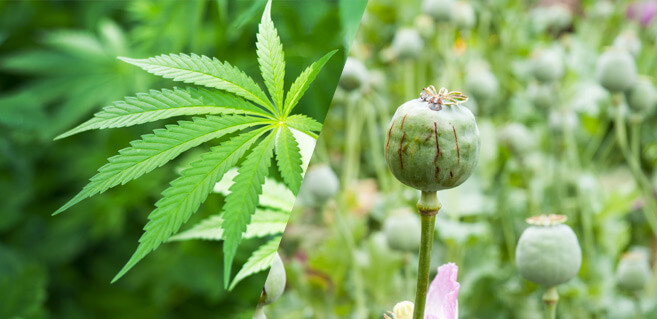 Insys Therapeutics, the makers of Fentanyl, are spending big money to fight the legalization of marijuana in Arizona, threatened that their marketshare may dwindle as patients turn to marijuana for pain relef. Despite the pharmaceutical lobbyists efforts, it is important for patients to understand the differences between cannabinoids vs. opioids, and why using medical marijuana for pain relief is a safer alternative than the addictive and deadly opioid medications.
What Are 
Opioids

?

Opiods are compounds that come from the traditional poppy plant, although they affect the brain in different areas than with the use of marijuana. Opioids are commonly found in pharmaceuticals such as Vicodin, "Norco", morphine, heroin, and even Fentanyl. Marijuana and opioids are in an entirely different class, making it difficult to compare them when solely looking at painkiller opioids from the poppy plant and cannabinoids from the cannabis sativa plant. Opioid receptors in human brains are found throughout the brain in addition to the midbrain, where cannabinoids are nearly entirely absent. The midbrain function helps to keep individuals breathing and also regulates the heart, which is why pharmaceuticals and other street drugs including heroin are considered highly addictive and dangerous, with thousands of overdose deaths annually in the United States alone.
What Are 
Cannabinoids

?

Cannabinoids are natural compounds and components that are found within the cannabis plant. These components are activated when cannabis is consumed (when cooked) in addition to vaped or traditionally smoked. There are 66 components in over 480 total within the cannabis plant that have been deemed cannabinoids, or natural compounds that are known to cause psychoactive and/or calming effects on the body, depending on the type of marijuana that is used along with the amount of THC in each dosage. Cannabinoid receptors were first discovered in the brain in 1988, although the cannabis plant has been used for thousands of years as both traditional and alternative medicine. Depending on the strain, marijuana can help alleviate everything from nausea and pain to insomnia and anxiety, depending on the type and amount of cannabinoid that is found in the dosage taken at any given time.
How Medical Marijuana Affects the Body and Brain Differently Than Traditional Painkillers
Medical marijuana affects the body and brain differently depending on the type of marijuana you are using, whether it is indica or sativa. Indicas are utilized as more of a sedative strain than sativas, which are more likely to contain cannabinoids that trigger a psychoactive or stimulant effect. For patients who suffer from insomnia and anxiety, indica plants contain different cannabinoids including more CBC, CBD, and CBG. Sativa plants are more likely to include a higher level of THC, which can cause more of the euphoric and appetite-stimulating effects throughout the body.
Traditional painkillers such as morphine, Vicodin, heroin, and Fentanyl affect the brain by stopping pain receptors, which has been proven effective for patients who are recovering from surgery or have chronic pain–although the drugs themselves impact the midbrain which is unlike the cannabis plant. With medical marijuana it is possible to find strains based on the type of medical condition you have or whether you prefer to use cannabis for pain relief, as a sleep aid or to allow you to continue on with daily activities while minimizing pain and increasing energy–all the while avoiding the risk of overdosing and potentially stopping the heart.
Why Would 
Fentanyl

 Creators Try to Keep Medical Marijuana Illegal?

Fentanyl is an opioid-class painkiller that has surges of overdoses keeping medical marijuana users scratching their heads, as there has never been a recorded overdose of cannabis in history. With Fentanyl aligning with the same dangers as other painkillers and street drugs including heroin, many individuals believe the creators of the pharmaceutical are attempting to keep medical marijuana and recreational marijuana from becoming legalized simply to "line their own pockets". Painkillers and pharmaceuticals such as Fentanyl can quickly become highly addictive and cause users to take higher dosages over time as their body adjusts to the medication quickly. In many cases, opioids including Fentanyl, morphine, and Vicodin may become useless in terms of delivering pain relief while also triggering a staggering addiction and withdrawal symptoms once the patient stops taking them altogether.

Understanding the foundational differences between cannabinoids and traditional poppy plant opioids can give you better insight when choosing a route that is best for your chronic pain or other medical conditions you struggle with. Knowing how cannabinoids and opioids affect the brain is a way to select the right option when looking for a medical marijuana strain that is right for you.

If you have a debilitating chronic pain condition that requires the use of opioid medications, visit MarijuanaDoctors.com for more information on how the effects of cannabis may therapeutically benefit your ailment, symptoms and condition. Talk to a marijuana doctor about making the switch from opioids to cannabinoids today.