Carly Fiorina's Opinions on Medical Marijuana – Outdated and Out of Touch
Posted by Marijuana Doctors on 09/30/2015 in Medical Marijuana News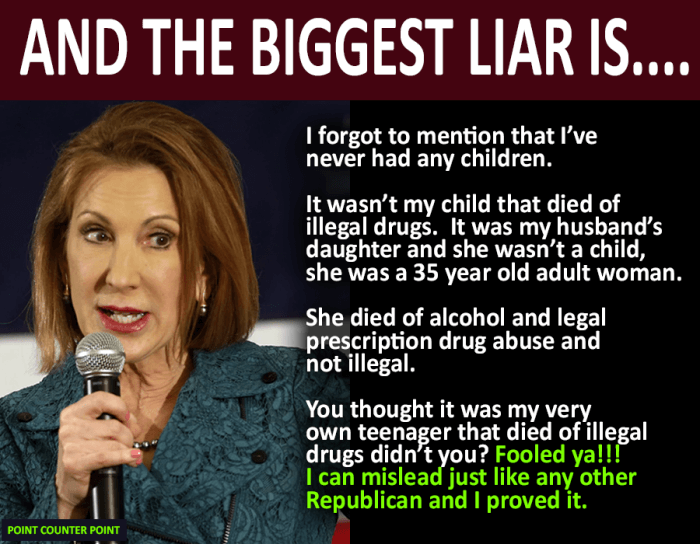 Republican presidential candidate Carly Fiorina attended a voter forum at St. Ambrose University on Friday morning, where she was asked how she would to provide easier access to medical marijuana for patients in need, such as children with cancer and veterans suffering from Post-Traumatic Stress Disorder. The question, posed by Gulf War veteran Shelly Van Winkle, who is also the "first, and only, certified cannabis nurse" in the State of Iowa, received a disappointing response.
"You're not going to like my answer," Fiorina replied, before recounting her breast cancer diagnosis in 2009. Fiorina said that at the time her physician asked if she was interested in medicinal marijuana. "I said 'No,' and his response was 'Good,' because its a chemically complex compound that we do not understand — we do not understand how it reacts with chemotherapy and all of the other statements," she continued. "It is true today …. [that before you get chemotherapy] you cannot have any marijuana in your system for at least 30 days …"
"That's no longer true," the certified cannabis nurse said interrupting the candidate. Van Winkle went on further pointing out to the candidate that according to FactCheck.org "Prescribing information for approved versions of medical marijuana does contain drug interaction information, and studies have turned up few problems in terms of interactions with cancer therapies, as well as other types of medication."
The republican presidential candidate attempted to comeback by opening up about the loss of her daughter to drug and alcohol abuse. However Van Winkle says that she was disappointed in Fiorina's answer for two reasons- firstly VanWinkle says she was not referring to recreational marijuana but to patients in medical need, and secondly she felt that Fiorina's opinion was based on outdated views of the cannabis culture, not on the science and study of medical marijuana.
"Her answer fell back to 20 years ago, when you could go to Venice Beach to smoke a joint. If she wants to be a viable candidate, she has to get with current research," Van Winkle told ThinkProgress in an interview following the forum.
The certified cannabis nurse and veteran, treats patients with PTSD, and while recounting the already high and ever-increasing rate of suicide among recent veterans said, "Cannabis helps these people." A recent study shows evidence that veterans returning home from war have a 50% higher suicide rate that non-military civilians. Referring to the fact that some doctors now advocate the use of medical marijuana as an alternative treatment for PTSD, as opposed to the traditional "heavy-duty" antidepressants, like Paxil and Zoloft, and pointing out that at least 2 VA hospitals now prescribe medical marijuana for PTSD, while other countries, like Israel, are even more advanced in this understanding. "The rest of the world has moved on. In the U.S., we let people die," said Van Winkle.
"I'm asking [Fiorina] to step up and make this an election issue," said Shelley Van Winkle who intends to make medical marijuana a federal election issue, noting that although 23 states have now passed laws legally permitting the use of medical marijuana, the overriding federal laws still view these patients as criminals.
"She fell back to rhetoric, but when it comes to medicine, it shouldn't be about politics. It should be about science."