Cannabis Researcher Fired Over BiPartisan Politics
Posted by Marijuana Doctors on 08/12/2014 in Medical Marijuana Research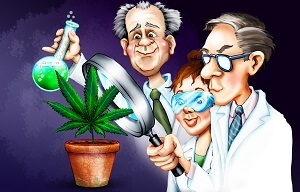 Location: Arizona | Source: CNBC
Arizona – Dr. Sue Sisley, a former psychiatrist at the University of Arizona once was the leader of a movement whose focus was to receive federal approval to research cannabis' efficacy in treating military veterans suffering from post-traumatic stress disorder. She told CNBC in an interview published yesterday that she has no idea how hard that process would be.
Her initial proposal, which continues to have wide support among veterans groups, was subject to several stages of bureaucratic red tape, requiring the research's private backer to resubmit the proposal several times. Finally receiving federal approval in March, Sisley and her sponsor were informed that the only federal supplier of research cannabis did not have the needed strains and would have to wait to grow more, thus delaying the research up to possibly another year. This past June however, Sisley was fired by the University of Arizona after they cited "funding and reorganization issues".
Contrary to what the University publicly claims are the reasons for her termination, Sisley claims that the real reason she was fired by the school was due to her outspoken support for medical marijuana research. According Laura Segall of The New York Times Dr. Sisley's frustrations are examples of the hurdles and burdens scientists must overcome in trying to study and ultimately understand the medical uses and effects of marijuana.
Initially in 1999 the Department of Health and Human Services indicated it did not see much potential for approving or developing marijuana in a smoked form into an approved and accepted prescription medication. "If there is any future for marijuana as a medicine it lies in its isolated components, the cannabinoids and their synthetic derivative," said the Department. As a result research has suffered from a chilling effect scientists say.
While cannabis has been reportedly used by over 1 million individuals nationwide to treat an array of health conditions there still exists few rigorous studies showing that the plant is a viable treatment method for the conditions it is currently being used to treat. The largest issue at hand is the federal government's schedule 1 classification of marijuana, by having cannabis in this classification of narcotic it is deemed to have no medical value and thus is illegal. To legally obtain marijuana for research purposes, professionals like Dr. Sisley must directly apply to the FDA and DEA and NIDA (the only source of the drug for federally approved research at the University of Mississippi).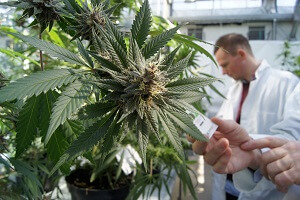 The current process for researchers is so long that a growing number of elected officials, medical experts, and members of congress have called for the loosening of the requirements and restrictions. Specifically in a letter dated just this past June members of congress, which included 4 Republicans, called the extra obstacles of research marijuana projects "unnecessary" adding that research has "often been hampered by federal barriers."
Advocates for expanded research on medical marijuana have gained powerful supporters including Rhode Island Governor Lincoln Chafee. In late 2011 Governor Chafee and Christine O. Gregiore, the Washington State governor at the time, filed an official petition asking the Drug Enforcement Agency to place the drug in a lower class of scheduling. The petition is still pending.
The DEA's stance on marijuana seems to clash with those of President Obama and the Justice Department who has permitted individual states to enact their own medical or recreational marijuana legislation provided they follow certain federal requirements. One of the biggest requirements put in place by the Obama administration is that the sale of cannabis to juveniles be strictly prohibited and enforced. Publically the President has stated he believes marijuana to be less dangerous than alcohol and that he is troubled by the disproportionate number of minorities incarcerated for possession of marijuana.
When confronted with the notion that there exists a disconnect between the President's position and the actions of the DEA, White House spokesman Matt Lehrich said "The administration's policy continues to be that while the prosecution of drug traffickers remains an important priority, targeting individual marijuana users is not the best allocation of federal law enforcement resources. The DEA is carrying out that policy." Rick Doblin, the founder and director of one of the organization who was set to sponsor Dr. Sisley's studies says that there are signs of a possible shift in marijuana policy within the federal government. He points to the fact that in May of this year the DEA issues new rules which increased the governments allowed production of cannabis for research purposes to 650,000 grams from 21,000 grams. Also the National Institute on Drug Abuse released records that show as of the beginning of 2014 there were 28 active grants allowing research into the potential benefits of medical marijuana across six disease categories. A majority of the grants and studies aim their focus on potential therapeutic uses of individual cannabinoid chemicals from marijuana or synthetic versions and not the plant itself and use animals as test subjects, not humans.
The barriers faced by Dr. Sisley illustrates that even in places like Arizona, where medical marijuana has been legal for years, the matter of political volatility remains. Just last month Arizona made the huge leap forward by approving the use of marijuana for patients suffering from post traumatic stress disorder. Dr. Sisley's study was supposed to use five different strains of cannabis that would be used by upwards of 70 veterans in the hope of developing a marijuana drug that would be smoked or vaporized and approved by the FDA.
Dr. Sisley's firing seems to originate in her fight for money with which to fund her research. This past March the Arizona House passed a piece of legislation that was designed to provide her research with the funds collected from fees collected in the state's medical marijuana program. Sadly the movement died when State Senator Kimberly Yee, a Republican who is also the chairwoman of the Education Committee simply refused to put the legislation on the panel's agenda. She claims that at the time she felt the funds should be appropriated to antidrug education. Angry that potential funding for the bill was being opposed a state group of veterans began a recall campaign against Senator Yee, some of which had been previously treat by Dr. Sisley and had hoped to be participants in her study. After a brief investigation Senate leaders determined that Sisley herself was involved in the movement.
According to State Senate President Andrew Biggs, he called the University of Arizona's chief lobbyist Tim Bee to complain that he felt Dr. Sisley was campaigning too aggressively and unsuitably. "Tim said he would call me back after he found out, and then he did and told me, 'This will not be a problem going forward.'" In April of this year a university vice president who identified himself as calling on behalf of Ann Weaver Hart, the school's president told Sisley that Mr. Biggs felt it appropriate that she resign. She respectively declined his suggestion. A few months later she received a letter from the school notifying her that her annual employment contract was not going to be renewed effective September 26th. Dr. Sisley expressly denies any involvement in the movements to have Senator Yee removed from office. She only acknowledges speaking with senators and their staff about funding but only in her capacity as a member of the Arizona Medical Association. Dr. Sisley believes that "The university could not take the political heat from the hyper conservative legislators," as a result she was fired and left out to dry alongside many of the veterans she hoped to help with her study.
Speaking on behalf of the University of Arizona, Chris W. Sigurdson said that because the schools policy prohibited him from discussing specific details regarding the case, he did explain that the university was not under any pressure from outside influences to fire Dr. Sisley; Mr. Biggs also acknowledges this statement. In the last weeks of July Dr. Sisley was notified by the school that her appeal for reinstatement had been denied. Rick Doblin, the executive director and founder of the Multidisciplinary Association for Psychedelic Studies, the organization sponsoring Dr. Sisley's research says he will now attempt to persuade the Arizona Boards of Regents to allow the study to continue at another in state university with Dr. Sisley as leading investigator.
Another change in venue for the doctor's research would require additional reviews and further approval by the DEA Mr. Doblin said, but he is committed to staying with Dr. Sisley through the entirety of this process.