Cannabis over Chemotherapy
Posted by Marijuana Doctors on 10/02/2013 in Medical Marijuana Laws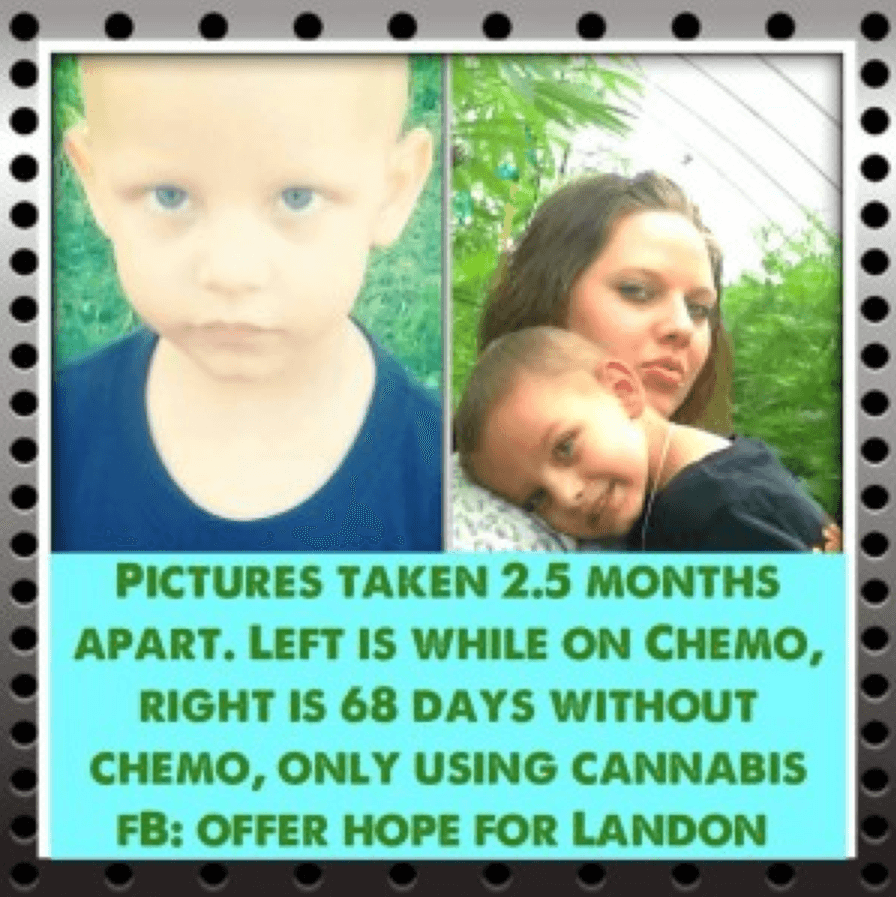 Three year old Landon Riddle was diagnosed with T Cell Acute Lymphocytic Leukemia back in 2012. His medical diagnosis called for simultaneous rounds of chemotherapy and steroid treatments just one month later, and the negative side effects far outweighed the benefits. Throughout the course of his treatment, Landon suffered from neuropathy, an irreversibly nerve-damaging condition, from his frequently used vincristine, one of the many pharmaceuticals in his daily drug cocktail. Mother Sierra put her foot down in January, halting her son's chemotherapy plan and finding herself at odds with both her oncologist and the medical institution at large. Despite the medical advice given, Sierra opted for Cannabidol treatment and Landon has been in remission ever since.
Landon takes his treatments orally, using the same strain cultivated for 6-year-old Charlotte Figi by the Stanley brothers. He takes concentrate in a capsule and an additional high-concentrated THC oil capsule to fight his leukemia, Sierra noted. The strain has gained national clout upon its exposure in Sanjay Gupta's CNN documentary special, 'Weed'.
"Landon has had weekly blood work, spinal taps to check for cancer, and bone marrow aspirates as well," said Sierra. "I have all of these results. Since May, he has had monthly blood checks, still no cancer present." Sierra now spends nearly $200 per month on marijuana treatment, compared to the staggering $10,000 and up on chemotherapy costs.
Though the family's oncologist, Dr. Lindsey Micel has publically supported Amendment 64, Colorado's statewide marijuana policy, she is not nearly as gung-ho about alternative treatment as Gupta. Sierra Riddle has said that the doctor has explicitly requested Landon continues with his traditional treatments at the Children's Hospital in Colorado.
Riddle said that Dr. Micel told her she was sentencing her son to a sure death by not keeping him on the chemo and steroids for another three years. Additionally, she claims the doctor threatened to report her to Child Protective Services.
For some time, Sierra did not exclusively use cannabis for son Landon's treatment. She utilized the cannabis in conjunction with his chemotherapy. In dissecting his medical condition, Gupta said, "Of course many cancer therapies do make it to this step; and some say it's too early to get excited. Landon has been off chemotherapy for three weeks…and whether or not the cannabis has actually played a role; his mother says his leukemia is currently in remission."
On Change.org, a petition was started for the Riddle family, pleading with Governor Hickenlooper to recognize medical marijuana as a truly beneficial and effective alternative treatment for Landon's cancer. "Don't let doctors bully you into things that are unsafe for your kids, like Oxycontin addictions," Sierra writes. In the past year alone, countless stories of patients under the age of 10 have surfaced about the benefits of cannabidol within medical marijuana, yet medical bureaucracies have yet to address its legitimacy. And though Sanjay Gupta's 'Weed' documentary has helped immensely in positively addressing the rising use of marijuana for medical purposes, the fear and stigma attached to cannabis is still a crucial drawback. The proof is in the plant. What is in the best interest of the terminally ill patients is also the safest treatment plan for patients such as Landon; a living testimony to the healing capabilities of marijuana.