Cannabis Is One Step Closer To Being Looked At As Real Medicine
Posted by Marijuana Doctors on 11/19/2014 in Medical Marijuana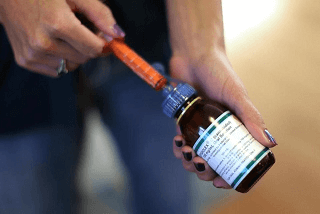 Haley Osborne suffers from relentless seizures, and her parents are deciding whether to treat their daughter with cannabis in its natural form, or cannabis that has been used to create consistent, reliable, prescription drugs.
Despite currently taking an experimental drug made from an active ingredient in marijuana, Cannabidiol (CBD), the Georgetown 7-year-old is still suffering from seizures between 15-20 times a day. Jill Osborn, Haley's mother, is grateful her daughter is a part of the CBD study in Boston, truthfully wishes she also had access to natural marijuana, high in CBD, to give her daughter as well. She is concerned that the CBD extract being used in the experimental drug, is missing the other active ingredients in the plant which, some scientists claim, work best as a collective whole. "I'm not a scientist or an expert," Osborn said. "Just a mom trying to save her daughter."
Its been 2 years since Massachusetts approved medical marijuana use, still there has yet to be any development in the opening of actual dispensaries. Meanwhile, researchers are tirelessly working to unlock the mysteries behind marijuana's medicinal potential, with the aims of creating prescription drugs to treat conditions ranging from glaucoma, inflammation, chronic pain, seizures, and even psychiatric disorders. At least 2 Massachusetts researchers were recently given federal grants to further aid the progress of their study into such subjects, including the development of a process that would manufacture pharmaceutical-quality CBD, and another to develop a synthetic compound that would mimic some of marijuana's benefits, without running any risk of getting the patient high. A pharmaceutical company has also just expanded its support in the national trial that includes Haley, and other patients at MassGeneral Hospital for Children, testing the CBD extract on children with seizures.
Chief executive and lead researcher at Aphios Corporation, a Woburn biotechnology company, Trevor Castor, will be given access to the government's research-grade marijuana for a $225,000 grant he received from the National Institute on Drug Abuse, in September. He hopes to create a process for extracting and manufacturing high-quality CBD for researchers to use in studies of epilepsy, multiple sclerosis, and other diseases of the central nervous system. He intends to create produce the extract in capsule form, like other prescription type medications. "There is a lot of interest from the medical marijuana marketplace, and that is pushing institutions to try and investigate why these things are working and how well are they working," Castor said.
If Castor is successful in his early efforts of research, he will then receive approximately another $1.5 million to further his work, said the national institute's deputy director, Dr. Wilson Compton. "We are encouraging research in this area," Compton said.
An assistant professor of pharmacy, at Northeastern University, Ganesh Thakur received a $2 million federal grant in September, from the National Eye Institute, with the intention of producing a cannabis compound to treat glaucoma. He intends to create a drug that will mimic marijuana's ability to reduce the fluid pressure inside of the eye. Thakur's work will not use actual marijuana, instead he plans to create a drug that behaves like marijuana without the high side-effect. "Chronic smoking of cannabis leads to impaired memory. Maybe we can make something better and eliminate those side effects," said Thakur hopefully. Director of glaucoma and optic neuropathies at the National Eye Institute, Dr. Hemin Chin, says glaucoma patients are in dire need of improved treatments, and that is why the government is funding Thakur's work. "If you are using a compound for a long time, a patient develops super sensitivity, or the compound is not as effective as it was in the beginning," Chin said.
GW Pharmaceuticals, responsible for supplying the experimental medication to the trial for children with seizures who are taking CBD extract, at MassGeneral Hospital for Children, released data recently showed that for the 58 patients who had been on the drug at least 12 weeks, roughly 40% had seen a reduction in the frequency of their seizures by at least half. It went on further to indicate that the most common side effects were sleepiness and fatigue.
"It is going to be definitely effective for a population of kids with epilepsy, but I know it is not the silver bullet. These are kids who have been on 10 previous treatments without seizure control," said Dr. Elizabeth Thiele, director of Mass. General's pediatric epilepsy program, who has 38 children children currently enrolled in the program. "If even one of them becomes seizure free, that's impressive," Thiele said.
Although Haley Osborne has been on the experimental CBD extract drug since April, she has not seen any decline in the frequency of her seizures although it has significantly improved her ability to read, which had been drastically impaired by the seizures. It is reported that she is also more attentive and alert these days, her though process is operating more efficiently and she is finally developing a sense of humor, something her parents say is an delightful first. "That part of it has been great, and that's why we haven't given up on the study," Jill Osborn said.
Participants of the study are prohibited from using any natural marijuana for the duration of the study, so as to not interfere with the results. Haley is enrolled until April 2015 however her parents are questioning whether or not to opt for natural marijuana once the dispensaries in Massachusetts finally begin to open at the start of next year.