Cannabis — Nature's Solution for Treating PTSD, While Staying Addiction-Free
Posted by Marijuana Doctors on 09/27/2016 in Medical Marijuana Conditions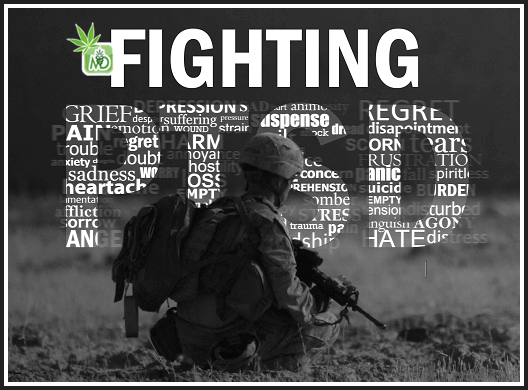 On Wednesday, September 14th, New Jersey governor Christ Christie signed a measure into law Wednesday allowing the use of marijuana to treat Post-Traumatic Stress Disorder (PTSD) if conventional therapies prove ineffective.  New Jersey is now the 18th state to allow medical marijuana to be used to treat PTSD.
For many years, mental health professionals didn't acknowledge the existence of PTSD. Today, it's estimated that 7.8 percent of all adult Americans suffer from PTSD within their lifetimes. While many associate PTSD with primarily with war veterans, the fact is that in addition to combat exposure, victims of rape, childhood abuse and neglect or domestic violence are also at high risk for this painful and debilitating condition.
The diagnosis for PTSD consists of at displaying at least six symptoms from four separate categories for at least one month.
The first is the re-experiencing category, which may include flashbacks, nightmares, or fearful thoughts. The second is the avoidance category, which include avoiding particular places, thoughts, or feelings related to a traumatic event. The third is the arousal and reactivity category, which includes being easily startled, having difficulty sleeping, or experiencing angry outbursts. The fourth, the cognition and mood category, includes difficulty remembering the details of a traumatic event, negative thoughts and feelings, and loss of interest in formerly enjoyable activities.
Federal officials estimate that as many as 20 percent of veterans returning from combat in Iraq and Afghanistan have been diagnosed with PTSD. Veterans with PTSD have often been prescribed anxiety medications such as Valium and Xanax, which are highly addictive.  Others are prescribed antidepressant medications such as Paxil or Zoloft, which treat only some of the symptoms. Sedatives like Ambien, used to help sufferers sleep, are contra-indicated for many due to their potential side effects.
Up until now, government regulations have largely prevented controlled studies to evaluate the safety or effectiveness of medical marijuana for PTSD. However, the recent legalization of marijuana for other medicinal uses in many states is changing that. A recent article in Stars and Stripes reports that after six years spent overcoming multiple governmental obstacles, a $2.15 million dollar study has finally been approved in the state of Colorado. The two- year study will be conducted by researchers from Pennsylvania, Chicago, and Johns Hopkins Universities and the Scottsdale Research Institute.
The two-phase study will begin accepting participants this month to assess the effectiveness of four types of cannabis in managing chronic PTSD symptoms that have proved resistant to more traditional treatments. During the three weeks of phase one, some of the 76 participants will smoke a placebo strain, while others will smoke other strains. All participants will keep a diary to record their experiences.
During the next two weeks, they will abstain from smoking at all in preparation for phase two, a repeat of phase one. Researchers will follow up with all participants for six months to track PTSD symptoms. Researchers will gain valuable information about dosing and potential side effects as well as determining how effective medical marijuana is as a treatment. Anyone in the Phoenix area interested in participating in the study can submit their information via email to arizona@marijuanasites.org
One of the principal researchers, Dr. Sue Sisley, from the Scottsdale Research Institute was quoted as saying "I'm not pro-cannabis; I am strictly pro-science. I'm actually not a fan of cannabis, and I've never tried it personally. I care deeply about our military veterans, and I am determined to find new treatments for PTSD — besides the only two [Food and Drug Administration] approved medicines on the market, Zoloft and Paxil, which are both highly disappointing."
However, not all participants in the ongoing debate about the legalization of medical marijuana are equally concerned about scientific facts. As an article in The Nation, points out, there are many with a vested interest in the continued prohibition of marijuana. Drug companies, and even the legal system itself, which now includes for-profit prisons, are among them. The public, having recognized the high economic, social, and emotional costs of PTSD, is clamoring for change.
One of the most tragic costs is suicide. A study released earlier this year revealed that the suicide rate in the United States increased by 24 percent from 1999 to 2014. Veterans account for 20 percent of those suicides. Further, statistics show that 27% of all people diagnosed with PTSD have attempted suicide at least once.
New Jersey is the 18th state to concede that perhaps it is better to stop the bleeding while waiting to discover a perfect cure. The issue is on the November ballot in a number of other states. If marijuana is approved for medicinal use in those states, for the first time, it will be legal in more states than it's illegal. This may that rare case in which peer pressure results in achieving a greater good.
If you are a diagnosed patients, talk to a New Jersey medical marijuana doctor about the benefits of using cannabis to treat PTSD , and get a New Jersey medical marijuana card today.