How Cannabis Can Help Those with PTSD
Posted by Marijuana Doctors on 11/27/2014 in Medical Marijuana Research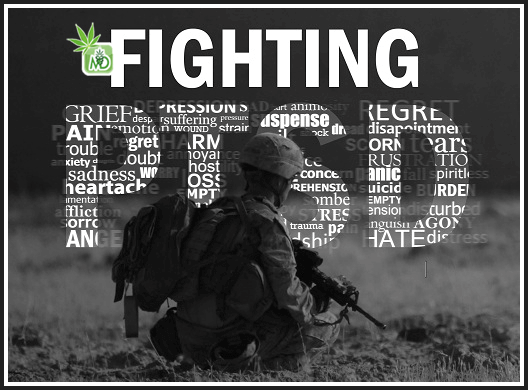 Medical marijuana is considered to be useful in controlling the symptoms associated with pain, appetite loss, nausea, muscle spasms, and seizures, say patients suffering from severe illnesses, ranging from chronic pain to terminal HIV/AIDS and cancer. For many of these sufferers, as well as patients dealing with the damaging and life altering effects of epilepsy, glaucoma, multiple sclerosis, Parkinson's disease, Crohn's disease, Lou Gehrig's disease, and Irritable Bowel Disease – to name just a few – medical marijuana is the key to helping aid these patients control their pain, stimulate their appetite, control their seizures or in some cases muscle spasms, relieve any sleep issues, subdue any nausea and vomiting, and most importantly, medical marijuana helps these patients, in varying stages of suffering, find some relief and relax. Hopefully enough for them to enjoy a light-hearted moment or to before their reality begins to reappear. Because of its ability to help one decompress, patients suffering from Post Traumatic Stress Disorder (PTSD) find great relief in the medical effects of marijuana.
PTSD patients often experience anxiety and fear, says Zach Walsh, an associate professor of psychology at UBC Okanagan, who is studying the roles of substance and the impact of drugs n behavior. Six years ago, he began researching the impact of cannabis, in the hopes of finding out more about the weed that is the most widely used illegal substance, world wide. He maintains that cannabis holds tremendous healing potential, that has unfortunately not yet been examined or investigated in microscopic detail, because of the "stigma around marijuana and the prohibitions against research relate to it."
The associate professor also has a keen interest in studying how, and why, people use marijuana, and he intends to research and study the possible ways that marijuana may medically help the suffers of PTSD. "People who suffer from PTSD, veterans in particular, report anecdotally that cannabis is helpful with their symptoms," said Walsh.
Walsh says that there are brain imagery studies showing that people with PSTD have reduced levels of naturally occurring cannabis-like chemicals, while also having a higher numbers of endocannabinoid receptors in the brains. Several animal studies have displayed results that indicate that endocannabinoid system is an important component in maintaining fear-related memories – something that plays a key role in people with PTSD.
The study being conducted by Walsh and his team of researchers is expected to have results of its clinical trial by late 2016, if the study is first approved. "There is a lot of therapeutic potential and we just need more research to figure out the parameters of what that might be," said Walsh.
Walsh says that he hopes to eventually help cannabis be recognized as a prescription medication for PTSD in Canada.
Jason Draizin, CEO of MarijuanaDoctors.com said, "At a time when we are recognizing our hero's for their invaluable and courageous service, it is imperative that we give respect to the horrors of what they are forced to endure when protecting our freedom. PTSD is an extremely important and serious issue and needs to be addressed for the sake of our veterans who return changed people plagued by the nightmares of war. The least we, as a nation, can do to say thank you to these service people, is to give them access to medication that will provide them with the relief they so desperately deserve. The times we live in are rife with uprisings all over the world, our service men and women are the very people who give their lives to protect us from these terrors. We have a duty to honor and respect them by providing them with the best possible treatment when it comes to the, often, soul-destroying effects of PTSD. We at MarijuanaDoctors.com support professor Walsh's clinical trial, and should it be approved, we look forward to seeing how the results will make developments in the understanding and treatment of this disorder."