Cannabis Advocate Defies Law and Opens Marijuana Store in Allston
Posted by Marijuana Doctors on 12/04/2014 in Medical Marijuana Laws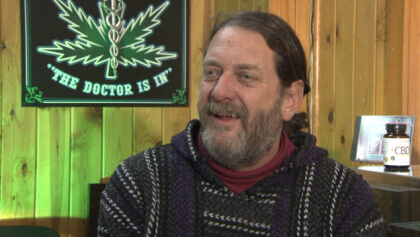 Bill Downing is a defiant medical marijuana activist who operates CBD Please, in the Boston neighborhood of Allston. Downing operates his Lincoln Street location to sell medical marijuana that is made from hemp oil, and says that he doesn't care whether it is legal or not.
Downing was previously forced to shut down his operation by the Department of Public Health. And when speaking to WBZ News Radio 1030's Lana Jones, the Boston Police Department said that it is investigating the matter and "looking into the legality" of Downing's new location. Downing however argues that CBD (cannabidiol) is the medically active component in hemp, and is a a non-intoxicant.
Downing, who is not himself a medical marijuana card license holder, says that his 'medical cannabis products' are helping patients control their pain, muscle spasms, nausea, anxiety, and even depression. "The state can do anything they want. They can throw me in jail. They can do whatever they want. But I know I'm doing the right thing and I'm doing it for the right reasons. I'm doing it for the patients here in the state and I really don't care about the bureaucracies trying to stop me because they're immoral. And because the public does not support them," said Downing.
Merchandise for sale in Downing's store include salves, sprays, capsules, and even haircare products.
Downing stresses that his products are derived from hemp oil, and and contain no THC. He says that they are imported from Europe and then refined once in the US. When asked about the legality of the process, Downing replied, "I don't know. And I don't care."
Upon hearing of the news, the CEO of MarijuanaDoctors.com, Jason Draizin, responded that, "Unfortunately even though Downing believes in his products, unless he is willing to fall in line and follow the outlined system, he will continue to encounter legal problems. MarijuanaDoctors.com supports his efforts in wanting to assist the patients in Allston, however until his legal affairs are in order, his efforts will end up falling by the way side. And the patients that he assists could also risk possible legal risk."