Cannabidiol Oil, Rich in Both Healing Compounds and History
Posted by Marijuana Doctors on 01/28/2014 in Medical Marijuana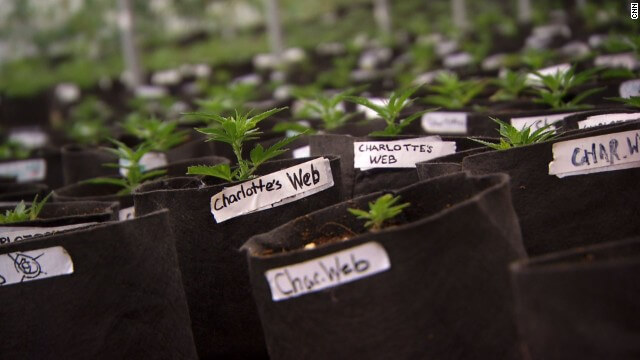 Heather Jackson described her son's severe seizures, beginning at just four months old as his "deepest valley." Young Zaki Jackson was experiencing staggering thousands of seizures per day. In 2008, an electroencephalography reading revealed that his seizures were occurring at over 200 per hour. Zaki's diagnosis? Doose Syndrome. By its very definition, Doose Syndrome is exceptionally resistant to most pharmaceutical treatments. Still, doctors met his condition with 17 different medications. To the Jackson's dismay, none effectively combated his condition. One day, Zaki's life trajectory would change immensely at the suggestion of Mrs. Jackson's friend, a worker in Hospice care. "I can't tell you to try this, but there is this group of brothers who have helped treat a similar case with cannabis oil," Heather's friend told her. After reaching out to the well-known Stanley brothers, primary cultivators of CBD-rich cannabis in Colorado – the Jackson's obtained the CBD-rich medicine and never looked back. Now, Zaki is surrounded by family and friends – the Stanley brothers included – celebrating his first year completely seizure free.
At his party, Josh Stanley remarked, "We were reading these studies in Israel from the '70s, '80s and '90s – studies where they saw positive results on lab mice using high-CBD strains. So we decided to give it a try, originally focusing on aiding cancer patients. It was by luck that we discovered it could be so beneficial to those suffering from seizures."
Although this cannabidiol oil first gained tremendous exposure this past summer as CNN medical correspondent Sanjay Gupta premiered his documentary Weed , showcasing several young patients undergoing cbd treatment around the country, there is nothing modern about this form of treatment. In fact, while the medicinal use of dried cannabis dates back to 2900 BC, the use of cannabis oil treatment was recorded in 1450 BC, in the Book of Exodus. Numerous sources have sited, "Holy anointing oil, as described in the original Hebrew version of the recipe in Exodus, contained over six pounds of kaneh-bosem, a substance identified by respected etymologists, linguists, anthropologists, botanists and other researchers as cannabis, extracted into about six quarts of olive oil, along with a variety of other fragrant herbs. The ancient anointed ones were literally drenched in this potent mixture." While some of the earliest recorded anecdotal evidence in medical journals dates as far back as the early 1800's.
The story goes like this; in 1839 a woman knocked upon the door of British Army doctor stationed in India, William O'Shaughnessy. Panicked, she brought her seizure-prone infant in hopes of finding an immediate remedy. The doctor tried out opium and leeches, typical 19th-century remedies, but the baby's seizures grew immensely worse until they became constant and he was unable to eat. As a last resort, Dr. O'Shaughnessy tried out hemp oil in the form of a tincture, which the locals used as their primary medicine. Instantly, the child's seizures stopped. By regularly dosing the tincture over the following few weeks, the child's seizures ceased altogether. The doctor concluded in a medical journal article, "In Hemp the profession has gained an anti-convulsive remedy of the greatest value."
Now, hemp oil is making a comeback in a big way. And its rising popularity has been inspired by a young girl named Charlotte Figi. After facing dozens of failed treatment options for her Dravet Syndrome diagnosis, Charlotte was left facing up to 300 grand mal seizures per week. After Charlotte's mother Paige had heard about the benefits of cannabis oil on treating seizures, she immediately took the steps necessary to get a card for Charlotte. Obtaining the card was difficult, as no doctors were initially comfortable signing off on this treatment plan. However, one doctor, Margaret Gedde agreed, after seeing how badly Charlotte had been suffering. "Charlotte's been close to death so many times, she's had so much brain damage from seizure activity and likely the pharmaceutical medication. When you put the potential risks of the cannabis in context like that, it's a very easy decision," Gedde said. After obtaining two ounces of high CBD cannabis from a Denver dispensary, Paige had a friend extract the oil for Charlotte's medicine. "We were pioneering the whole thing," Figi said. "We were guinea pigging Charlotte," said Paige. However her results were nothing short of miraculous. After her first dose of CBD-rich oil, Charlotte's seizures stopped for hours. In her first week on the CBD treatment, she was seven days seizure free. Not long after, Paige reached out to the Realm of Caring foundation – a non-profit organization founded by the Stanley brothers, dedicated to providing patients with medical cannabis. Together, they figured out a specific treatment plan for Charlotte. Dr. Gedde determined that three to four milligrams of the oil per pound of her body weight would stop the seizures. On the Realm of Caring site, Paige wrote, "Despite being previously 100% tube-fed, she is consistently eating and drinking on her own for the first time in years. She sleeps soundly through the night. Her severe autism-like behaviors of self-injury, stimming, crying, violence, no eye contact, zero sleep, lack of social contact…are a thing of the past. She is clear-headed, focused, has no attention deficit. Charlotte rides horses, skis, paints, dances, hikes. She even has friends for the first time. Her brain is healing. She is healthy. She is happy."
Since her treatment began, Charlotte's father Matt remarked, "I literally see Charlotte's brain making connections that haven't been made in years. My thought now is, why were we the ones that had to go out and find this cure? This natural cure? How come a doctor didn't know about this? How come they didn't make me aware of this?"
For parents who have exhausted all other treatment options, these words spoken by both Paige and Matt Figi sounds like music to their ears. Families from around the country have uprooted their home lives and moved to Colorado, seeking out the very same treatment. They've now renamed the CBD-rich strain, Charlotte's Web. Medical refugees have become so prominent in Colorado that this year for the first time – families of over a hundred medical refugees came together for a Thanksgiving feast, together they all gave thanks for their dinner, their children and for the cannabidiol tincture that's saved their children's lives.
Of the 3 million individuals living in the United States with epilepsy, it is estimated that 500,000 are not being aided by medications currently on the market, says The American Epilepsy Society. "Imagine if people could have had access to this in the '50s, or the '70s when studies suggested it worked. Imagine how many people could have been helped," said Paige Figi. "I'm a mom, I don't have a PhD. Why did we have to stumble onto this? We feel like science has failed us. I think it's unfortunate it has to be parents figuring this out, and science has to catch up."
Science has failed us because the law allowed it. In 1937, the Marihuana Tax Act effectively banned marijuana federally. The assistant commissioner of the Federal Bureau of Narcotics, Harry Anslinger, was able to successfully sway the House Committee by saying, "Marijuana is the most violence-causing drug in the history of mankind. Most marijuana smokers are Negroes, Hispanics, Fillipinos and entertainers. Their satanic music, jazz and swing result from marijuana usage. This marijuana causes white women to seek sexual relations with Negroes." And that, is how marijuana came to gain federal prohibition. With that, research became increasingly limited. "Looking back, a lot of this reefer madness stuff seems ridiculous but it is also one of the great tragedies of modern medicine," author of "Smoke Signals, a social history of marijuana," Martin Lee said. "It impeded all kinds of medical advances. Think of all the knowledge we lost. Think of all the time we lost. We have been forced to rediscover things that were there all along."
Time after time, research began but could not be completed. Due to a lack of funding from pharmaceutical companies, who couldn't patent a federally illegal substance regardless, research fell short time and time again. Back in 1949, a pair of doctors tested the compounds within marijuana on six severely epileptic children. The compounds controlled seizures within three of the children and stopped two other's seizures altogether. In a published article about those findings, one doctor wrote, "The fuure for epileptics appears very bright. Because of not only one new drug, but a whole field of new compounds to combat epileptic seizures." Unfortunately, this research ended there.
Jeffrey Hergenrather, a professor at the University of California, San Francisco School of Medicine has said, "There are a number of barriers to research." These barriers, he mentions: are a lack of funding, still prevalent stigma attached to marijuana and overall disinterest in the federally illegal substance. The plant, Hergenrather said, "…Is seen by some as not serious. There is a stigma. It is difficult to get your findings published." Hergenraher said, "There is a whole system of chemical receptors in the human body that interacts with cannabis, and they are not taught it in medical school at all. That shows the profound effect prohibition has had."
Modern day research has become synonymous with patient advocacy testimonies, because for now – research remains extremely limited due to its federal prohibition. Medical refugees are moving out to Colorado in hopes of obtaining the CBD-rich strain, Charlotte's Web, because time after time patient success stories have galvanized their pilgrimage. Cannabis oil is richly embedded in our history's past, offers a solution to our present, and remains the key to our future – but first, the law must unlock it.