Cannabidiol Legalized For Children In Need, Comprehensive Program Still To Come…
Posted by Marijuana Doctors on 05/05/2014 in Medical Marijuana Laws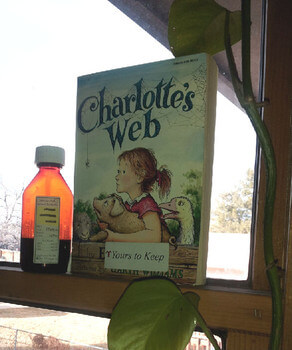 Upon reading the headlines in medical marijuana news this morning, I came across a sizable amount of articles from various news publications with progressive titles, announcing several states victorious plans to allow the Charlotte's Web extract to help treat patients and children suffering from certain debilitating conditions. One Florida Governor, Rick Scott, said that despite his opposition towards medical marijuana he will get behind this cause because, "I'm a parent and a grandparent." Scott continued, "I want to make sure my children, my grandchildren have access to the health care they want." Here is why this kind of legislature can be counterproductive and problematic.
In an Iowan proposed bill just a few days ago, lawmakers legalized the very same low THC form of medical marijuana for those suffering from seizure-prone disorders to have an alternative treatment for medicine. As per the law, patients would be able to possess up to as much as 32 ounces of cannabidol oil. Only those able to acquire a neurologist's recommendation would be eligible for the state issued card. So what, then, is in the fine print? Patients would have to travel out of state to retrieve their medicine, since its production remains illegal in these states.
This same Floridian Governor has made it abundantly clear that he strictly opposes medical marijuana otherwise, and when the legislation comes around in November to legalize medicinal marijuana, he will be sure not to sign it. An estimated 125,000 Florida residents are currently suffering from epileptic seizures. As in most states, bona fide patient and doctor relationships would be mandatory in order for the CBD recommendation to be made. To maintain a strict enforcement on the already predicted abuse of this minimal legislature, patients thought to be "faking" their conditions will be charged with a misdemeanor, as will the doctor's who recommend the CBD oil. Now take a moment to imagine this same kind of procedure for any other kind of prescription currently on the market. It's absurd. There is something almost paradoxical in nature regarding all of these restrictions on a seemingly freeing legislature. Similar legislature cloaked under the name "Carly's law" was passed recently in the conversative state of Alabama, allowing strictly CBD oil for patients, but not the flower. In the fight for medical marijuana, bills such as these are going one step forward and two steps back.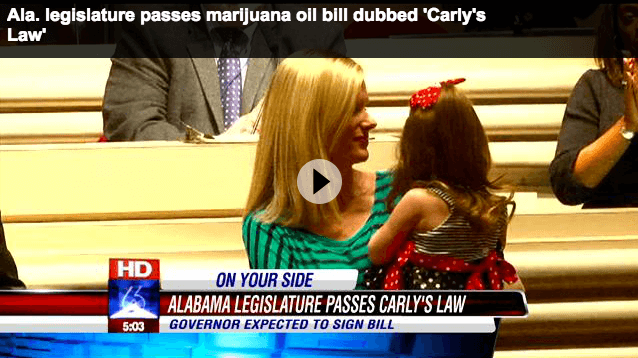 Above: Patients and families of patients gather at the Pelham Civic Complex to rally in support of Carly's Law, legislation that would allow the use of CBD for young patients.
Where, may I ask, do legislators believe the CBD is coming from? Cannabidol is just one of the many active components in cannabis. It is so major a constituent in cannabis, in fact, that it accounts for nearly 40% of the plant's extract. By legalizing a major component of medical marijuana, while openly admitting your firm stance against it – what exactly does that say for progress?
Utah additionally signed House Bill 105 into law, making the possession of Charlotte's Web legal for certain qualifying patients. And once again, patients would have to leave the state to retrieve their medicine. Further and further states along the Bible Belt have made headlines in legalizing CBD recently, yet they've all disregarded key components in legalizing medicine for patients. At the Long Island hearing for the Compassionate Care Act, Paige Figi, mother of Charlotte Figi who inspired the medical strain, Charlotte's Web, shared a brief anecdote to demonstrate the absolute harsh reality of medical marijuana and the zoning boundaries currently set in place. Charlotte is finally independent enough to travel to different places with me now, Paige began. In fact, she would have loved to be here today with all of you, she shared. However, this is why Charlotte had to stay home in Colorado while her mother advocated for her medical rights in New York. Paige explained that if she were to bring her daughter on a plane with her to New York, she would be arrested for trafficking drugs across state lines. Therefore, Charlotte remains, like so many other patients, on lockdown in her home state.
This is why the "Do it for the children" argument is in actuality, falling on deaf ears. Almost every single headline I've come across recently dealing with CBD treatment for patients has the words "for the children" in it. Governor's in states across the nation are suddenly coming out and supporting "medically responsible proposals" for marijuana, so long as they benefit the children. Safe access does not exist for the children. One state senator in Pennsylvania, Mike Folmer, understands that. "The devil is in the details about what this means," said Folmer. "It does not go far enough for all sick people – soldiers with PTSD, people with diabetes, cancer, glaucoma." Truthfully, it doesn't go far enough for even the intended audience. Paige Figi was travelling the country with the Stanley brothers at the time, stopping to speak at hearings for medical marijuana along the way. Under the Stanley administration, the Charlotte's Web strain has been making its way in to the homes of many patients suffering from debilitating seizures. While Paige and Joel Stanley have been working to educate lawmakers, advocates and patients on the extraordinarily beneficial medicine, they are pushing for a wide acceptance of the medicine, and further conclusive research to back that up.
"What the CBD movement has done, I think, is brought in the soccer moms to the discussion," said Josh Stanley, oil developer and dispensary owner. "It's brought in the mainstream, and its brought in the conservatives."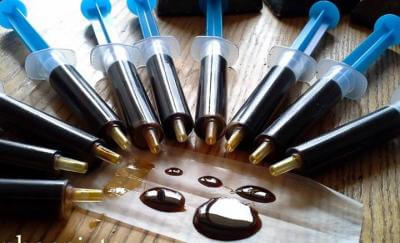 Above: Cannabidiol oil shown in its traditional method of delivery, particularly beneficial for treating epileptic seizure disorders.
Ironically, progressive-thinking legislators and politicians are commending these states' decisions to allow Charlotte's Web for the children. However, it is this exact type of "fake legislature" that creates a false sense of progress where it is not being made. Minimal, highly restricted legislature strictly forbidding marijuana in flower form is not progress, it is yet another limitation. Again, in Burlington, Wisconsin, legislation was recently signed to make cannabidiol oil legal for patients in need. And while the drug is expected to become available this fall for certain residents, the specifics of the legislature remains a mystery.
It is not the end of prohibition that we are seeing, nor is it the wide acceptance of medical marijuana as wholly beneficial for patients suffering from a litany of debilitating conditions. What we are seeing is a community of people attempting to treat CBD as a separate drug all on its own – working to isolate it from marijuana entirely. Adding to the mix, the highly evocative "do it for the children" catchphrase. If in reality, this legislature was being written and targeted for the children specifically, these state programs would be comprehensive in nature, and safe access would be the reality – not just a pipe dream.