Californian Property Subject to Seizure for Legal Dispensary
Posted by Marijuana Doctors on 08/27/2013 in Medical Marijuana Laws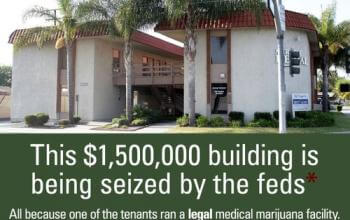 The great divide between state and federal law keeps on getting greater as Californian property owner Tony Jalali is facing a federal government attempt to seize his 1.5 million dollar two-story commercial building comprised of 12 office spaces which he rents out to individuals.
Twice, Jalali rented out one of his office spaces to medical marijuana dispensaries, under the pretense that it was perfectly legal. And it was.In a city which proudly hosts the annual, "world's biggest marijuana festival," it is no wonder he felt comfortable doing so. The federal law enforcers of California, however, didn't approve of this and took action. An undercover Anaheim police officer purchased just fewer than 40 dollars worth of marijuana from the tenant using a doctor's recommendation card, followed immediately by a DEA raid. Jalali was then notified that the federal government would be proceeding to seize the entire building from under him.
Just last month, Anaheim's marijuana extravaganza featured awards for the "best strains" in Southern California, and a "Hot Kush Girl Contest."And although festival goers were told they were not allowed to sample the goods without recommendations from their doctors, their worries were short lived,because, as a sign read, "Doctors will be on site!"
With California being the first state to approve the use of medical marijuana back in 1996, there truly is little reason to believe that Jalali would think twice before permitting his pot dispensing tenants."I had no idea I was doing anything wrong," said Jalali. And though he kicked his marijuana dispensing tenant out as soon as he received the seizure notice, it wasn't enough for the feds to leave him alone.
If the federal government successfully seizes Jalali's building, it will go on to split the proceeds of its eventual sale of the building between the Anaheim police department and federal agencies through a federal program referred to as "equitable sharing." The government has not yet attempted to forfeit the property of the dispensaries or charged Jalali's former marijuana dispensing tenants with any crime.
Jalali had mentioned that in 1978 when he moved to the U.S. from Iran, he did so to enjoy the benefits of a country where rule of law prevails. "I have property rights in this country. I pay my taxes. I obey the law. I have a spotless record," Jalali said.
Although the city of Anaheim claimed to have sent two notices regarding problems with the dispensary location directly to Jalali's home in Irvine, the U.S. attorney's office, which had initiated the seizure, admitted in court that no warning was ever sent to Jalali prior to the property snatching initiative.
Both of Jalali's attorneys are fully equipped to deal with this specific scenario, as it is one they've grown unfortunately familiar with. Matthew Pappas, one of his attorney's, is currently representing four other Southern California clients dealing with similar seizures. Another, Larry Salzman of the Insitute for Justice, admitted that the Los Angeles U.S. attorney's office branch has filed 30 civil forfeiture cases against landlords from Southern California with marijuana dispensaries in the past few years alone, and has sent "threatening letters" to over 500 landlords in addition.
Ironically, state law hasn't been crossed once in this case, but twice. According to Salzman, California law prohibits forfeiture of property unless the owner is convicted of a crime. Under "equitable sharing," Salzman said, federal and local agencies are sharing the proceeds from confiscated property. That, perhaps, is the promiary motive for cracking down on marijuana cultivation. "If they take Tony's building, the money is split between the Drug Enforcement Administration and the city of Anaheim. That financial incentive has driven a literal explosion in civil forfeiture activity…"
During its current ongoing litigation, a spokesman for the Anaheim city attorney informed press that there would be no comment on Jalali's case.