California Supreme Court Violates Patient Rights
Posted by Marijuana Doctors on 05/08/2013 in Medical Marijuana Laws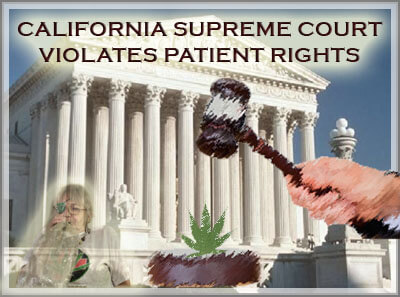 On Monday, the California State Supreme Court ruled in unanimous fashion that cities and counties can ban medical marijuana dispensaries within their respective borders. With this ruling coming down like an iron fist, it has become a decision that could make medical marijuana distributors in the state go up in smoke. This decision comes after a long debate between state legislators and advocates as to whether or not the ruling can be deemed unconstitutional.
The ruling stated that state laws permitting the growth and distribution of medical marijuana did not pre-empt municipal laws prohibiting marijuana dispensaries. As the distribution of marijuana is clearly legal under the law, a statement supported by the court, cities should have the final say over whether or not a collective is right for them. This ruling serves as a preliminary indication that the state of California is trying to regulate marijuana the way it should have in the beginning.
This decision by the Supreme Court upheld a Riverside zoning ordinance that banned dispensaries there back in 2010. Inland Empire Patients' Health & Wellness Center Inc. sued the city of Riverside in hopes of being able to overturn the ban that was placed on the business and still remains. However, the states' lower courts and now the states' highest courts have disagreed. Inland Empire Patients' Health & Wellness Center Inc. is a non-profit Riverside-based medical marijuana collective. The emphasis placed on zoning code ordinances may seem like a very peculiar way to counter medical marijuana dispensaries popping up across the state, but as the spread of dispensaries are rapidly increasing, law enforcement and municipalities have seen their zoning power as the only way to push back against them.
This ruling will have repercussions that will be felt across the entire state, where nearly 200 local governments have already had marijuana distribution bans placed on businesses. More will begin to follow as the spread of this ruling becomes more well-known, as it was much-anticipated to begin with.
However, this is not the only dark clouds on this day because as Americans for Safe Access noted, the ruling did restrict access to marijuana but it did not deny the legal acknowledgment of a dispensary. This sets the state for the Legislature to finally take action to better regulate the sale of marijuana and eventually increased its availability. Currently, California is one of eighteen medical marijuana states that allow the sale of medical marijuana. However, California remains the only one without a legal basis for regulating the growth and sale of the drug. With Maryland on board and other states to follow, there is the potential for more bans to come about across the nation.
Marijuana Doctors Recent Posts