Berkeley City Council Votes to Unanimously Require Dispensaries to Give Low Income Patients Free Medicine
Posted by Marijuana Doctors on 09/05/2014 in Medical Marijuana Laws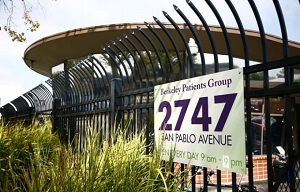 Location: Berkeley, California | Source: Fox News
Berkeley, California – In a story we originally brought to you a few weeks ago, the city that many consider to be the most liberal in America will now be seeing a new form of "socialized medicine" thanks to a unanimous vote by the cities council. The new rules will require that dispensaries operating within city limits donate 2% of their total inventory to low income patients. The program is set to launch in August of next year and will allow state qualifying patients who make less than $32,000 a year to receive free cannabis.
The original ordinance which passed in August and is believed to be the only kind in the nation comes at a unique period when several states including New York and Florida are deciding how they would like to design their own medical marijuana programs. Sadly the ordinance did not pass without some controversy. A former addict and current Bishop Ron Allen who is the head of the International Faith Based Coalition fold reporters for Fox News that he can't understand why the California city distribute free marijuana to the impoverished. "Its ludicrous, over the top madness," said Bishop Allen. "Why would the Berkeley City Council want to keep their poverty stricken underserved high, in poverty and lethargic?"
Bishop Allen's negative sentiments were of course shared by John Lovell, a biased and paid lobbyist for the California Narcotic Officers' Association. "Instead of taking steps to help the most economically vulnerable residents get out of that state the city has said, 'Let's just get everybody high,'" The irony of this statement is that Mr. Lovell is pawn in America's failed war on drugs. His mere agreement to lobby on behalf of such an abysmally unsuccessful campaign that has done little but to criminalize sick and chemically dependent individuals is appalling.
Thankfully individuals such as Mason Tvert of the Marijuana Policy Project bring some sense to the discussion. He claims that the decision by the Berkeley City council is a community program, not an attempt to get everyone stoned. "So it's a matter of the democratic process, people following the state's laws, and this law appears to accommodate both of those," Tvert told Fox News.
While the new ordinance now makes giving away free cannabis to low income patients mandatory, some dispensaries such as the Berkeley Patients Group have been doing it for almost 10 years.