Arizona's MMJ Program Breeds Certification Mills, State Health Director Fears
Posted by Marijuana Doctors on 11/13/2013 in Medical Marijuana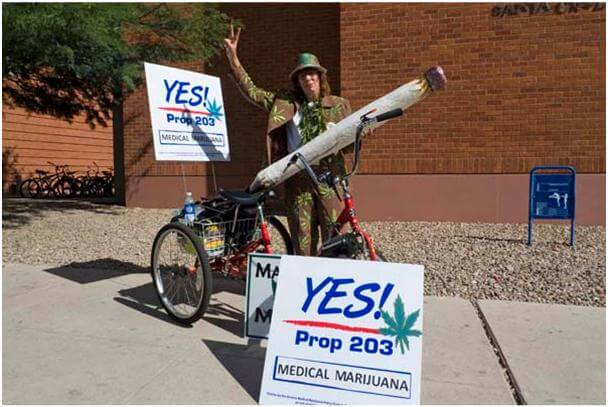 Currently, in the Grand Canyon state of Arizona, 25,000 citizens are registered with the state-run medical marijuana program. According to the state's program guidelines, enacted by the citizen initiative, Proposition 203, legal patients may receive recommendations from certified physicians, apply for their Arizona medical marijuana ID cards, and grow and/or purchase their medicine. Where the issue arises, however, is in the number of certified physicians giving recommendations to these 25,000 citizens, statewide. Just 25 doctors are responsible for recommending 25,000 patients for medicinal marijuana in the state of Arizona. Many of those who opposed Proposition 203, did so out of fear that the beginnings of the program would ensure recommendation abuse of the drug. Just this week, State Health Director Will Humble admitted that that fearful prediction has become a harsh reality for Arizona.
Out of a staggering 27,000 licensed Arizona physicians, just 25 have been responsible for dishing out roughly 70 percent of the medical marijuana recommendations within the first year of the law's establishment. Will Humble has said that this evidence points towards the development of "certification mills" since the law's approval in 2010. Although he shared his concern with Capitol Media Services, he said there is little that can truly be done to change it. It very well may be that all 36,346 recommendations issued during that one year period have been perfectly justified, he said. However, his greatest concern is that patients should be working with their primary care physicians who are truly in-tune with that patient's specific conditions, and can offer ongoing treatment.
Many state programs require a bona fide relationship between patients and doctors; so as to ensure the most honest and necessary treatment is being recommended for the given patients. And although Arizona's medical marijuana program established in 2010 calls for a "full assessment" of the patient's medical history and mandates a bona fide physician-patient relationship, the law didn't closely define these terms and conditions. In fact, the rule that Humble created, insisting patients visit their doctor four times a year before receiving their recommendation, was disputed by patients who believed it to be unnecessary and inappropriate, leaving the finalized rules of the program more or less lost in translation.
Certification mills are essentially, just how they read – doctor's offices which dish out recommendations at the drop of a hat for patients they have not established longstanding relationships with. And though there are always several outliers to account for, it is nearly always neither party's fault. Doctors who have applied to become a part of the state program have done their research, just as their patients seeking recommendations have. The whole medical marijuana industry is seeking legitimacy and clout in whatever way it can, because of the already harsh stigma attached to marijuana as it stands. More doctors are not becoming active participants in the state legislated program, predominantly out of fear for federal consequences – not disbelief over marijuana's medicinal benefits. Not only in Arizona, but throughout the nation, advocates and medical marijuana supporters exist in all communities – it is the manifestation of the support into an act on behalf of the medical marijuana community that differentiates the advocates from the activists. These activists, for obvious reasons, are significantly less in number. Patients and doctors alike must virtually jump through hoops to accomplish all the steps necessary towards becoming certified within the state regulated program. And in a country where, marijuana is federally illegal and only two of the twenty states and the District of Columbia with legalized medical marijuana are "protected" under federal law, doctors as well as patients are hesitant to apply for the program out of fear for their own legal safety. Of course the doctor to patient ratio is significantly skewed in a state which has never properly outlined and defined the terms and conditions for their medical marijuana program. Marijuana, at face value, is a threatening enough legal matter without the vague interpretations of its state regulated medical program.
It is easy enough to refer to the current state of the Arizona medical marijuana program as filled with "certification mills," with less than one-tenth of one percent of the Arizona doctors recommending 70 percent of the medical marijuana being consumed. Amongst the list of qualifying conditions, Humble has found "severe and chronic pain" to be somewhat of a catch-all category. The pain, he said, is supposed to be linked to some 'debilitating medical condition.' But he recognizes that there truly is no way to police that. "I think we're just going to have to live with that the way it is," said Humble. In fact, Humble admitted he is not particularly alarmed by these numbers, because the alternatives for some patients, he said, could be far worse.
"We have a thousand people that die every year from overdoses of opiates," Humble added, with the majority due to misuse. Humble has expressed interest in studying whether some patients may be trying to move away from those much more powerful painkillers, replacing them with medical marijuana. "And if that's the case, you could argue that, for severe and chronic pain, this is harm reduction," he said.