America's Eyes Turn to Portland as Recreational Marijuana Ballot Vote Nears
Posted by Marijuana Doctors on 10/25/2013 in Medical Marijuana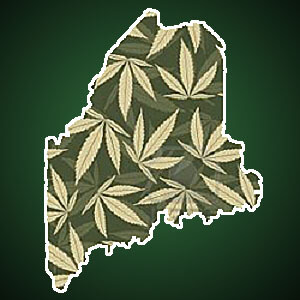 While most of the marijuana industry's "green rush" seems to be both flourishing and expanding primarily on the West Coast of the nation, all eyes have now shifted towards the Pine Tree State. That's right folks, the state of Maine, more specifically the city of Portland, is destined to follow the footsteps of states that have legalized recreational cannabis such as Colorado and Washington. To many this should come as no surprise, as both the overall acceptance of cannabis and its interpreted health benefits have always been recognized and practiced expressively in this self-proclaimed Vacationland.
Voters in Maine's largest city will be placed in the limelight come November 5th, a date that is being viewed by many as another historical momentum swing for the cannabis plant. Portland's registered voters will be asked by way of a ballot whether or not they support making it legal for adults aged twenty-one and over to possess up to two-and-a-half ounces of marijuana. Let me make that clear: although you will be able to possess that amount of cannabis, you may not purchase or distribute (sell) the marijuana.
The city of Portland was targeted because it has an initiative process that could place this marijuana referendum on the ballot. There is currently no organized major opposition to the referendum, although law enforcement and substance abuse groups have had no problem speaking out against the whole concept. The organizers of this movement, District of Columbia-based Marijuana Policy Project, greatly anticipate the passage of Portland's initiative in order to spur similar results in other cannabis-liberal Northeast cities. Could this be the necessary swing of momentum to bring the green rush over to the East Coast? For all we know, this could be the next domino just waiting to fall.
In the grand scheme of things, let's face it — Portland isn't the type of city that experiences the same problems such as a metropolis like Manhattan. The Portland referendum is simply the first step necessary towards finally establishing a marijuana industry on the East Coast. In reality, the vote in Portland isn't going to change anything for the citizens who reside there. Residents are not being targeted by Portland law enforcement for possession of cannabis, unlike the one million man hours that were utilized by the N.Y.P.D. on low-level stop-and-frisk searches.
If the Portland ballot measure passes, it will become a largely symbolic sign of pot-patriotism because it does not override state and federal laws. While marijuana possession is already considered a low priority for Portland police officials, they have reiterated that they will continue to enforce state law. Under current Maine law, possessing two-and-a-half ounces or less of cannabis is considered a civil offense under state law. Although violators will be spared of any "hard time" behind bars, they will be subject to an offense that is punishable by a ticket and fine. A small price to pay for such a minuscule action — the way things should be.